The new year here, and Valentine's Day will soon come knocking on your doorsteps in a few weeks. Love and food are inseparable parts of everyone's lives, and what better than the 14th of February to celebrate a gastronomic delight with your loved ones, and faithful, insatiable tastebuds as well. As someone rightly said, "you eat what you love, and you love what you eat," it's only right to give that special one an unforgettable culinary journey on V-Day with fine wining and dining, and this list of romantic restaurants in the capital might just help you find that dream destination:
1. Amreli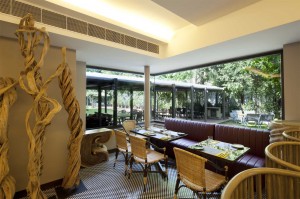 Situated in Hotel Diplomat, Chanakyapuri, Amreli is a small, but extremely beautiful restaurant which offers a unique fusion menu for the curious palate, ranging from the jalapeno and cheese naan to galouti kebab burger. With chic, lavish decor and a pleasant open-air seating space in a little garden, Amreli is the go-to place if you want to taste wonderful dishes from Mediterranean, Oriental, and Indian cuisines.
2. Diggin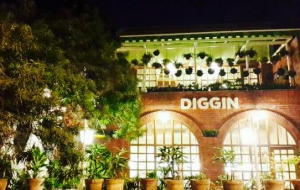 A place that will leave you spellbound, Diggin is the right place to reserve for two if you both swear by Italian food. Recently established in Anand Lok, near Gargi College, this restaurant is a divine sight by night, with fairy lights and creepers winding up wooden and brick walls – in short, the ultimate evening eating ambience. Their extensive menu covers pastas, pizzas, and everything else under the Tuscan sun, all puns intended, and the dessert menu is just to die for.
3. Rose Cafe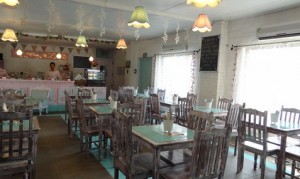 A quaint little cafe set in the middle of nowhere in Saket, Rose Cafe is the tea lover's paradise. With reasonable prices, this place offers various dishes from European and Lebanese cuisines, with the perfect English breakfast menu and the most elaborate of mezze platters. This quiet establishment boasts of an independent garden as well as delicate indoor wooden decor in soft shades of pink and white, as well as some of the best desserts and spaghetti you can find in Delhi.
4. The Potbelly Rooftop Cafe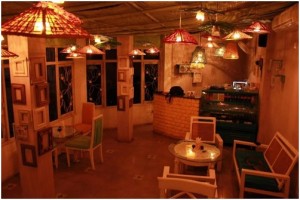 Located in Shahpur Jat, The Potbelly Rooftop Cafe is one of the most ingenious restaurants in the city, having to its credit a brilliantly crafted menu which has infused the Bihari and continental styles of cooking in the most unique of ways. With a diverse selection of delicacies that caters to both the vegetarian and non-vegetarian foodie, Potbelly is a novel choice for a date, along with its homely balcony seating which not only guarantees the privacy you will need, but will also ensure a stunning view over the adjacent greenery.
5. Le Bistro Du Parc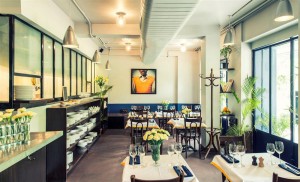 For the Parisian romantic at heart, Le Bistro Du Parc offers select menu of classic French delicacies, which states candidly, "Contrary to popular belief, not all French chefs hate vegetarians!" and indeed, this amazing little place proves to be a wonderful dining experience for all foodies alike. With the friendliest and most efficient staff and chefs, and an aesthetically minimalist dining ambience, Le Bistro Du Parc will win your hearts over for sure.
6. Moet's Stone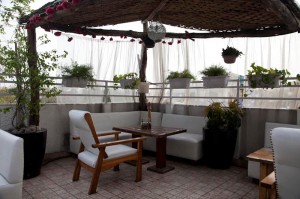 Standing on the fringe of the Defence Colony market, Moet's Stone is a warm, welcoming place to eat out with your loved one. Serving mainly continental food, the menu features a mouth-watering array of assorted pizzas, a vast array of appetizers and an even more glorious range of main course dishes you can thoroughly enjoy. Stone forms one of the four outlets of the Moet's Building, with a luxurious balcony view and a tinge of the rustic in its plush interiors to enjoy, for everyone who visits.
7. Zo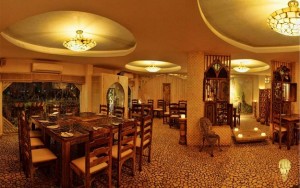 A serene, peaceful place nestled in a corner of the bustling Hauz Khas Village, Zo pays tribute to the rustic and the antique in its ambience. Decked up with paintings, artefacts, and chandeliers, Zo offers continental cuisine with flavour fusions from around the world, such as Moroccan lamb burgers and Carribean jerk chicken sandwiches. A truly romantic retreat in the locale, this restaurant also boasts of one of the most brilliant mocktail and gourmet shake menus in the city.
8. QBA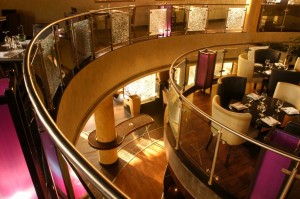 One of the most popular food establishments in the city, QBA serves Oriental, Mediterranean, Indian, and Lebanese cuisines, apart from a huge selection of cocktails and other alcoholic beverages. The place is a rarity in its own right, with an extensive dining space located right in the booming heart of Delhi, Connaught Place. With a separate seating area on a gigantic terrace, and the world at your fingertips (and taste buds), QBA will make you fall in love with it at first sight.
9. Amour – The Patio Restaurant, Cafe & Bar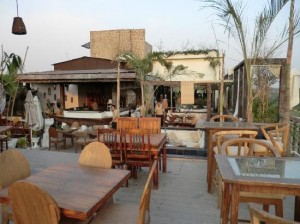 A rooftop cafe located in the heart of Hauz Khas Village, Amour, stays true to its name, and will make you adore its food at first bite. Offering the usual continental and Italian fare, Amour also serves various exotic French and seafood delicacies. A general fan favourite for the HKV-trotter, this place will conquer your heart with its plush, wooden decor, and the soft, yellow lights that illuminate the place after sunset.
10. China Garden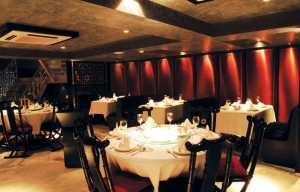 Situated in Greater Kailash 2, China Garden guarantees a fine dining experience for the Oriental cuisine lover. The menu not only boasts of authentic Chinese delicacies but forages into other styles of cooking from over the globe as well, each dish being executed with perfection. China Garden appeals to all, with vegetarian exotic fare to equally delightful fare using pork, chicken, and seafood. The interiors are brightly-lit, and are an excellent blend of Chinese traditional art and sleek, edgy, modern architecture, giving you a Quentin Tarantino movie vibe.
11. Lodi – The Garden Restaurant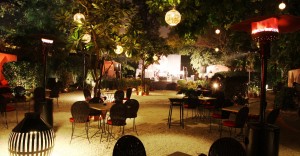 Lodi is probably the best place to dine out in Delhi during the evenings, all due to the sole reason that it lights up like a fairyland when the sun sets. And with live jazz music softly playing in the background, it proves to be the perfect romantic getaway for any couple. Catering Lebanese and Mediterranean cuisine to all, and located on Lodhi Road, Lodi has one of the most divine food platter menus, ranging from cheese to mezze, along with seafood, rolls and wraps, fusion desserts, and many others on its serving list.
12. Sevilla – The Claridges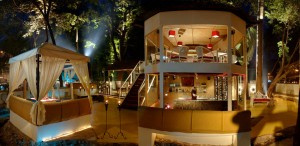 Probably one of the most posh places to eat out in Delhi, Sevilla serves Spanish delicacies such as tapas, paella, and churros, as well as various Mediterranean variations of seafood and other dishes. Located in The Claridges Hotel, Aurangzeb Road, Sevilla is one of the more high-end restaurants in the city, but totally worth it. Spread over a huge area, the romantic ambiance alone is an experience in itself, with private canopies and rooftop tables set among lush greens and pleasant yellow lights.
13. Ivy & Bean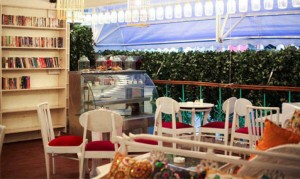 A blessing for the bookworm and foodie parts of you, Ivy & Bean, located in Shahpur Jat, is a quaint little cafe that serves primarily British and Italian dishes. Known for its collection of books, excellent food at reasonable prices, and free Wi-Fi among other things, this place is sure to give a warm, cosy feeling to every hungry nerd. Ivy & Bean has a homely touch to its preparations, as well as its interiors, making it an offbeat, but nevertheless, an exciting place for a quiet fun date.
14. Rara Avis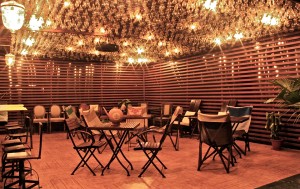 Serving authentic French cuisine along with a fabulous selection of wines, Rara Avis is located in M-Block Market, Greater Kailash 2. The restaurant has wonderfully elaborate wooden interiors, and pretty lighting, with both indoor and outdoor seating. A must-visit for European enthusiast, Rara Avis is a savoury experience with its wide range of French dishes, ranging from the rustic classic to the urban chic flavours.
15. The Chatter House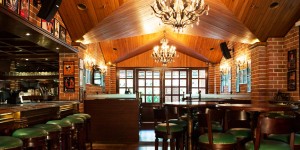 Highly recommended if you want to indulge yourself in classic American food, The Chatter House is located in Epicuria Food Mall, the well-known foodie heaven under the Nehru Place Metro station. The place has an independent bar area, rustic diner-like wooden interiors, dim lights, and a novel combination of a foosball table and a snooker table for its customers, making it the perfect laidback, casual date destination. The menu also offers an extensive array of Indian, Mexican, and Mediterranean dishes, along with a variety of freshly brewed coffees.