Nothing can be more pleasant and refreshing than starting your day with the desserts. Celebrate your season with this small package which can be prepared in less than 30 minutes. Here are some of the recipes:
Soup with Creamy Banana Freeze:
Quite surprising soups can be cold too. Isn't it?? This is a refreshing cold soup, which is full of nutritional value especially Vitamin C.  During summers and late spring this frozen cream gives you a feel of an ice-cream. Recipe of this yogurt follows all: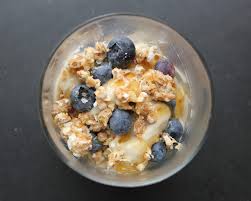 Ingredients:
• 5 cups fruit juice of grape, apple and cranberry
• Pineapple juice
• 1/2 tsp lemon zest
• 1/4 to 1 cup sugar according to your own taste
• 1 cinnamon stick
• 3 star cloves
• 2 cups water
• 3/4 cup mixed berries
• 1/2 tsp orange zest
• Chopped seasonal fruit
• Mint leaves
• Red wine (optional)
• 2 bananas (frozen)
• 1/4 cup vanilla yogurt
Preparation:
Mix all the ingredients like fruit juice, pineapple juice, cinnamon, water, cloves, orange and lemon zest and sugar into a container and boil them.
Boil these ingredients till it is reduced by one-half.
Blend these prepared mixtures and frozen berries in a blender till it gets smooth.
Put this into a refrigerator and allow them to be chilled.
Now place the chopped fruits equally into 8 bowls and pour that mixture over these chopped fruits.
Now prepare the banana cream by placing these bananas and vanilla yogurt into the processor and process them.
Now take the scoop on this banana cream and put them into that 8 soup bowls.
You can also add mint leaves if you want to and now soup with creamy banana is ready to be served.
Watermelon Cups with lime sorbet: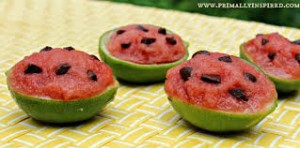 This is a perfect dessert you people can have during the summer's night.  This delicious dessert with the combination of watermelon and sorbet together makes your night and next morning refreshing.
Ingredients:
A slice of watermelon
2 tsp fresh lime juice
1 pint lime sorbet
Basil or fresh mint
Preparation:
Take a watermelon and cut it down into several slices. Remove all the seeds and cover from it.
Now put these slices onto a cutting board and further cut it into four slices with the help of cookie-cutter.
You are now left with four rounds of watermelon of 2-inch each.
Now take the melon baller and scoop out from the middle of those four rounds. If you don't have melon baller then you can use a regular spoon too.
Take the fresh lime juice and sprinkle it over the scoops of watermelon.
Also put ½ cup of lime sorbet into these bowls of watermelon and if needed garnish it with mint.
Allow it to be chilled for some time and now this is ready to be served.
Peaches and cream smoothie: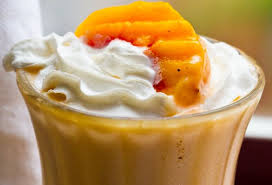 This delicious smoothie is an excellent choice for all your meals whether it be snacks, lunch, breakfast etc.
Ingredients:
• 1 frozen or fresh banana
• 5 canned peach halves or 15 frozen peach slices
• 8 oz. Vanilla low-fat yogurt
• Pinch of cinnamon
• 1/2 cups milk
Preparation:
Firstly, allow frozen or fresh banana to soften slightly and then cut it into pieces.
Also allow canned or frozen peaches melt slightly.
Put peaches, banana, cinnamon, yogurt and milk into a blender and blend it till it gets smooth.
Don't open the lid of the jar and continue blending these until it gets creamy.
When you found the mixture to be creamy and smooth, then pour the mixture into the glasses. Now this is ready to be served.
Minty Melon Balls: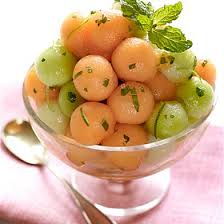 Start your day with this fruit drizzled bowl which is just not healthy, but thirst-quenching too.
Ingredients:
1  honeydew melon
1 cantaloupe
Lime juice
Honey (2 Tablespoons)
10 chopped mint leaves
Preparation:
Firstly cut honeydew melon into two equal halves.  Remove the seeds with the help of a spoon.
Take the melon baller and remove out the balls from the honeydew melon and repeat this method with the help of cantaloupe.
Now next you have to prepare lime juice so take the lemon squeezer and squeeze out the juice into a glass.
Add honey, lime juice and chopped mint together and combine them smoothly till you obtained a thick sauce.
Now add melon balls to this thick sauce.
Dessert is ready to be served.
Apricot Coconut Balls:
Apricot coconut balls are a sweet, crunchy dessert, which provides a piquant flavor to your tongue.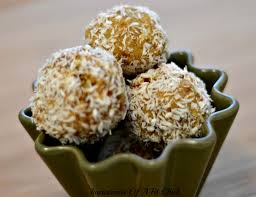 Ingredients:
• Orange juice
• Dried and chopped apricots
• Sweetened coconut
• Grated lemon zest (2 tbsp)
• Chopped pecans
• Lemon juice (2 tbsp)
• Granulated and powdered sugar
Preparation:
Boil orange juice and apricots together in a pan for 10 minutes.
Blend coconut and nuts together in a blender until they are finely chopped.
After this add lemon juice and lemon jest into it.
Mixture so obtained is shaped into round balls.
Now roll these round balls in granulated sugar in case no humidity is there.