Romantic dessert…that just sounds a bit redundant, doesn't it? There is nothing better than the combination of two of the best things in the world, namely dessert and romance. Science has proved that there are certain fruits and other edible items that can turn on your mood and are a must have for that perfect date. we all know that chocolates and strawberries are great aphrodisiacs too. No wonder the entire human race is crazy about chocolates like anything. Whether you are preparing dinner for your loved one or you are just feeling low, these desserts will surely uplift your mood and bring a 100 Watt smile on your face. Try these out and feel yourself floating in epicurean heaven.
1. Chocoberries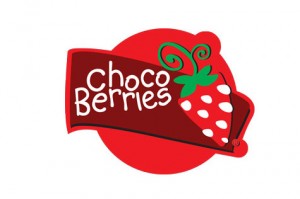 Chocoberries are strawberries that are coated with chocolate and served chilled. This quick dessert has the most romantic things ever available on the planet Earth. The sweet and tangy flavour of strawberries goes aptly well with the velvety touch of chocolate, making it an absolutely amazing dessert. It is perfect for every occasion and non-occasion. The best part of this dessert is that it takes such less time that you can count on this one for those last minute surprises.
Ingredients:
10-12 strawberries (remember to have the stems intact)
3/4 cup semi sweet chocolate chips or chocolate chunks
3/4 tablespoon corn syrup
2 1/4 tablespoon butter
Method:
1. Wash the strawberries and pat dry. Make sure you have all the strawberries fresh and clean.
2. Spread them out on a paper tissue until they reach room temperature.
3. Melt the chocolate chips in a double boiler. Add corn syrup and butter to the double boiler. Make sure you keep stirring in between else you will run the risk of burning your chocolate mix.
4. Remove the mix from heat and dip the starwberries into the chocolate but do not dip more than 2/3 of the strawberries.
5. Let the excess chocolate drip off the strawberries.
6. Place the strawberries stem side down and referigerate for about 15-20 minutes and serve with a spark in your eyes.
2. Chocolate Mousse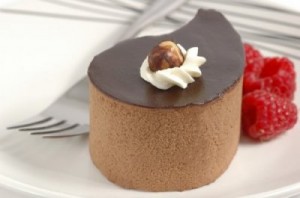 Everybody loved this dessert as kids. everybody loves it as adults. This dessert never gets old. The texture of this dessert is simply perfect and the way it melts in the mouth, makes it all the more adorable. The enigmatic smell that it emits makes one fall in love with everything around them. Almost.
Ingredients:
60 grams chocolate chips
1 1/2 tablespoon water
1/2 teaspoon vanilla
1/2 cup whipping cream
1 tablespoon confectioners' sugar
Method:
1. Melt the chocolate and water in a saucepan.
2. Add vanilla to the mix and whisk it thoroughly.
3. Leave the mix to cool and whip the cream in a separate bowl.
4. Add confectioners' sugar to it.
5. Blend in the chocolate mix to this and beat it in cut-and-fold manner.
6. Take a scoop of the mousse created and pour it into a clear bowl.
7. Garnish with some grated chocolate to give it an extra chocolatey taste.
3. Strawberry Pie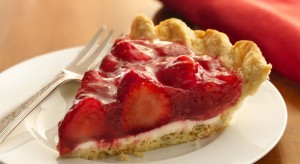 A pie is one dessert which is not too sweet and so, does not go overboard in making one feel its sweetness. The crispness of the pie mixed with the gooey texture of strawberries make it a complete dessert. Strawberry pie tastes brilliant but it looks even better! And a tempting looking dessert is always better than every other dessert.
Ingredients:
1 pie crust, pre-baked
1 pint strawberries
100 grams strawberry Jell-O gelatin dessert
2 tablespoons cornstarch
1 cup cold water
1 cup hot water
1/2 cup sugar
Whipped cream
Method:
1. Pre-bake the pie crust and let it cool.
2. Slice the strawberries into the pie crust.
3. Take a saucepan and mix the jello with cornstarch. Add water and sugar to it.
4. Cook over medium heat. Let the mixture boil. Make sure you keep stirring in between lest you burn it.
5. Pour this boiling hot mixture over the strawberries and let it spread evenly.
6. Keep the pie in the referigerator and chill it for 3-4 hours.
7. As the glaze of the jello sets, bring it out and serve with generous dollops of whipped cream.
4. Chocolate Marie Logs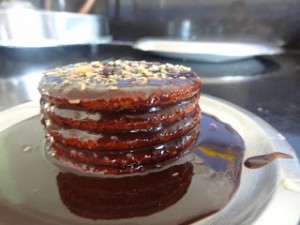 Chocolate logs are easy to make and easier to have. These have a perfect blend of biscuits and chocolate which gives it a smooth taste. The subtle flavour of coffee enhances the effect the logs have on the tongue. These are one of the quickest and easiest things you can make and make whenever you want.
Ingredients:
12 Marie biscuits
1 tablespoon cocoa powder
4 tablespoon unsalted butter
4 tablespoon powdered sugar
1/2 teaspoon coffee powder
1/4 cup warm milk
Method:
1. Take the milk in a container and add coffee powder to it. Mix it well.
2. Soak the biscuits in it and stack them on top of the other. Make sure that you do not soak them too much otherwise your biscuits will get all soggy and crumble.
3. Take the butter and sugar in another container and mix them evenly. Add cocoa powder to it and blend in.
4. Spread the mixture on the stack of the biscuits or the log. cover the entire log generously with the cocoa mix. Run a fork on the mix so as to give it the look of a wooden log.
5. Keep the log in the referigerator to chill for two hours and cut it into diagonal slices.