Go to Delhi. You will find loud behaviour, devil-may-care attitude, style that could even make a Parisian resident feel ashamed, music that is fully capable of destroying your ear drums and great food! Delhiites are known to be big foodies and theere is no dearth of memes online that describe this spect of theirs. There is one such picture on the internet that shows how a Delhiite visualises rest of the parts of India according to the food available there. North Indian food is obsessed with ghee and butter. It is like you can prepare butter chicken without chicken but definitely not without butter! Here, the food has a high content of spices and chillies, so much so, that it is capable of putting your tongue on fire. Delhiites are known for their lively behaviour and fun loving attitude. This attitude, when clubbed with palatable food, evolves into a life-of-the-party package. The people of Delhi can eat almost anything and everything that comes their way. However, there are some dishes that they can have even while they are sleeping. Some of those dishes are listed as follows:
1. Shahi Paneer
The word "shahi" roughly translates into English as royal. Now, do we need to say more? Is it not self-explanatory? Shahi paneer is like oxygen to Delhiites whenever they go to a restaurant. If you go out somewhere and do not order shahi paneer, you might as well drown yourself in the finger bowl you will get after eating something weird as all non-shahi paneers are weird. It is the rule of law. The big fat Delhi weddings too are brimming with different varieties of paneer, be it shahi paneer, kadhai paneer, paneer butter masala and so on. The thing about shahi paneer is that it is so delicious that even a first timer cannot cook it really bad. It is a dish that has been sent directly from Satan, who is such a sinner. Courtesy: gluttony. And, calling paneer, cottage cheese or curd is just equivalent to disrespecting your great grandfather's niece's brother-in-law's God!
2. Dal Makhani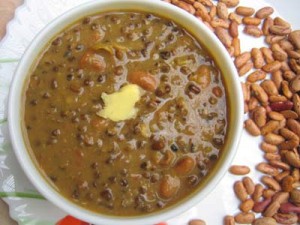 Ask any Delhiite to say "shahi paneer" and he/she will automatically say dal makhani at the end of the sentence. Dal Makhni and Shahi Paneer are two siamese twins that no doctor in the world can unjoin. After all, who would even dare to think of such iconoclasm! Dal Makhani when garnished with some sort of cream and butter, tastes nothing less than heaven. It is so buttery that at the end of your dinner, you woould just end up having perfectly moisturised lips. Al Bukhara's Dal Bukhara is one variant which people swear by and make a promise to themselves of having it at least once before they die. The rich ones, however, leave no stone unturned in making the less privileged feel like messy beings for not having had the most wonderful dal on this planet. However, dal makhni is a dish that tastes as brilliant in a roadside dhaba as it does in an air-conditioned fancy restaurant. Why? Because it is.
3. Butter Chicken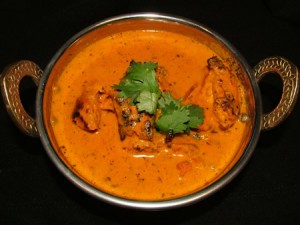 If you are a non vegetarian and a Delhiite, your eyes must have lit up as soon as you read those two words. Butter. Chicken. If you are a vegetarian, you must have heaved a sigh of relief after seeing this on the list as you know that Butter Chicken is to Delhi as shoe is to lace. Non-vegetarians strictly abide by this dish, in sickness and in health. Butter chicken has the two most favourite things of a Delhiite, namely, butter and chicken. The hardcore punjabi style in which it is cooked, leaves one licking their fingers till the last drop, no matter how posh a restaurant they are sitting in. And when it is about food, Delhiites do not give a damn to the surroundings. They are just having an intimate relationship with their butter chicken and the last thing you would want to do them at that moment would be disturb them by reminding them of table manners and etiquettes. If you do, then God save you from the wrath of a Delhiite. It is much worse than Achilles'.
4. Chhole Bhature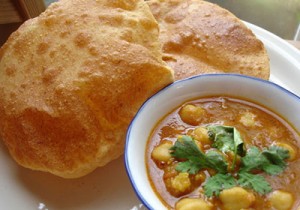 When we talk about a Delhiite, we have to talk about chhole bhature. However, a fun fact is that if you ask someone from deeper towns of Punjab, they would tell you that they are not as crazy about chhole bhature as a Delhiite. Delhiites love to have chickpeas and the way it is cooked in a Punjabi household, it is unmatchable. You have got to eat it to believe it. It does not then come as a shcok that most of the stalls are done with their stock of chhole bhature by 2 PM at the most. The al dante kind of texture of the chickpeas and the crispness of the fried bhaturas are a delicacy to relish. These are generally ahd for breakfast and thus, are way too cheaper than the other options mentioned in the list. This makes the dish pcoket friendly and thereby, student friendly who have their budget going by each penny. Chhole bhature are so filling and so tasty that there is no reason why they should not be on the top of any Delhiite's list of favourite food.