I was out this evening and it suddenly started to pour. That's how it is in these parts – unpredictable heavy showers are a fact of life. I arrived home all drenched. An hour later, I was sneezing: I'd come down with a bad cold. That's when mom came up with just what I needed – like moms always do – a bowlful of delicious, warm soup. As the warm, tempting aroma filled my senses, I started feeling better already – at least in my head.
It's true: soups are the ultimate comfort food – warm, nourishing, and you don't even have to chew them. What's more, they can be amazingly healthy! Nutritionists urge us to eat five portions of fruit and vegetables a day, but it can be difficult to hit these targets. A bowl of soup is an excellent way to make sure you are getting at least two of those portions. A mixed vegetable or minestrone soup will also ensure you get a good mix of minerals, nutrients, and phytochemicals – antioxidants found in plants that destroy harmful chemicals in your body. Soups with beans and pasta provide slow-release carbohydrates to give you energy throughout the day. In fact, researchers in Thailand and Japan have now discovered that a certain soup could help prevent cancer! This is the Thai Tom Yum Gung soup – speculated to be a hundred times better at cancer prevention than any other food. If the speculation is true, then a delectable mix of shrimps, coriander, lemon grass, and various chillies may be just about the tastiest way to fight cancer!
However, if you think all kinds of soup are good for you – think again. Cream-based 'luxury' soups in restaurants pack in more fat and calories than you might be prepared to bargain for. Besides, store-bought instant soups contain higher-than-recommended levels of sodium – intended to prolong their shelf life. The solution is simple, though. Make your own healthy soup with the goodness of ingredients you choose. Here are a few simple recipes for all you soup enthusiasts to try out.
Chinese Clear Vegetable Soup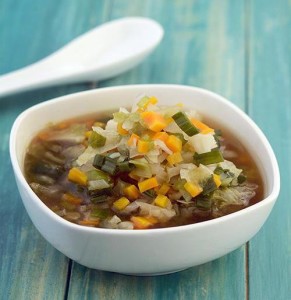 This soup utilizes the technique of stir-frying the veggies to ensure minimum lose of nutrients during cooking: it's health in a bowl.
Ingredients:
1 carrot, thinly sliced
¾ cup cabbage
3 lettuce leaves
3 spring onions with greens
3 sticks of celery
50 g sliced cauliflower
2 tbsp oil
A pinch of baking powder
A pinch of citric acid
2 tsp soy sauce
Salt to taste
Chillies in vinegar
Chilli sauce
Directions:
Tear the cabbage and lettuce leaves.
Chop the spring onions with the leaves.
Cut the celery into pieces about 12 mm in length.
Heat the oil thoroughly. Add the vegetables, baking powder, and citric acid and cook on a high flame for 3 to 4 minutes.
Add 5 teacups of boiling water, soya sauce and salt. Boil for 3 to 4 minutes.
Serve hot with chillies in vinegar and chilli sauce.
Curd Shorba:
This is classic combination of protein-rich ingredients brought together in a delicious Indian-style soup. If you are a fan of creamy soups but want to keep the calorie count in check, this is the soup for you. All you need to do is set the curd the previous day, and you'll be able to make the soup in a snap.
Ingredients:
4 cups fresh low-fat curd
1 tsp plain flour
¼ tsp turmeric powder
2 tbsp. skimmed milk
1 tsp. oil
½ tsp. cumin seeds
¼ cup finely chopped onions
2 green chillies, finely chopped
½ tsp. grated ginger (optional)
2-4 tsp. finely chopped tomatoes
1 tbsp. finely chopped cucumber
1 tbsp. chopped coriander (for garnishing)
Directions:
Beat the curd, plain flour, turmeric powder, and milk together.
Heat the oil in a deep non-stick pan and add the cumin seeds.
Add the onions, green chillies, and ginger. Sauté for a minute.
Add the curd mixture and salt. Mix well and boil for a few minutes.
Add the tomatoes and cucumber, mix well and cook for 1 more minute.
Serve hot garnished with coriander.
Chunky Chicken Noodle Soup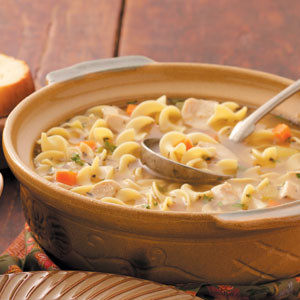 Hard-core non vegetarian? Here's a tasty, healthy soup for you. Research suggests that chicken noodle soup may help counter inflammation. Either way, it offers proteins and helps relieve congestion. What's more: it's lower on calories and sodium than your canned or packet options.
Ingredients:
1 (3-pound) broiler-fryer, cut up and skinned
4 cups water
¾ teaspoon poultry seasoning
A pinch of dried thyme
3 celery tops
2 cups water
2 ounces uncooked medium egg noodles
½ cup sliced celery
½ cup sliced carrot
½ cup sliced green onions
2 tbsp. minced fresh parsley
2 tsp. chicken-flavored bouillon granules
¼ tsp. coarsely ground black pepper
1 bay leaf
Additional coarsely ground black pepper (optional)
 Directions:
Combine first 5 ingredients in a Dutch oven; bring to a boil. Cover, reduce heat, and simmer 45 minutes or until chicken is tender. Remove chicken from broth, discarding celery and reserving broth.
Skim fat from broth. Add 2 cups water and next 8 ingredients to broth; bring to a boil. Cover, reduce heat, and simmer 20 minutes.
Bone and chop chicken; add to broth mixture. Cook 5 minutes or until thoroughly heated. Discard bay leaf. Ladle soup into bowls, and sprinkle with additional pepper, if desired.
There, you have the recipes. Try these out and create some of your own. Enjoy your bowlful of warmth and health!
I just finished mine.
(Recipe sources: TarlaDalal.com, FitnessMagazine.com)