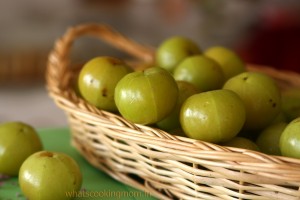 The well known fruit Amla is something that can be considered as a food for fitness. It is a powerhouse of Vitamin C and many other nutrients. The benefits of amla can never be undermined and are always well recognized by its sour, succulent taste and vibrant green colour. Indian Gooseberry, being English name of amla and Phyllanthus emblica being scientific name, this fruit has many versatile uses in Indian kitchen. It is famous because of its anti viral and anti microbial properties and has achieved great recognition in Ayurveda. Grown on deciduous trees, this astringent, sour tasting fruits is consumed as an ingredient in sweets, juices or pickles or chutneys or it is taken in raw form. It is flavourful and really healthy food with very low calories of only 60 calories for 100 grams. It is a very rich source of dietary fiber, Vitamin C, carbohydrates and have minerals like iron, calcium, phosphorus and is also contains antioxidants.
Well, if you wonder why it is recommended to eat atleast one amla or its dish every day, here are some key benefits it can provide you with. Amla is such a superawesome fruit, fulfilled with all the wonderful benefits. Just go through it and you will be amazed;
Amla promotes healthy eyes and skin: Many eye diseases can be prevented by its use. Because it is rich in vitamins A and C and has antioxidants, which helps in protecting the retina from oxidative damages and also prevents cataract and nearsightedness. The regular use of amla can even avoids the age related eyesight problems. In addition, amla is excellent for maintaining skin health and makes it glowy and soft. The vitamin C present in amla helps in flushing out toxins, which results in reducing blemishes, acne and also rejuvenates the skin. So, amla is something that is really good for eyes and skin health.
Amla is good for hair too:  Indian markets are flooded with products containing amla calling it, amla hair oil, amla hair shampoo and many other because of its superb benefits for healthy, lustrous hair. Eating raw amla or in any other form or making a home-made amla shampoo or amla conditioner for your hair will do the wonder and makes your hair awesome looking.
Amla protects your heart: Regular consumption of amla or a glass of amla juice daily will prove to be super awesome for your heart health. It is a great remedy for many heart problems as it makes heart muscles strong and enable the heart to pump blood easily and also reduces the cholesterol and helps in monitoring any heart disease. It actually reduces the risk of strokes or heart attacks as, being rich in iron and fiber, it is very effective in controlling the oxidation of LDL(bad cholesterol) and thus maintain the cholesterol levels , thereby reducing the risk of heart disease.
Amla controls Diabetes: It has beneficial effects on secretion of insulin, it controls the blood sugar levels. Amla, a polyphenol-rich fruit has properties that can assist in absorbing the insulin which leads to drop in the blood sugar in diabetics patients. It protects the body from oxidative properties of high blood sugar. Amla variants, if taken regularly or amla juice taken with turmeric powder and honey helps in controlling diabetes and keeps check on blood sugar levels.
Amla protects from Cancer: Due to the anti-oxidant properties of amla, it prevents the formation of free radicals and thus protects the body from cancer. It even inhibits the further growth of cancerous cells and has the potential to protect the body from harmful effects of chemical which are carcinogenic and thus reduces the risk of cancer.
Amla is great blood purifier: Amla juice is something that acts as a blood purifier by flushing out the toxins and thus detoxifying the body. This detoxification is very necessary, in order for the organs to function well. Also, regular intake of juice purifies the blood and increases the haemoglobin.
Amla protects your liver and prevents gastric problems: In order to keep your liver safe and healthy, amla has properties that t can heal the damaged liver from the oxidative damage from alcohol or smoking. Also, amla having fiber, polyphenol and water content combined with inflammatory properties is a great antidote for upset stomach and acidity.
With so many perks of amla, let's have a look on this simple recipe having all the nutrition of amla so that you can avail all these benefits and keep diseases at bay.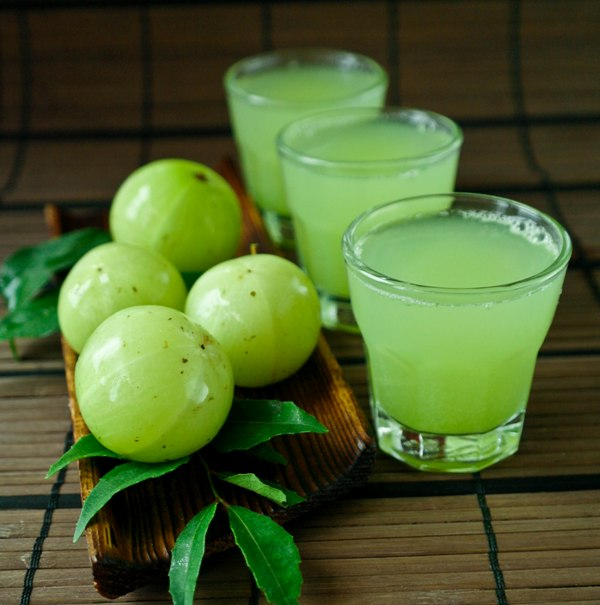 AMLA JUICE RECIPE:
Ingredients: 1 cup sugar, pinch of salt, pinch of cardamom powder and turmeric powder, 1 cup amla cut into pieces.
Method: Wash the amlas and dry them and keep them in a bowl. Place this bowl in a pressure cooker having 1 ½ cup of water and remove the pressure cooker from gas after one whistle.
Now, remove the bowl from cooker when there is no pressure and touch the amlas to see if it has become soft and has cooled down.
Then, Press the amlas with hands to remove the seeds and break them into pieces and then grind them with little sugar and salt into a fine powder.
Now, to prepare the amla juice concentrate, mix this amla paste with sugar powder and salt and can place this concentrate in the freezer.
You can add 2-3 teaspoons of this paste in water and make a juice of it and drink regularly. You can add cardamom or turmeric powder as per your taste for some flavor.
Drinking this amla juice regularly can keep you away from many health problems. Because AMLA, the Indian Gooseberry has it all; yes, all the nutrition.
Healthy Eating. Happy Life.