In the Fast Food lane we all have our certain set of experiments,hit and trials,favorites and the 'do not order' list,but somewhere down the line we have always longed for food that reminds us of home,if not exactly like our much loved 'ghar ka khana'.In search of such food ,my friend and I set out towards our destination at Race Course,Assam House Delicacy.The Assam Bhavan harbors this really humble eatery that offers you with special Assamese cuisines.Though I ain't an Assamese,but where there is food,its worth a try!Having heard much about this eatery depending on the testimony of a friend who recommended us the potato chicken dish,we arrived at around 12 noon(around that time is when they serve the lunch) after a five minute auto rickshaw ride from the race course metro station(yellow line) that costed us Rs.40.
Entering the premises of the Assam Bhavan,a guard had us enter and sign our names in a register and entering further through the doors of the eatery one could see bamboo furniture, table mats that looked like banana leaves and neat and clean tables topped with glasses and paper napkins.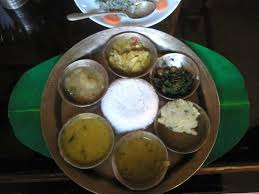 Not very crowded, we saw a couple of people having the traditional Assamese dishes,one could see that they liked it,it was really close to what home's food tasted like to them.As we sat , a man in a uniform came with two menus in his hands and a writing pad ,with a soft hospitable smile.Ordering the much praised chicken and potato with chapatis and rice we awaited the arrival of our food .The waiter returned back with two medium sized bowls of some herbal appetizer cum soup before our actual order arrived.Warm with a tinge of ginger ,this herbal concoction was really soothing despite the blistering heat,and it really worked up our appetite as well.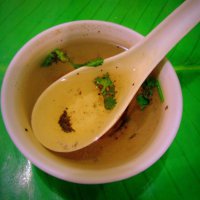 After a bowl full of goodness there came our simmering bowl of chicken and potato accompanied with hot chapatis , rice,chutney and salad.
A beatific bowl full of soft juicy pieces of well seasoned and flavored chicken with hand smashed chunks of potatoes and peas.The chapatis,crispy yet soft made it evident that the dough was well kneaded.Basmati rice with a subtle aroma peeped up inside its bowl.
With a civilized start,as we served our portions and began eating,bite after bite our speed of eating quickened as if it was the last time we'd ever eat this dish again,hogging ,overeating and devouring .Though not as uncivilized as it sounds,the chicken definitely had us eating like famished souls.the tingly taste of lemon,the refreshing turmeric's taste,fresh salad,the spicey and minty chutney grinded freshly for consumption and chapatis conjured the most nostalgic of all effects.We had the Ego moment from the movie Ratatouille the instant we had popped in the first bite.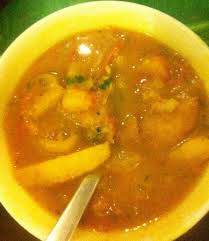 You can(maybe)fathom the depth of emotions and memories,this one dish triggered. Each bite that lingered on your tongue urged you to keep on eating.After six chapatis(three each) and a bowlful of rice down in the pit of our tummies,we sat there satiated,relishing the typical 'halwai'effect on the way our stomachs felt.The entire meal for two was worth about Rs.350 was indeed the best ever experience one could have.By stating this,I do not intend to demean the scrumptious treats that so many restaurants and eateries line up,though as a person away from home who has to deal with fast food and depends on the canteen food each day,this was certainly our bowl of happiness.Other dishes like dal and mix vegetables,fish curries and prawns are worth a mention.They too add to the homely perfection.The way the food tastes,simple undiluted and untouched by the need to serve 'as much as you can',the Assam house Delicacy prepares each dish on order.Nothing and by which I mean absolutely nothing is prepared before hand or served stale.Fresh ,hot and served with a smile,even the waiter seems to relish his customer's satisfaction.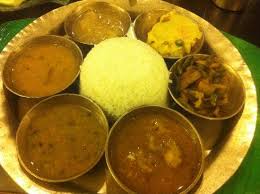 Occasionally indulging into foodie treats that are closer to one's root seems a necessary act one must perform.It is when one is away from home that one learns to appreciate what they had.The idea itself varies from person to person,yet whatever a person deems as his or her haven,a place where the heart finds peace,would undoubtedly be identical to what this neat and clean eatery served you with.Its nothing extravagant,neither flamboyant,it is simplicity at its best.I would not call the taste mind blowing,but rather its what lulls your mind to the most peaceful of states with a tinge childlike excitement at having your favorite dish. The taste definitely reminds you of how your mother prepared things,how her curries and gravies were never too thick and sweet,nor layered with market bought cream,but plain ,savory,a little imperfect in the restaurant sense but the best when it came to the impeccable balance of flavors that created absolute magic on your taste buds.For once eating at the Assam house Delicacy,we found ourselves happier than at any other place we have ever visited.An instant favorite,I recommend this to anyone who craves for 'ghar ka khana'.BON APPETITE!