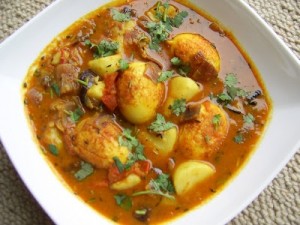 Assam is a very important part of our India, Its famous for its culture, dresses, food etc. Here we are going to have a look at its food culture, Assamese cuisine is a style of cooking which is a confluence of cooking habits of the hills that favor fermentation and drying as forms of food preservation and those from the plains that provide fresh vegetables and abundance of fish from its many rivers and ponds, both of which are centered on the main ingredient – Rice. So here are some Assamese dishes which can give you a taste of Assam.
BOR MANIMUNI MAASOR JHOL-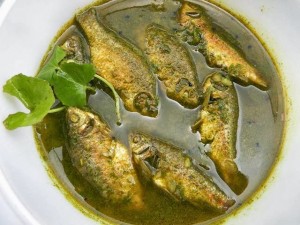 Ingredients-
1. Bor manimuni (with roots):150 gm
2. Hot water – I normally use double the amount of curry I need.
3. Small fish: 200 gm any fish you like.
4. Salt and Turmeric – To your taste.
5. Mustard oil – To fry the fish and a little for the curry.
6. Fenugreek seeds: a pinch
7. Black pepper powder: 1/4 tsp
8. Garlic: 3/4 pods (crushed)
Recipe- Grind the bor manimuni greens root and all.  Strain and keep the juice aside. If you are good with hands strain with hands by squeezing. My grand ma used to keep those lums tie them with a thread and drop in the curry, to be later taken out before serving.
Wash and clean fish and marinate with salt and turmeric. Fry them 80% in a wok and in mustard oil, keep aside.
In the remaining oil, add the fenugreek seeds to crackle. Add crushed garlic pods, salt, turmeric, manumuni extract and let it come to boil .Add the hot water and drop the fried fishes into the curry.
Let it simmer until the water is half in quantity. Just before turning off the fire, add the pepper powder.  Serve with steamed hot rice.
ALOO KONIR DOM-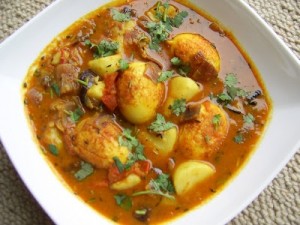 Ingredients-
4 eggs, 1 onion, chopped, 5 small potatoes, quartered, 2 tomatoes, sliced, 1 tblsp ginger-garlic paste, 1 whole red chili, 1 bay leaf , 2 cardamoms, 1 tsp cumin seeds, 1 inch stick of cinnamon, 3 cloves , 1 and 1/2 cumin powder, 1 tsp turmeric powder and a little extra for frying the eggs, 1 tsp garam masala powder, 1/2 tsp coriander powder.
Recipe- Boil the potatoes along with the eggs till done. Peel the potatoes and keep aside. Make small incisions on the eggs, lengthwise. Rub a little turmeric and salt on them, fry in a tblsp of oil till brown and keep aside. Be careful and keep a distance while doing this as the eggs may splutter at times. Heat 2-3 tblsp of oil in a pan. Add the cumin seeds, bay leaf, whole red chilli, cardamoms, cinnamon and cloves. When the seeds splutter and the oil begins to leave an aroma, add the onion and stir for a minute. Add the ginger-garlic paste and fry till the onions are translucent.
Add the tomatoes along with the cumin, turmeric and coriander powder, season with salt and cook over low heat till the tomatoes are mushy.
Mash one or two pieces of the potatoes to thicken the gravy. Add all the potatoes and stir for a couple of minutes till they are nicely coated in the mixture.
Add a glass of water and bring the gravy to a boil. The amount of water can be reduced if a thicker gravy is desired.
Now add the eggs and simmer for a minute. Add the garam masala powder and simmer for a further minute. Remove from heat and garnish with freshly chopped coriander. Serve hot with rice or chapatti.
LABRA-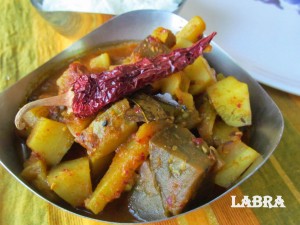 Ingredients-
3 chopped butternut squash/pumpkin
2 chopped aubergine
1 chopped mooli ( Radish)
2 medium sized potatoes, chopped
A paste of 1 small onion (chopped), 4 cloves of garlic (chopped), 2 inches of ginger (chopped) and 1 whole red chili
2 tbsp mustard oil
1/2 tsp sugar
Salt to taste
3/4 tsp turmeric powder
1 tsp cumin powder
3/4 tsp garam masala powder
1 and 1/2 C water
For the tempering-
1 tsp paas puron
1 bay leaf
1 whole red chili, halved
Recipe-
Heat the oil in a pan and add the ingredients for tempering. When the seeds splutter, add the onion-ginger-garlic-chili paste. Keep stirring till the moisture evaporates and the mixture is lumpy.
Add the vegetables, mooli, potatoes, butternut squash and aubergine, in that order, stirring well after each addition till everything is nicely coated with the spices.. Add the sugar and season with salt.
Reduce the heat to low, cover and cook till the vegetables are done 3/4ths of the way, stirring every now and then.
Add the turmeric and cumin powders, stir well for about a minute and add the water. Bring to a boil over high heat. Reduce the heat to low, cover and cook till done, stirring every now and then. The aubergine should have lost its shape, the squash and potatoes very soft (no sharp edges) and the mooli slightly firm.
Add the garam masala powder.
Increase the heat and stirring continuously, reduce the gravy, but do not let it dry out completely.
Serve hot as a side dish with plain rice and dal.