Morning blues are very real and in fact would remain so till you retire. From the moment you enter the secondary school, getting up in the morning is a bane to be faced and dealt with. Might as well do it head on. How ? Well, with food of course. For those lucky few who have breakfast waiting on the table when they get ready and have a mother hen forcing them to eat, please stop reading the misery of those who are on their own. Life outside home is more about understanding the value of a MOM and a Home cooked meal than anything else. Having had six year experience staying away and fending for my own meals, I bring to you few tricks for putting together a happy meal so that the day starts of just right and morning blues get a nice surprise. After this you will defiantly not jump up to the idea of getting up, for lets accept it, sleeping is all the more fun, but it will help you deal graciously.
POHA.
Among the easiest to make breakfast or snack ever. All you need is boiled potatoes, chopped onions, challis, salt, sugar, turmeric and poha of course. The meal starts with boiling the potatoes, chop them in eatable pieces once you are done. By the time have the dry poha soaked in water; add little salt when you do this. After the boiling, sauté the chopped onions, add turmeric, challis, chopped potato and salt. Stir till you get a faint yummy smell. In case you need a more specific indicator, make sure the turmeric is spread in the mix, the onions look slightly reddish. Now add the poha after straining the water. Make sure you dislodge the lumps formed in the poha. Now mix the poha into the pan. See the yellow color spread and the delicious smell waft through the house. Add little sugar, more like sprinkle it. Sprinkle few drops of water on the dish, turn down the flames and cover the pan for few minutes.
TIP: this tastes all the more delicious if you add sev on top with few drops of lemon. A cup of piping hot tea/coffee won't hurt at all.
Bread Poha.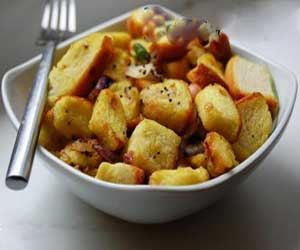 This is called a Friday poha or the leftovers dish for this dish uses all the things most likely to be leftover with you at the end of the week.  Simply replace the poha with bread pieces, no soaking required! Cut them into pieces and add to the onion, potato chili, salt and turmeric mix. It tastes just as good and more interesting.
Boiled Corn.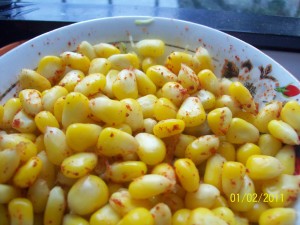 Now this has been a rescue item to me and I have seriously strong feelings for the dish. Just get an ear of sweet corn, shell it out and boil them. Add salt at this point for your taste. In time when the corn is boiled, you can check with putting a fork through it or just taste one, one just needs to strain out the excess water and the perfect snack is ready.
TIP: a dollop of butter will go a long way into making the dish irresistible.
Sprouts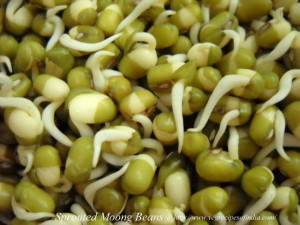 This is same as boiled corn. Do not get into the hassle of bringing in unshrouded ones and then do it yourself. Chip in additional 10 bucks for already sprouted and ready to cook kind of deal. Add all the spices like salt, chili powder turmeric to make the basic version. One can add tomato, onions etc. to spice it up. Get the taste of it and then experiment. Lemon drops won't hurt either.
Eggs!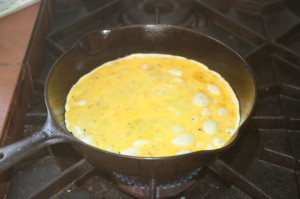 Probably a go-to dish for youngsters on their own. Boil them for a nice English feel, poach them or make a nice omelet. Practice making a sunny side up for a delightful breakfast. Make it Mexican style of Indian way; egg is a versatile way to start your day. IF you love to cook, French toast is one of the most loved snacks. Have a go at it.
Mashed Potatoes: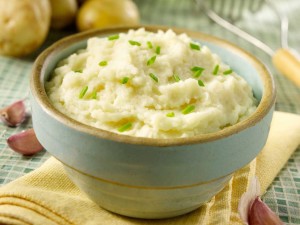 This is a little fancy and really easy way to get your meal ready. Boil a potato, add salt while boiling. They mash it. In an aluminum vessel, cook the potato with milk, chili flakes. This is the most basic way to do it and among the easiest way as well.
Bread delight.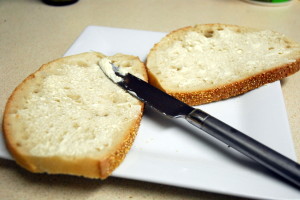 Get a loaf of bread and then let the creativity flow. Go for classic bread butter, bread jam or a toast. Go nuts with Nutella or peanut butter sandwiches. For the health freaks, add on your veggies. OF make boiled egg sandwich. If you have a pan, then put the breads on the pan slathered with ketchup. Add grated cheese on it. Cover the pan for some time. And you have a delicious cheesy snack ready. It is hassle free, cheaper than a pizza and a move over the same old sandwich.
This concludes the easy snack tips. Look out for the one about easy lunches/dinners. Happy munching!