Green Beans are popular among vegetarians as well as non vegetarians because of their high nutritional value. Beans are classified into Bush beans, Pole beans, Shell beans, Mottled beans, White beans, Yellow wax beans, Red or Kidney beans, Black beans and Pink beans.
Fresh green beans are a rich source of dietary fiber, vitamins (especially Vitamin A, Vitamin B6, Vitamin B1, Vitamin C, Vitamin K and Folates) and minerals (Calcium, Magnesium, Manganese Phosphorus, Zinc, Iron and Potassium). Moreover, they are low in calories and contain no saturated fats.
How to prepare beans before cooking?
Wash raw beans in cold water. Just before using, remove the strings and trim the ends.
Green beans can be used in grilled-salads, curries, soups, stews, stir fry (with rice) and be steamed with other vegetables. It tastes brilliant when mixed with butter, meat, seafood, nuts, mushrooms, leafy vegetables, cheese, etc. With anything and everything, it is good to go!
So, Bean It Up!
Bean Enchiladas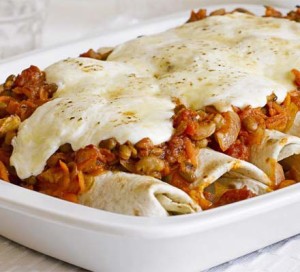 Time: 30 minutes
Serves: 4
Ingredients: 1 tsp olive oil, 2 onions (chopped), 280g carrots (grated), 2 – 3 tsp chilli powder, 2 x 400g cans chopped tomatoes, 2 x 400g cans pulses in water (drained), 6 small whole meal tortillas, 200g low-fat yogurt, 50g extra-mature cheddar cheese (finely grated)
Method: Heat the oil in a large frying pan. Cook the onions and carrots for 5-8 minutes until soft – add a splash of water if they start to stick. Sprinkle in the chilli powder and cook for 1 min more. Pour in the tomatoes and pulses and bring to the boil. Turn down the heat and simmer for 5-10 minutes, stirring occasionally, until thickened. Remove from the heat and season well.Heat grill to high. Spread a spoonful of the bean chilli over a large ovenproof dish. Lay each tortilla onto a board; fill with a few tbsp of chilli mixture, fold over the ends and roll up to seal. Place them into the ovenproof dish. Spoon the remaining chilli on top.Mix the yogurt and grated cheese together with some seasoning, and spoon over the enchiladas. Grill for a few minutes until the top is golden and bubbling. Serve with a green salad.
Broad Bean Bruschetta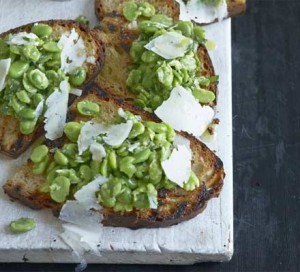 Time: 40 minutes
Serves: 4
Ingredients: 300g podded broad beans, 4 tbsp olive oil (plus extra for drizzing, juice 1 lemon, handful mint leaves, 4 slices rustic white bread, 1 garlic clove (peeled but left whole), 140g pecorino cheese (shaved with a peeler)
Method: Cook the broad beans in boiling water for 2 minutes. Drain, refresh under cold water, drain again and then peel from their skins.Use a masher to roughly crush the beans with the olive oil and lemon juice and then stir through the mint. Season with salt and pepper to taste.Heat a griddle pan; toast the bread on both sides, then rub with the garlic clove. Spoon some of the beans over each slice of bread, scatter over the pecorino and drizzle with more olive oil to serve.
Spanish Bean Stew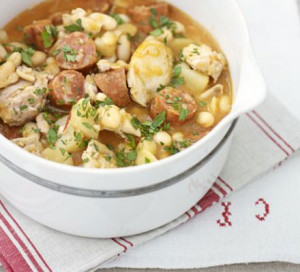 Time: 30 minutes
Serves: 4
Ingredients: 1 tbsp olive oil, 200g chorizo sausage (thickly sliced), 1 onion (chopped), 400g chicken thigh fillets (cubed), 1 tomato (roughly chopped), 410g can cannellini beans (drained), 1 large potato (cut into small cubes), 500ml hot chicken stock, 4 tbsp chopped parsley
Method: Heat the oil in a large pan. Cook the chorizo, onion and chicken over a high heat for 5 minutes. Add the tomato and cook for a further 2-3 minutes until pulpy.Stir in the beans, potato and stock. Bring to the boil, then cover and gently simmer for 20 minutes until the potato is soft and the chicken cooked through. Stir through the parsley and serve. You can cool and freeze the stew for up to 2 months. To serve, defrost and heat through thoroughly.
Fettuccine with Beans and Pancetta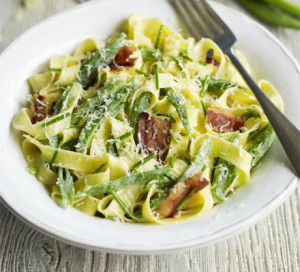 Time: 15 minutes
Serves: 4
Ingredients: 100g pack smoked pancetta rashers, 350g fettuccine, 400g runner beans (trimmed and thickly sliced on the diagonal), 6 tbsp crème fraÎche, 15g pack chives (snipped), finely grates parmesan (optional)
Method: Put a large pan of water on to boil for the pasta. Meanwhile, separate the rashers of pancetta and cook them in two batches (without oil) in a large non-stick frying pan until the fat on the pancetta is golden. Lift out onto a plate to crisp up.When the water is boiling, add salt and the pasta to the pan and boil for 6 minutes. Tip in the beans, quickly return to the boil and cook for about 4 minutes more until both the pasta and beans are just tender.Drain and tip into a large serving bowl. Toss with the crème fraîche, chives or basil and plenty of seasoning and then quickly tear in the crisp pancetta (keeping it quite chunky). Serve with the Parmesan, a simple tomato salad and some crusty bread (optional).
Butter Bean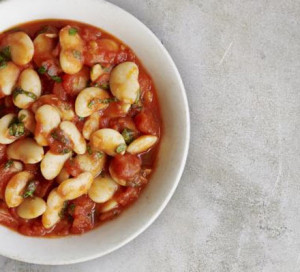 Time: 20 minutes
Serves: 4
Ingredients: 1 tbsp olive oil, 4 garlic cloves (crushed), 400g tin chopped tomatoes, 2 tsp sugar, 2 x 400g tins butter beans (rinsed and drained), small bunch basil (chopped)
Method: Heat the oil in a medium saucepan. Fry the garlic for 1 min, then add the tomatoes, sugar and some seasoning. Tip in the beans and a splash of water. Cover and simmer for 5 minutes, then stir in the basil and serve.
Recipe and Image Courtesy – bbcgoodfood.com