'Mach'. 'Dal'. 'Bhat'. The three monosyllabic words represent a paradisiacal abode for the good people of Bengal. Bengal, being near the coast, is abundant in a variety of fishes and thus the emergence of a myriad of ever-popular fish delicacies has taken place.
It is said that a Bengali cannot live without his fish. Wherever he may go, however far he may travel, his love for fish –bag and baggage- travels with him.
Truth be told, this is just another stereotyped belief. Being a Bengali myself, I prefer 'Tandoori Chicken' over any fish dish. I'm just not crazy about fishes. As simple as that. But my brother, who lives in Peterborough, London, still has his 'mach-dal-bhat'. Finding fishes from Bengal in a London market is a Herculean task. But when there's a will, there's a way. And there are millions and millions of crazy Bengalis like him all around the world. Another example is my friend Roon studying in Christ University, Bangalore. Every term break she escapes to Kolkata to fulfill and consume her quota of Bengal fishes. One Month. No Chicken. No Mutton. No Paneer. Just heavenly Fish.
"In the hands of an able cook, fish can become an inexhaustible source of gustatory pleasures"
-Jean-Antheleme Brillat-Savarin, 'the Physiology of Taste'
Hence, I jotted down the three most popular and most celebrated fish dishes of Bengal: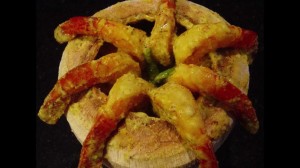 Dab Chingri (Prawns flavored with 'paanch phoron' and cooked in a tender coconut shell)
Cooking Time – 30 to 40 minutes
Servings – 4
Ingredients –  1 cup Prawns ( peeled and deveined), 1 small tender coconut, Salt (to taste), ¼ tsp turmeric powder, 1 tbsp mustard oil, ½ tsp 'panch phoron' (a mixture of equal quantities of five spices: cumin seeds, mustard seeds, fennel seeds, fenugreek seeds and onion seeds), 2 medium onions (sliced), 1 tsp ginger paste, 1 ½ tsp garlic paste, 4-5 green chilies (slit), ¼ cup coconut (scraped), ¼ cup tender coconut flesh(malai) chopped, whole wheat flour (as required)
Directions – Cut off an inch from the top of the tender coconut, drain the water and scoop out the flesh. Retain the top to act as a lid. Preheat oven to 220°C. Add salt and turmeric powder to the prawns. Mix and set aside. Heat mustard oil to smoking point. Cool slightly and add 'paanch phoron'. When the seeds splutter add onions and sauté. Add ginger and garlic pastes, green chilies and coconut and continue to sauté for two minutes. Add one cup of water and stir. Add prawns and stir. Add coconut flesh and adjust salt. Transfer the mixture into tender coconut shell. Cover with the lid and seal with dough. Place in the preheated oven and cook for about twenty minutes. Open the lid and serve hot.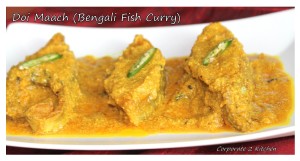 Shorshe Ilish (Hilsa cooked in mustard gravy)
Cooking time – 30 to 40 minutes
Servings – 4
Ingredients – 1 medium Hilsa (1/2 inch darnes), ½ cup mustard seeds, salt (to taste), ½ tsp turmeric powder, 2 green chilies, 4 tbsp oil, 1 large potato (cut into fingers), ¼ tsp onion seeds
Directions – Wash fish pieces and marinate with salt and turmeric powder and set aside for ten to fifteen minutes. Grind mustard seeds with green chilies to a fine paste using water as required. Heat oil in a pan and lightly fry the marinated fish pieces on both sides till lightly browned. Drain and set aside on a plate. In the same oil fry the potato fingers till lightly browned. Drain and set aside. In the remaining oil add onion seeds and sauté till fragrant. Add the ground paste and sauté for a minute. Add a cup of water and bring it to a boil. Add turmeric powder and salt. Add potato fingers and simmer till they are done. Add fish, cover and simmer for two minutes. Serve hot with boiled rice.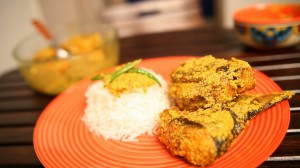 Doi Mach (rohu fish cooked in curd)
Cooking Time – 30 to 40 minutes
Servings – 6
Ingredients – 5 to 6 medium large rohu fish/bhetki, salt to taste, 2 tsp turmeric powder, 2 to 3 medium sized onions, 3 to 4 pods garlic, 1/3 tsp ginger paste, 4 tbsp of oil, 4 green chilies, 2 tbsp plain yogurt, 10 raisins, 1 bay leaf, ½ cinnamon stick, 4 cloves, 3 green cardamom, 1 tsp cumin powder, 1 tsp coriander powder, 1 cup water, 1 tsp sugar
Directions – Take the slices of fish and wash them thoroughly. Salt them and rub 1 teaspoon of turmeric powder. Set aside for 10 minutes. Cut Onions into big slices. Cut the garlic pods into pieces. On a hot skillet, heat 2 table spoons of oil. Add the fish pieces and fry well. Take the fish out and set aside. In the remaining oil fry the onion garlic and ginger for 2-3 minutes with 2 green chilies. Take them out. Cool them for a minute or so. Put the fried onion, garlic, ginger chilies back into a mixer and grind it with 2 table spoons of yogurt. Heat remaining oil in the skillet. Add raisins and bay leaf. Then add cinnamon, cloves and cardamom in the hot oil. Let it splutter, add the ground paste of onion, garlic, ginger and chilies. Stir it for 2-3 minutes. If it dries up may add a sprinkle of water. Add 1 teaspoon of turmeric powder, 1 teaspoon of cumin powder and 1 teaspoon of coriander powder. Keep stirring for 3 minutes. Add 1 cup of water and mix well. Let it simmer. Add salt to taste, sugar and the remaining 2 chilies. After it comes to a boil, add fish pieces and cover on medium heat. Keep cooking till the fish gets cooked through. Adjust salt and sugar according to taste. Serve hot with rice.
Picture Courtesy – corporate2kitchen, ahomemakersdiary.com