There is hardly someone who does not like travelling and hasn't ever dreamt of going on a world tour yet. But it's not possible to visit and every city and if at all you happen to be in one of these cities below, here is a list of great hotels that are almost close to heaven. Luxury and ambiance of these hotels has captured hearts of international tourists ever since they were constructed!
1. Palms, Las Vegas
Planning a party in sin city? I tell you, it is impossible to get a place better than the Palms in Las Vegas. It is everything that a perfect party place should be! Rooftop suites, Jacuzzi, glass elevators that will show you the night-time Vegas, gym, full fledged bar and what not! You name it and you get it here. Its is a dream come true for every party loving guy out there.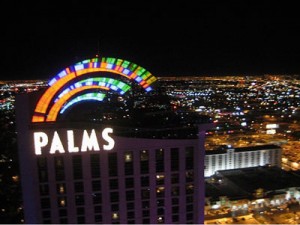 2. Burj Al Arab Hotel, Dubai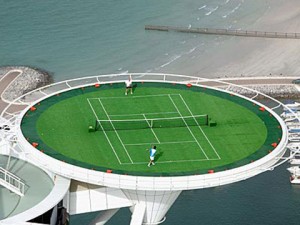 You sure have seen a floating sail-shaped hotel in a lot of Bollywood movies or even in photographs. We all know its USP, don't we? It is the one and only Burj Al Arab. Breathtaking views, luxurious suites, tennis courts and a helipad (I know it's grand!) are the remarkable amenities of this hotel. Burj Al Arab has made everyone enthusiastic to visit it ever since it was built. Royal treatment is something you can expect off the polite and helpful staff here.
3. The Westin Excelsior, Rome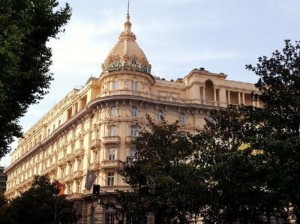 Rome, as you think about it, incredible history is something that comes to your mind first. Situated in Via Veneto district, this hotel was built in 1906 and has been recently renovated to suit the modern lifestyle. It now consists of the largest suite in Italy called 'the Villa Cupola Suite '. Even though it was renovated, the hand-frescos and antique furnish still gives it the royal look. Domes, gyms, sauna, formal dining rooms are other enthralling facilities available here.
4. The Plaza, New York City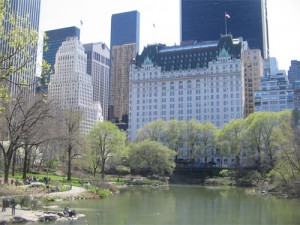 Would you like to visit the best hotel in New York which gives awesome views of Manhattan? We all know, only The Plaza can get you requirements fulfilled! Visiting this place gives you a feel of turn of centuries. Libraries, gyms, kitchen for personal chefs, private elevator, and a great Butler service and of course, best views of Manhattan are the specialties of The Plaza. This place was built a long ago i.e. in 1907 which is why the architecture reminds you of the old era
5. Atlantis Paradise Island, Bahamas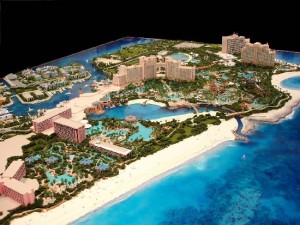 The submerged Atlantis city has always been a fascination for everyone. The stories claim that it was no less than paradise. This hotel is built as an accolade to Atlantis. Now you know why people flock around here so much. This 141 acre place is actually a resort. Their Royal Towers Bridge Suite is located on the 23rd floor and offers posh rooms with pianos, a 22 karat gold chandelier and a formal dining room.
6. CuisinArt Golf Resort & Spa, Anguilla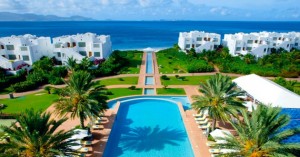 Originally designed and built for the owner himself, this resort later started made room for guests. Villas and the large well-furnished rooms here are located on beautiful fascinating beaches. The Golf course, Spa and fitness club are the major attractions which have succeeded in attracting even a lot of celebrities here.
 7. Oberoi Udaivilas, Udaipur, India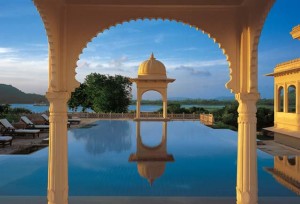 Have you watched Yeh Jawani hai Deewani? I am sure that you marveled at the place where Aditi's (Kalki's) marriage ceremony was shot! It was none other than Udiapur's Oberoi Udaivilas. After watching the movie, you don't really need a description of this Marwadi beauty. A boat ride takes you to this private 50-acre land located in Lake Pichola. Views of Udaipur palaces, wildlife in the nearby forests and grand special rooms with private swimming pools and terraces together form a great combination for the guests.
8. The Boulders, Arizona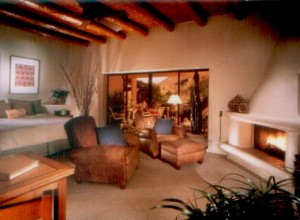 Can you imagine something which is 12-million-years old? Well, the rock formations here are! This spa resort got its name from the rock formations and it is nurtured by Mother Nature herself. The Boulders is spread over an enormous 1300 acres of the Sonoran Desert and offers two golf courses as well. Extreme privacy and secrecy about the guest celebrities is the top priority for the extremely loyal staff.
9. The Lodge at Kauri Cliffs, Matauri Bay, New Zealand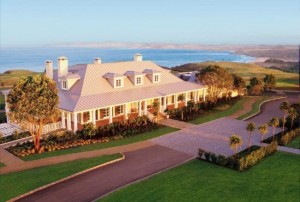 Golf being the chief attraction, such a lodge is ought to lie in the North Island countyside. This place offers 22 suites, two tennis courts, three swimming beaches, indoor/outdoor fireplaces and also one of New Zealand's best spas .The Owner's Cottage offers wonderful golf course views, two bedrooms and a large 4200 square feet for your leisure.
10. Nayara Hotel, Spa and Gardens, La Fortuna, Costa Rica

Costa Rica is a serene place and so is this hotel. Along with lush green scenery, wildlife, white-water rafting and kayaking are the things that tourists look up to. The owner Leo Ghitis has thought of an irresistible combination of huge decks, hot tubs and plantation furniture for the guests. The wine bar here which is an all-time favorite serves best vintages to the guests whenever required.
So, aren't these places really worth visiting? After looking at this list of features, anyone will go crazy thinking about visiting these hotels which are believed to be the best in the world!