I will soon turn a year older an something clicked in my mind. Am I going to throw a party ??? The answer is still uncertain but one thing is for sure I will cook for me and will treat my tummy with dishes Like. It's a nice nice idea, isn't it ? If I play rewind record of my earlier childhood or teen-hood birthdays food was never my priority , it was always what birthday gift I got (I am confessing I was materialistic back then). Me and my friends use to party a lot and my mum use to cook best possible recipes for us and we use to just finish it in about 30 minutes. Long gone are those days and those friends are so far from my reach . Though they wish me through social media or a message or a call , few even gift me stuff through couriers but still my birthdays are not so happier the way they use to be earlier. They are now much milder in , much calm , much busy in work types these days . My
Mum still cooks for me on my birthday( Her famous kheer/Sweet rice pudding…a very popular dish among my friends ) but I am too far from her to taste that .If I look now the gifts are more sophisticated , much more expensive , much more "I like Stuff" but somewhere the birthdays with a pencil box gift wrapped or a plastic doll , or a chocolate bar with hideous decorations were more meaningful , lifelike , much more valuable for me. To have that feeling back I have decided to cook the way my Mum use to cook for me , dance on Bollywood cheap songs the way my friends use to entertain my make my parties fun , shout the way they use to scream "happy birthday" for me and Burst a balloon for myself filled with goodies inside. I again asked my self Am I eccentric ….Big deal even If I am. I will have fun the way I use to have a decade ago and cherish these memories a decade later rather than repenting on my arm chair with a ART OF LIVING BOOK on my side desk .I know my friends my parents , my best pal my sister wont be there in my little celebration this time  but I am going to celebrate for me. I am going to make this birthday Rock . Will Click selfies of my own , will dress up , Will do make up. I will not repent this birthday to be on a weekday and so I am not celebrating it , No I will make it happier& funny for me. You feel terrible when you don't try , But I wont give up I will just have a blast ….To celebrate with me try these recipes which I will cook for my birthday .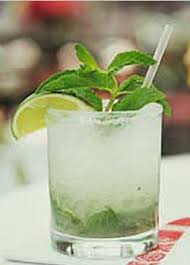 Mojito:
Yes I am talking alcohol now. BUt its a crime say that I am being drunk here its a celebration drink for my birthday and I have full right to break the rules. Drinks are party showstoppers for me and if its for my celebration I will commit this sin gladly.
Ingredients : Mint sprigs roughly cut , 1 tablespoon sugar syrup , 30 ml Vodka ,15ml Soda water, Ice cubes, Peppermint tablets finely crushed, Lemon wedges , lemon ring for decoration. For serving your choice matters .
Servings : Its crime to count the servings when you are celebrating so please repeat till you find yourself sane.
Method : Its easy and very quick to make. Firstly crush the peppermint tablets powder, mint leaves and lemon wedges together. Now Take a glass (Your choice matters not mine ) add ice cubes, sugar syrup , and freshly crushed mint peppermint and lemon wedges . Now add Vodka and soda water into the glass stir it gently with a stirrer. And Yes do decorate it with lemon ring and serve yourself .Cheers!!!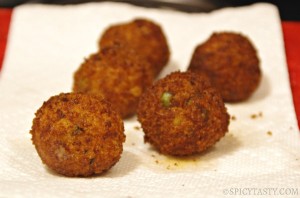 Cheese Corn Balls :
With a perfect drink we have to have the perfect starter.  And to get  that we have a very simple and quick recipe too. (Remember Its me who is cooking and I don't want to get tired on my birthday so planned a quick dish celebration…being smart is justified ).
Ingredients : 2 cups corn kernels , 1/2 cup refined flour, 1 tablespoon chopped coriander, 1 cup grated processed cheese, salt to taste, 1 teaspoon red chilly powder, 1 teaspoon dry mango powder, 1 teaspoon lemon juice , 1 teaspoon finely chopped green chilled, oil for deep frying.
Servings : 2 to 3
Method : Crush corn kernels roughly in a blender. Mix blender corn , refined flour, corriander, dry spices, cheese , salt, and lemon juice and bind the mixture well into a fine dough. Adding water is not required as corn kernels hold a lot of moisture into them which will be enough for binding the mixture.
Make small equal round balls out of the dough and give them smooth round shape. Deep fry the cheese corn balls and serve them as appetisers or have loads of them to fill your tummy. Remember this party is to relax and have fun , extra work not required.
Monte Carlo:
Its easy to make dessert . Indulge yourself with this at the end and have a good nite sleep later.
Ingredients : 2 scoops of vanilla ice-cream (You may use butterscotch flavour also ), few butterscotch drops, Dark chocolate syrup ,1 teaspoon
honey,1 tablespoon whipped cream,  choco-chips if you are a chocolate person.
Servings : 1
Method : Take a ice-cream bowl or a fancy glassware , add two scoops of vanilla ice-cream to it , top it up with ,whipped cream , butterscotch, honey, choco-chips and at last chocolate syrup. Serve it .
So, isn't it a great idea to celebrate your birthday and throw yourself a small party. The only way to keep yourself tempted for life is to appreciate each day and keep yourself engrossed in you to get out of all cribbing's which we generally  do all day. Make a difference and spread happiness.