Marriages they say, are made in heaven. The bonds that last a life time and follows you throughout the seven circles of life you are supposed to complete.
The weddings in the traditional Brahmin households are extravagant. Traditionally the weddings would last a good 19 days. With the ever evolving present, it is exclusively celebrated for 3 days. It is usually organized by the bride and her family.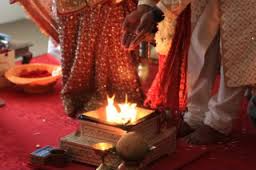 Pre – wedding rituals
Nischitartham – It is a formal announcement of the bride and the groom being engaged in front of the elders and other family members. Gifts and clothes are exchanged. The horoscopes of the bride and the groom is matched and an auspicious day in the future is fixed for the marriage.
Devarasamardhna – It is a function where in the bride and the groom separately worship the sacred fire and seek blessings from the lord. They pray for a healthy and auspicious life ahead. The mantras are usually chanted in Sanskrit.
Vara pooja – The groom is formally welcomed to the marriage hall, by the bride and her family. He is showered with gifts and clothes
THE WEDDING
The respective houses of the bride and the groom are decorated using mango leaves and flowers. Colourful lights are also added.
The hall where the marriage is to take place houses a mandapam. This mandapam is filled with the voices of the scholars reciting the auspicious sanskrit mantras.  The bride offers prayers to lord Ganesha and goddess Gowri and her gothram (which is the identity of her father's family) is then changed to that of the groom family.
The groom on the other hand performs a ritual called kashiyatra. Here the groom says he is above all the worldly pleasures and wants to go the holy city of Kashi. He is then stopped by the bride's father and her cousins and is swayed to take the responsibilities of the household.
After the ritual the bride is accompanied by her maternal uncles and brother and brought to the mandapam. Then a ritual called Kanyadanam is performed. The feet of the groom who is believed to be the incarnation of lord Vishnu is washed. The bride and the groom are not allowed to see each other before muhurtam . At the pre decided time ( during nischitartam) the bride and the groom place seeds of cumin and jaggery on each other's head. This symbolizes the hand over of the bride to the groom.
After this the sacred fire is worshiped and the mangalyam is tied around the neck of the bride. Then a small portion of bride's saree and a small portion of the grooms outfit is tied. They walk  seven steps around the fire hand in hand , promising to be there through the good and bad times. The groom then adorns the bride's feet with silver toe rings.
The wedding ceremonies comes to an end when the bride and the groom share their first exquisite meal on the plantain leaf together.