What is it about that meaty (or veggie) patty topped with mayo, ketchup, lettuce and sandwiched between the oh-so-tasty buns that makes our tongues water? Is it the ambrosias aroma of the spice mix or the spectacular way the Burger sits in front of us neatly packed in its various layers? Or the inexplicable sensation the moment we take our first bite – the burst of flavour that hits us, the heavenly infusion of the crackle and the mayo, the melting of the chicken in our mouth…? Which one is it?
There is no one answer.
There is no answer.
One needs not a reason to love. One simply does.
All of us love our KFC Zinger Burger or McDonald Maharaja Mac. So, why not try making our own Burger at home?
Let's start with a Burger for the vegetarian souls and then we will gradually move on to the meatier ones.
Veggie Burger with Mushrooms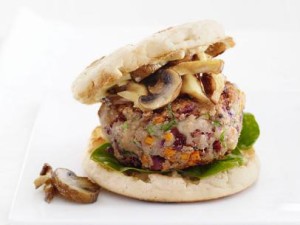 Time: 25 minutes
Serves: 4
Ingredients: 1 15-ounce can kidney beans (drained and rinsed), 1 small red onion (shredded and squeezed dry), 1/3 cup chopped walnuts, 1 small carrot (finely diced), 1 cup plain or whole-wheat breadcrumbs, 2 scallions (white and green parts, finely chopped), 2 tbsp chopped fresh parsley, 2 tsp soy sauce, Kosher salt, freshly ground pepper, 3 tbsp extra-virgin olive oil, 3 cups assorted mushrooms (sliced), 4 English muffins (split and toasted), mayonnaise and/or mustard (for garnish), baby spinach (for garnish)
Method: Smash the beans in a bowl with a potato masher or fork until slightly chunky. Add the onion, walnuts, carrot, 1/2 cup breadcrumbs, scallions, parsley and 1 teaspoon Worcestershire sauce. Season with salt and pepper and mix with your hands until combined. Spread the remaining 1/2 cup breadcrumbs on a plate. Form the bean mixture into 4 patties; lightly coat with the breadcrumbs, shaking off any excess. Heat 2 tablespoons olive oil in a large nonstick skillet over medium-high heat. Add the patties and cook until golden and slightly crisp, 2 to 3 minutes per side. Transfer the burgers to a plate. Heat the remaining 1 tablespoon oil in the same skillet over medium heat. Add the mushrooms and the remaining 1 teaspoon Worcestershire sauce; season with salt and pepper and cook until the mushrooms are slightly wilted, 3 to 4 minutes. Serve the burgers on the English muffins with mayonnaise and/or mustard, baby greens and mushrooms.
Time: 16 minutes
Serves: 4
Ingredients: 400g can chickpeas (rinsed and drained), garlic cloves (chopped), handful of flat-leaf parsley or curly parsley, 1 tsp ground cumin, 1 tsp ground coriander, ½ tsp harissa paste or chilli powder, 2 tbsp plain flour, 2 tbsp sunflower oil, toasted pitta bread, 200g tub tomato salsa (to serve), green salad (to serve), 1 small red onion (roughly chopped)
Method: Pat the chickpeas dry with kitchen paper. Tip into a food processor along with the onion, garlic, parsley, spices, flour and a little salt. Blend until fairly smooth and then shape into four patties with your hands.Heat the oil in a non-stick frying pan, add the burgers and then quickly fry for 3 minutes on each side until lightly golden. Serve with toasted pittas, tomato salsa and a green salad.
Tuna Sweetcorn Burger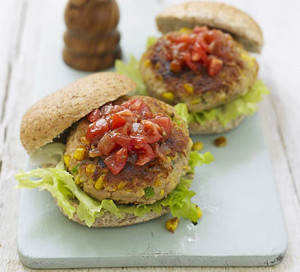 Time: 15 minutes
Serves: 4
Ingredients: 85g white bread (torn into pieces), 198g can sweetcorn (drained), 2 x 185g cans tuna in water (drained well), 25g grated cheddar, 3 spring onions (finely chopped), 1 egg (beaten), 2 tbsp vegetable oil, wholegrain bread rolls (to serve), lettuce (to serve), salsa (to serve)
Method: Whizz the bread in a food processor to crumbs, tip into a bowl, then whizz half the sweetcorn until finely chopped. Add the chopped corn, remaining whole corn, tuna, cheese, spring onions and some seasoning into the bowl with the bread and mix well. Add the egg, bit by bit (you may not need it all), until the mixture is sticky enough to be shaped into four even-size burgers.Heat the oil in a non-stick pan, then cook the burgers for 5 minutes on each side until golden and hot through the middle. Stuff into wholemeal buns with your favourite lettuce and a good dollop of salsa.
Beef Burger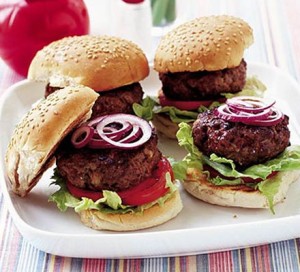 Time: 25 minutes
Serves: 4
Ingredients: 1 small onion, 500g good-quality beef mince, 1 egg, 1 tbsp vegetable oil, 4 burger buns, All or any of the following to serve – sliced tomato, beetroot, horseradish sauce, mayonnaise, ketchup, handful iceberg lettuce, rocket, watercress
Method: Peel the onion, slice in half through the root and trim off the top. Place cut-side down on a chopping board. With your knife parallel to the board, cut 3 slices through the onion, keeping the root intact. With the knife point at root end, cut down through the onion from top to bottom, 4 times. Holding the root end, finely slice to give you small diced pieces. Tip the beef into a bowl with the onion and egg, then mix.Divide the mixture into four. Lightly wet your hands. Carefully roll the mixture into balls, each about the size of a tennis ball. Set in the palm of your hand and gently squeeze down to flatten into patties about 3cm thick. Make sure all the burgers are the same thickness so that they will cook evenly. Put on a plate, cover with cling film and leave in the fridge to firm up for at least 30 minutes.Heat the barbecue to medium hot (there will be white ash over the red hot coals – about 40 minutes after lighting). Lightly brush 1 side of each burger with oil. Place the burgers, oil-side down, on the barbecue. Cook for 5 minutes until the meat is lightly charred. Don't move them around or they may stick. Oil the other side and then turn over using tongs. Don't press down on the meat, as that will squeeze out the juices. Cook for 5 minutes more for medium. If you like your burgers pink in the middle, cook 1 min less each side. For well done, cook 1 min more. Take the burgers off the barbecue. Leave to rest on a plate so that all the juices can settle inside. Slice each bun in half. Place, cut-side down, on the barbecue rack and toast for 1 min until they are lightly charred. Place a burger inside each bun, then top with your choice of accompaniment.
BBQ Chicken Burger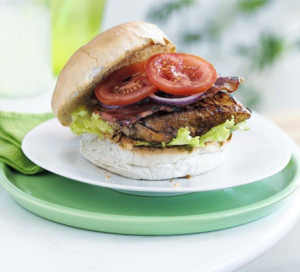 Time: 25 minutes
Serves: 4
Ingredients: 4 chicken breasts (skinless, boneless), 4 rashers bacon (optional), 4 large burger buns (sliced in half), lettuce (to serve), tomato (to serve), red onion (to serve)
For the sauce and marinade: 4 tbsp tomato ketchup, 4 tbsp brown sauce, splash of chilli sauce (optional), 2 tsp clear honey, 2 garlic cloves (crushed)
Method: Make the sauce and marinade by mixing everything together in a large bowl and then put a few spoonfuls aside. Slice halfway into the thickest part of each breast and open it up like a book. Flatten down slightly with your hand and then toss in the bowlful of marinade to coat. Chill for as little, or as long, as you have time to.Barbecue the chicken for about 10 minutes until completely cooked through, turning so it doesn't burn but is nicely charred and sticky. Cook the bacon at the same time until crisp, if using, and toast the buns. Assemble the burgers with lettuce, slices of tomato, onion and the reserved sauce on the side for dolloping on top.
Recipe and Image Courtesy – bbcgoodfood.com, foodnetwork.com