Chandigargh-Pinjore-Anand Sahib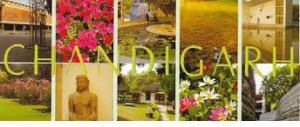 Chandigarh, the city of French architect Le Corbusier, is best known for being India's most planned urban developments. The shared capital of Punjab and Haryana, it lies at foothills of the Shivalik range and offers options for easy getaways. That's what this itinerary is all about.
Day 1: Chandigarh
Get into town
Arrive in Chandigarh and check into a city hotel that will make sightseeing convenient. We recommend the newly opened JW Marriott in Sector 35 B. Freshen up, put on your walking shoes and get ready to see the city of Corbusier. Entrusted with creating a blueprint for Chandigarh, he envisaged a city of planned residential blocks, grid-pattern streets, several gardens and public spaces. Begin at Capitol Complex, the administrative quarters and a grand expression of Corbusier's work. Break for lunch; you are never short of places serving hearty, affordable Punjabi khaana in the city centre. Later, drive around the city, taking in the architecture. A visit to the Le Corbusier Centre is also recommended. Spend a relaxing evening in your hotel.
Day 2: Chandigarh sights
Distance:
Time Taken:
Today is for a tour of Chandigarh's most popular attractions. They attract tourists by the scores and for a good reason. First, the Rock Garden, which houses figures and sculptures that are almost a symbol for Chandigarh. Nek Chand scoured the Shivalik hills for interestingly shaped pebbles and rocks, interspersed them with waste materials like glass shards and created this spectacle spread over 25 acres. After a break for lunch, wander off to Sukhna Lake, where the city gathers in the evening to stroll, unwind and just hang out. Head back to the hotel, before getting a taste of Chandigarh's buzzy nightlife. Buzz, in Sector 17, is a good choice, with good drinks, food and a dance floor in case you want to groove a bit.
Day 3: Chandigarh gardens & museums
Chandigarh's museums and galleries are as well-organized as the city itself. Take a tour of the Government Museum and Art Gallery in Sector 10 with its splendid collection of stone sculptures from the Gandhara period. Pre-historic fossils are another major attraction here. Then, there's the Museum of Evolution of Life in Sector 10 that lets you travel back 5,000 years to the Indus Valley Civilization. The International Dolls Museum in Sector 23 has a colourful collection that children will especially love. Devote the second half of the day to a relaxing stroll through the city's beautifully laid-out gardens, such as the Zakir Hussain Rose Garden and the Garden of Fragrance in Sector 36 which lives up to its name. As the day winds down, get to sector 17; the sleek shopping area, dotted with fountains and sculptures, becomes one big outdoor club every night. There are drinking and dining options aplenty here.
Day 4: Prakriti Farms
Distance: 45 kms
Time: 1 hour (by road)
Drive out to this organic farm which nestles in the lower Shivaliks and is set amidst forestland on all sides. Accommodation is in Swiss cottage tents and safari tents . Take a farm tour and see environment-friendly farming practices at work. Dine on delicious Punjabi food prepared from vegetables grown on the farm. You could also catch a Sufi music performance in the evening. It's the perfect green getaway and antidote to city stress.
Day 5: Pinjore
Distance: 25 kms
Time: 30 minutes (by road)
It's picnic time. Make the short drive from Chandigarh to Pinjore Gardens, also called Yadavindra Gardens. Carry a picnic lunch. With its scenic location at the foothills of the lower Shivalik range, this is a garden created in the Mughal style. Stroll amidst the plant nurseries and Japanese garden and picnic on the lawns. Return to Chandigarh for the night.
Day 6: Hidden Valley
Distance: 8 kms
Time: 20 minutes (by road)
After a relaxing day in the gardens, it's time for some adventure. It's at Hidden Valley, an eco-tourism centre in the Shivalik foothills. The famous Mata Jainti Devi temple is nearby. At Hidden Valley, you are surrounded by nature. Go trekking, mountain-biking and take cart rides. This day trip is perfectly suited for children as well. Return to Chandigarh.
Day 7: Anandpur Sahib
Distance: 85 kms
Time: 1 and half hours (by road)
Anandpur Sahib, one of the most sacred spots for Sikhs, is serene and calming, even with the hundreds of devotees who throng the place.  Walk its marble corridors and say a quiet prayer, or meditate. After a break for lunch, travel to see the Gurudwara Qila Taragarh Sahib, a graceful fort that sits atop a hill.  You'll be surrounded by spectacular views all around. Get back to Chandigarh in time for your return trip.
——
Do:  A boat ride on Sukhna Lake may seem like a touristy thing to do. But try it, it's utterly enjoyable.
Eat: Can't leave Chandigarh without tucking into its most-famous food export. The butter chicken at Pal Dhaba in Sector 28 is rated among the best by locals.
Shop: Phulkari is Punjab's beautiful embroidery. Buy shawls and dupattas at the Punjab Emporium in Sector 17.
Plus Says
Best time to go: Mid-August to November is a good time to visit Chandigarh, especially if you prefer mild weather to extreme. But the cold winters have their charm, too, and are a great time to indulge in rich, Punjabi fare.
Good to know:
Hop on hop off bus: This open-top double-decker bus service run by the Tourism Department is a convenient way to take in Chandigarh's sights. It begins at Hotel Shivalik View, in Sector 17, and takes you to the Rose Garden, Museum and Art Gallery, Bouugainvillea Garden, Rock Garden and Sukhna Lake.
Permits: Special permits are required to enter some of the key buildings in the Capitol Complex. These can be had at the Tourism Bureau.
Girls' nights out: Chandigarh's pubs and bars are surprisingly women-friendly. So, think nothing of making a night out of it with your girl gang. The Blue Blazer in Sector 26 and Score in Sector 8 have rocking ladies nights.
Great getaways:  While there's plenty to do in the planned city of Chandigarh it also makes a convenient point from which to travel out of town. Some of the day trips and short trips from Chandigarh include those to the quiet hill station of Kasauli, the town of Barog and Renuka lake on the Kalka-Shimla highway and Morni Hills in the Shivalik range.
Tip: Both men and women must cover their heads and dress respectably when entering Gurudwaras. These welcome people of all religions and denominations.
Top Picks:
Cooking classes at Prakriti Farms: The organic farm, based on sustainable practices, offers cooking demos and classes in Punjabi cuisine. Sign up and get hands-on training in some classic dishes.
Cycling through the city: Chandigarh, with its dedicated lanes, is perfect for cycling. PedalChandigarh is an outfit that rents out bikes and also arranges cycling tours.  Cycles are parked at ISBT, Sector 17.
Rock the night: With its late closing times, dance floors and discotheques, Chandigarh is a happy place for party types. Besides Buzz, check out also spots like Zinc Lounge in Sector 26.
Evenings at Sector 17: It's a daily party in the piazza at Sector 17. Fountains light up, people gather, bars and restaurants buzz with activity. A recommended way to spend an evening in Chandigarh.
Gardens by night:  You will enjoy attractions such as the Rose Garden by day. By night, these are lit up and allow access to visitors.