The intangible cultural heritage of the world, the Mexican food has a wide network all over the world. The life without Mexican food is like no life at all and I think this phrase set right here if we are discussing about the enchiladas, the world famous Mexican dish full of cheese and spices. Mexican enchilada has emerged as a, cultural and culinary phenomenon that goes far beyond than mere belly filling. Enchiladas are rooted in the Mexican culture, religion and tradition, regarded as symbol of Mexican ethnic heritage and sense of delicious food. Enchiladas are also a most favorite street food of Mexico.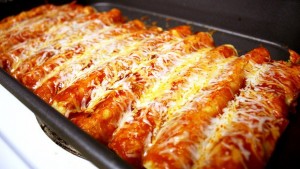 This dish was originally came into existence, when the people living in valley of Mexico used to eat corn tortillas folded or rolled around small fish. After that, from generation to generation enchiladas are regarded as central part of the Mexican culture. It is served on all the occasions. Varieties of enchiladas depend on the regions. Enchiladas are rolled maize tortillas stuffed with either chicken or vegetables and covered with melted cheese and Chile sauces. Recipe of enchiladas is very simple it hardly takes 30 minutes to prepare delicious enchiladas.
For Veg cheese enchiladas the ingredients are – 12 corn tortillas, red enchiladas sauce, 2 to 3 tablespoons olive oil, half onion chopped, 1 clove of garlic, 14 ounce crushed tomatoes, half cup water, half teaspoon dried oregano, 4 cups of jack cheese, mild cheddar, a handful of cilantro, ¾ cup of chopped cooked green chilies, 1/3 cup chopped pickled jalapenos, 1 cup of sour cream half a head of iceberg lettuce. For making tortillas take a mixture of either of wheat or maize with salt. stir in water and oil. knead 10 to 15 times then roll and cook tortillas over medium heat.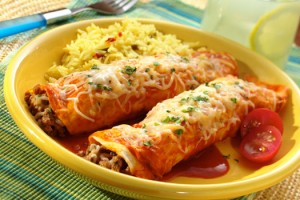 Method of making enchiladas- preheat oven to 350 degree F. Add a tablespoon of oil on large frying pan at medium heat. Now add a corn tortilla cook it for 2 to 3 minutes. Lift up tortilla with the help of spatula and add another tortilla underneath and cook it also for 2 to 3 second, repeat this process until all the tortillas become brown and soft. you can add more oil if needed. This pre-cooking of tortilla helps in softening them for rolling. Add the fried and chopped onion, cook them for 5 to 6 minutes until translucent. Add the crush tomato, chili, salt and garlic, cook for a minute then add ½ cup water. Add the oregano and if it taste too vinegary, add half teaspoon sugar then put it aside.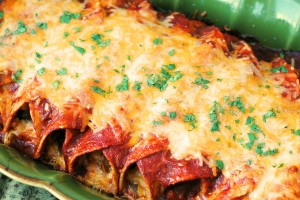 Now take tortillas one by one, stuffed with all the mixture and cheese, cover 2/3 of it tightly with the shredded cheese, then roll up the tortilla and place it in casserole pan with little olive oil on the bottom of it. Add sauce on the top of the tortilla in the casserole pan until the tortillas are fully covered with the sauce cover the whole thing with the rest of the grated cheese. Put the casserole in the oven for 10 to 15 minutes until the cheese melts. Now you have cheesy, spice and tasty veg enchiladas served with sliced iceberg lettuce dressed topped with different sauces and cheese. you can put more vegetables according to  your test and desires.
Making of non-veg enchiladas-
Ingredients are-
2-3 tablespoon olive oil, 1 cup frozen corns, 2 red onion sliced, 2 red peppers, red chili powder, 2 garlic cloves, crushed, 1 tablespoon cumin seeds and ground coriander, Boneless chicken, cut into small chunks, re fried beans, tomatoes, pasta according to the need, 10 tortillas, 3 ml. pots soured cream and around 200 gm cheddar, grated, 1 tablespoon golden caster sugar, 1 cup shredded cheese and Red enchiladas sauce.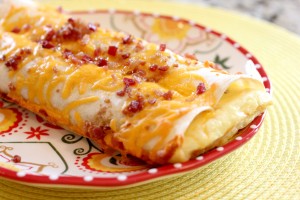 Method: To make enchiladas sauce- first, blend the charred garlic, onion, tomato, chopped green chili and coriander in mixer then put this mixture for heat in oil or Heat the olive oil, fry the onions, peppers, chopped chili and coriander stalks half the garlic and tortillas in a large pan for the 10 minutes until it becomes soft then stir in it 2 teaspoon ground coriander and cumin seeds and fry for 2 minutes. .  Now add water, salt, and pepper, simmer on low heat for 10 minutes.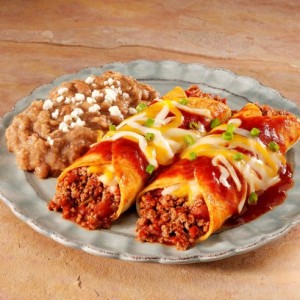 Meanwhile boil chicken in the water, rinse and shred with fork. Add onion and garlic. If using ground beef, brown with the onion and garlic or fry the chicken in another pan until it becomes brown then add it to the pan of vegetables. Sprinkle chicken with cumin, garlic powder and Mexican spices on vegetables, then remove it and allow cooling. Add corn and chili then after mixing add canned tomatoes. Stir the beans, sweet corn, coriander leaves, spices and 150 ml of pasta into the vegetables and chicken. Add tortillas drain on paper towel. The pour the enchiladas sauce in the bottom of the baking pan, fill the tortillas with a spoonful of chicken mixture, spicy vegetables and Cheese.To put together the enchiladas slather sauce on the tortilla, add the cooked enchiladas chicken, roll it and pour enchiladas sauce and cheese on the top. Bake it till the cheese melt. place for the bake at 350 degree for 20 minutes or until cheese melt then garnish with chopped tomatoes, decorated with different salads and sour cream before served.
Now enjoy the cheesy, spicy and testy enchiladas.!!!