There are over a thousand varieties of cherries existing on our planet. The cherry is a fruit of a single seed and they are in the same family as the peach. It can be characterized by its small round shape and often slightly heart-shaped, this fruit grows in small bunches. Sweet and juicy cherries are included on the board of different varieties. These cherries are cultivated in the Northern Hemisphere in at least twenty different countries. They are tasty antioxidant fruits which grow best in specific climates having their peak season as summer. The seeds of a cherry require some cold to germinate hence they cannot grow in tropical weather. There are many types of cherries, though they can be divided into two basic groups-
Sweet Cherries- They are characterized by their sweet taste. These cherries are often eaten raw and used in sherbets and ice cream.
Sour or Tart Cherries- Commonly used to cook or preserve.
BLACK CHERRY-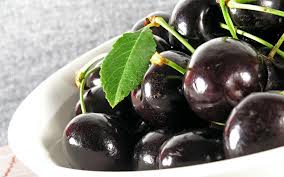 Black cherry is the largest of the native cherries and the only one of commercial value. It is also called wild black cherry and mountain black cherry. It can be anywhere, because it can grow almost in any soil. Black cherry leaves are dark green on top and light green on bottom. They grow up to five inches long and two inches wide. Black cherry flowers are solitary, white and borne in umbel-like racemes. These cherries are an important source of mast for various types of wildlife. They can be cooked with herbs and spices. These cherries are used as sweetener and thickener and in ice creams, cakes and sauces etc. They contain high amount of nutrients which are important for our body. They also contain anti-oxidants, anthocyanin and melatonin which are significant to lower the risk of stroke and heart attacks.
BING CHERRY-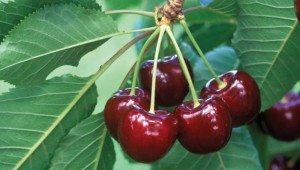 Bing cherries are extra-large in size and heart shaped with a deep maroon color. They come from the Pacific Northwest and are beloved for their sweet flavor. Studies have shown that they reduces the risk of chronic diseases and metabolic syndrome. Bing cherries are generally consumed raw and sold in the market right after they are harvested. These cherries contains high level of anti-oxidants and are very useful in treating arthritis, gouts and heart diseases. Bing cherries contain antioxidants and other nutrients which helps to relieve inflammation, arthritis pain, prevent cancer and lower blood pressure.
RAINIER CHERRY-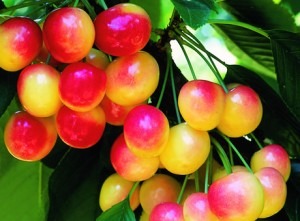 Rainier cherry is also known as white cherry because of its white and creamy flesh. Their skin is yellowish red. It is the sweetest, prettiest and most pampered of all cherries and it as delicate as lucrative. Rainier cherries also have some skin discoloration, slight brown spotting which indicates its high sugar content. These cherries also contain fiber, which is important for a healthy digestive system. It has 22 grams of carbohydrates in a full serving which helps in providing long-term energy. It contains vitamin C which helps to strengthen the immune system and fight off diseases. It also has skin brightening antioxidant.
BROOKS CHERRY-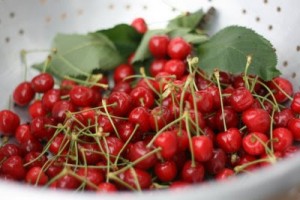 The brook cherry is relatively new variety of cherries which offers some outstanding qualities. Brooks are actually hybrid between Bing and Rainier. Its most chilling requirement is 400 hrs. Brooks is a large, dark red cherry very similar to Bing.It's a cherry with sweet taste with a bit of tart bite. Its flesh is firm and crisp with some shades of pink and red. It's a semi freestone cherry which pollinates with Tulare and Coral.
CHOKE CHERRY-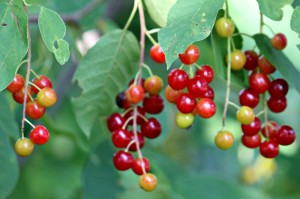 ChokeCherry is commonly a shrub, and a small tree which grows in North America, with a twisted or crooked trunk and an irregular crown. This wild cherry is a member of rose family. The fruits of chokecherry are true cherries, which contains single seed or stone. They are from 4-9mm in diameter and varies in color from yellow, red to purple-black. The choke cherry wood is used for handles and for decorating basket rims. They also helps in reducing risk of coronary heart diseases, stroke and some cancers. Its roots can be used to make appetite stimulants, medicinal teas for treating coughs, tuberculosis and malaria etc.
HEALTH BENEFITS-
Cherries are an excellent source of magnesium and potassium which helps to protect our body from high blood pressure. Eating cherries can help you lose weight and stay slim. Cherries are source of many vitamins and minerals. Cherries can also help to reduce painful inflammation by decreasing the amount of C reactive protein produced. Cyanidin is a flavonoid which is found in cherries, it helps in keeping cancerous cell from going out of control. Cherries contain vitamin B6, which is crucial for metabolism and converts nutrients into energy. Cherries are also a source of Anthocyanin, an amino acid which protects the cell of body from damaging, aging, and ultraviolet radiations.