I like my chicken roasted, smoked, curried, steamed, sandwiched, in gravy, in salad, in soup, basically, in any random form. The fact about chicken is that it can be prepared in a diverse number of ways. Either you can take your time and leisurely prepare a chicken dish in about 3 – 4 hours and have a perfect lunch or if you are running against time, you can land up with a neat chicken dish in even less than 30 minutes.
That's the way with chicken.
So, here I am, showering all my love and dedicating this week's article only to CHICKEN.
Let the CHICKEN fiesta begin!
Spicy Parmesan Chicken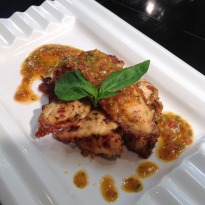 Time: 25 minutes
Serves: 2
Ingredients:  6 chicken supremes
For the marination –
Salt and black pepper
1 Tbsp minced garlic paste
1 Tbsp red chilli flakes
1 1/2 Tbsp flour
For the Parmesan batter-
1/2 cup cream
4 Tbsp parmesan cheese (grated)
1 egg
Salt and pepper to taste
Parsley
1 grated nutmeg
For Frying-
4 Tbsp olive oil
4 Tbsp butter
For tomato chutney-
1 cup cherry tomato
1/2 onion
1 green chilli
Salt and pepper
4 Tbsp olive oil
4 Tbsp balsamic vinegar
Chopped parsley
Directions:
For the marination-
First take chicken pieces and marinate it with salt and pepper. Add garlic paste, red chilli flakes. Sprinkle some flour and let the chicken get marinated for few minutes.
For parmesan batter-
Take a bowl add some cream, grated Parmesan cheese and mix it well. Add a egg and blend the mixture well. Then add some salt, pepper for taste. Add fresh parsley leaves, grated nutmeg to the batter.
For the frying-
Dip the marinated chicken supremes in the batter. Take a pan and add olive oil, butter. Let it get heated for 2 minutes. Put the dipped chicken supremes for frying. Fry perfect.
For tomato chutney-
Take cherry tomatoes, onion, green chilli and put it in the mixer. Add some olive oil and balsamic vinegar. Add fresh parsley leaves and blend it all together.
Chicken Layonnaise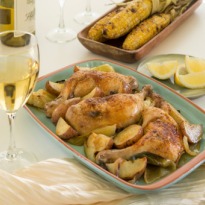 Time: 30 minutes
Serves: 2
Ingredients:
200 gm chicken julienne
100 gm butter
50 gm onions
10 gm garlic
60 gm capsicum
60 gm tomatoes
3-4 black olives
Spinach-boiled
Sauteed potato
Sauteed carrots
sauteed beans-boiled
sauteed 60 ml
White Wine salt
pepper-to taste
Directions: Heat butter and saute onions and garlic for about a minute. Add chicken and quick fry on high heat until chicken gets a brown texture on the outside. Add capsicum and tomatoes and sauté for a minute. Then add the white wine and season with salt and pepper.  Add the black olives and serve with all the vegetables.
Fried Chicken Roll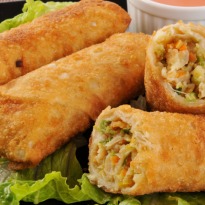 Time: 40 minutes
Serves: 10
Ingredients:
2 cups all purpose flour
2 eggs white
1 cup bread crumbs
3 cups grated chicken
1/2 tsp turmeric powder
1/2 tsp pepper powder
1 tsp chicken masala
1 tsp chilli powder
1 tsp coriander powder
3 to 4 coriander leaves
Salt to taste
3 to 4 green chillies
2 onions
Directions: Mix all purpose flour with water and egg and make it like a batter. Spread  2 to 3 table spoons of batter on a frying pan and spread it like chapati till it becomes slightly hot. In another frying pan,heat oil and add onions and heat till it turns brown.  Add salt,chilli, chilli powder, turmeric powder, coriander powder, chicken masala. Then add the boiled and grated chicken to the mixture and stir well for abaout 5 to 10 minutes. Now add coriander leaves and keep aside. Roll the masala in the chapati and dip in egg white and breadcrumbs. Finally deep fry the rolls.
Chicken Manchurian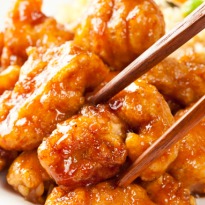 Time: 1 hour
Serves: 3
Ingredients:
250 gm chicken mince
2 eggs, slightly beaten
3/4 cup refined flour
1/2 tsp garlic paste
1/2 tsp ginger paste
Oil for deep frying
2 Tbsp oil
1 tsp finely chopped garlic
1/2 cup finely chopped onions
1 large capsicum-chopped fine
For sauce, mix together –
3 Tbsp corn flour-blended
1/2 cup water
2 Tbsp vinegar
2 tsp salt
2 tsp soya sauce
1/2 cup tomato puree
2 Tbsp chopped celery or 1/4 tsp celery salt
2 cups water
Directions: Mix together the chicken, egg, flour, garlic and ginger paste, ajino moto and enough water so as to have a thick batter. Leave this for 5-10 minutes. Heat the oil, keeping the heat high drop heaped teaspoonfuls of batter and fry to a golden brown. Drain on absorbent paper till required. Heat 2 Tbsp of oil, and stir-fry the garlic and onion in it over high heat, till the onions look glossy. Add the capsicum and turn around a few times. Add the sauce mixture, and simmer till the sauce thickens and becomes translucent. Add the fried balls, turn around a few times and serve.
Dahi Chicken  (chicken cooked with curd)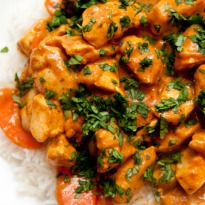 Time: 1 hour
Serves: 4
Ingredients:
1/2 kg boneless chicken (cut as you like it)
2 1/2 cups yogurt
1 tsp cumin / zeera powder
1 tsp garlic paste
1/2 tsp red chilli (rang) powder
A little less than 1/4 tsp turmeric/haldi
1/4 tsp garam masala
Few slit green chillies
2 onions, chopped
1 tomato, chopped
Coriander leaves to garnish
2 tsp oil
1 tsp salt
Directions: Take the yogurt and mix in the cumin powder, garlic paste,garam masala, haldi and red chilli powder. Mix with hands. Put chicken into this and add slit chillies. Keep aside for 30 minutes. Now heat 2 tsp oil in pan and add onions. Cook till translucent and soft. Add the tomatoes. Cook for a minute and add all the chicken and marinade. Keep cooking till gravy reaches the consistency you like. Of you like it more dry, cook a little bit more till yogurt curdles around chicken. Check for salt. Garnish with coriander leaves and enjoy. You can eat this with rice if the gravy is more and with Indian bread (roti/naan) if you dry it up.
Recipe Courtesy: cooks.ndtv.com
Image Courtesy: cooks.ndtv.com