A non-veg platter is incomplete without a chicken. If I am asked I prefer white meat more than the red one. The best part of cooking a chicken dish is that its tasteless(Not literally) so its a boon for someone who wants to experiment with different flavours and try various combinations . If you are a true foodie you will agree with me because you have tasted chicken in many flavours so far …sometimes the combinations are weird but we still love it. If we look at world cuisine we get different forms of chicken recipes with innumerable permutation and combinations. If you love to eat chicken you can have it boiled ,roasted, fried and in many more forms. That's the beauty of this protein it tastes good in any
form.Will share few chicken recipes of different varieties which is widely eaten all across the world and most importantly all these recipes are simple, little traditional but yet unique. I am very sure one you make these recipes you will be declared chef in your house instantly. I basic idea is to give a restaurant style dishes in your home platter , which will break the monotony of your own boring meals and the whole family will volunteer themselves to come up to dining table and share meal with lovely conversation with each other. We need this small talks between family members badly these days and
what's best than a hot delicious home-cooked chicken. So grab your apron and do try these yummy chicken treats and as I always say surprise your loved ones.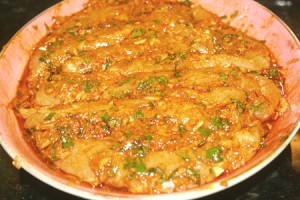 Citrus Chicken :
Ingredients : 1 kg Boneless chicken pieces (Medium ), 1 tablespoon ginger and garlic paste, 3 to 4 lime leaves shredded, 1 tablespoon chopped lemon grass, 1 teaspoon lemon juice, 1 teaspoon black pepper powder, 1 teaspoon green chilly finely chopped, 1/2 cup finely chopped celery, 1& 1/2 cup orange juice,1 tablespoon cornflour,1 cup chicken stock, Salt to taste, Oil for cooking, freshly cut lime wedges for garnishing.
Servings : 4
Method :
Chicken Marination :
Mix Chicken , Lemon juice , salt, black pepper powder, chopped lemon grass, shredded lime leaves, Ginger and garlic paste nicely. Keep the marinated chicken for about 1 hour so that chicken pieces absorb the flavours nicely .
Method : Heat a shallow pan in high flame, add cooking oil, green chillies and sauté for 20 seconds. Add Finely chopped celery and sauté for another 30 seconds. You will experience delicate aroma of sautéed celery which will strike your hunger harder. Now directly add marinated chicken and slower the flame. Let the chicken get cooked properly with a little brownish texture so that it adds a roasted flavour into it.The chicken gets cooked in 8 to 10 minutes( 1 Hour marination makes easier to cook as
the chicken is more tender ). Now add orange juice and chicken stock into the cooked chicken along with cornflour to thicken the gravy. It takes around 3 to 4 minutes to ready the dish. Once the dish is done serve it hot with lime wedges as side garnish and enjoy this steamy recipe with your loved ones.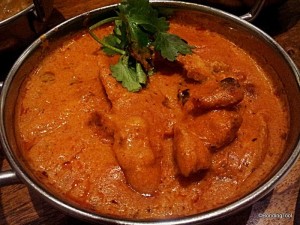 Butter Chicken :
Ingredients :
Marination : 1 kg boneless chicken pieces (Medium), 1 teaspoon lemon juice, 1 tablespoon ginger & garlic paste, 2 teaspoon kashmiri red chilly powder ( Enhances the colour of the chicken ) ,1 teaspoon black pepper powder, 1/2 cup Hung curd, 1 teaspoon cumin powder,1 teaspoon turmeric powder, 1 teaspoon
coriander powder, salt to taste 1 tablespoon mustard oil .
For Gravy : 100 gm butter,2 Cup Tomato purée, 3 to 4 green cardamom, few strands of mace, 1 teaspoon Kasuri methi  powder, 1 teaspoon honey , 1 tablespoon Fresh cream salt to taste, 1 teaspoon kashmiri red chilly powder. 1 tablespoon Coriander chopped for garnishing.
Servings : 4
Method :
The marination is a two step process
Step 1 : Mix chicken pieces with Lemon juice, ginger and garlic paste, kashmiri red chilly powder, black pepper powder, salt and keep it in refrigerator for 30 minutes .
Step 2 : After 30 minutes add hung curd, cumin powder ,turmeric powder, red chilly powder, coriander powder to the marinated chicken mix well and add mustard oil into the mixture ( Mustard oil enhances the chicken marinate colour and texture , keeps the chicken greasy for grilling ).Again keep this marinated chicken for about 2 hours in the fridge .Heat a deep pan , Add butter , green cardamoms , and mace strands and sauté for 1 minute. Now add tomato purée in the pan and stir it frequently. Meanwhile grill the marinated chicken in a preheated oven in about 200 degrees centigrade for about 14 to 15 minutes. Once the chicken is tender and cooked take it out from the oven and keep it aside. Once the tomato starts separating oil on a regular interval of 5 minutes add 1/2 cup of water each time s that it avoids thickening or burning of tomato purée. Now add cumin powder , coriander powder red chilly powder, and kasuri methi into the gravy mixture along with some salt . Once the gravy starts separating oil again add honey into the gravy along with grilled chicken pieces . stir the chicken along with gravy for 4 to 5 minutes and then pour fresh milk into the gravy , The richness and creaminess of the butter is enhanced with addition of fresh cream . heat the gravy for another 2 to 3 minutes and plate the dish with chopped coriander as garnish. Team it up with naan or kulcha and enjoy this recipe with your loved once.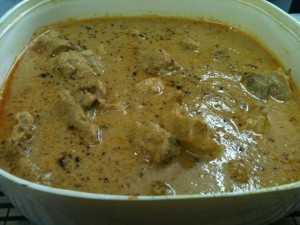 Chicken Kali Mirch :
Ingredients : 1 kg medium boneless chicken pieces, 1 tablespoon black pepper freshly crushed, 1 teaspoon lemon juice , 1 cup yoghurt, 1 tablespoon ginger and garlic paste, salt to taste,few green cardamom,1 large cinnamon , 1 cup sliced onions, 3 to 4 green chillies, 5 to 6 garlic pods , 1 teaspoon ginger juliennes, 1 cup fresh cream , 1 teaspoon turmeric powder, 1 teaspoon cumin powder , 1 teaspoon coriander powder, 1/2 teaspoon kasuri methi powder,Oil for cooking, 1/2 tablespoon finely chopped mint and coriander leaves
Servings : 4
Method :
Marination of chicken :
Mix 1 kg chicken with lemon juice , half of black pepper crush, 1 teaspoon oil, yoghurt, ginger & garlic paste, Salt and keep the marinated chicken in refrigerator for about an hour.Once the chicken gets marinated and gets enriched with all the flavours of the marination Heat a deep pan and add cooking oil in it with cardamom , cinnamon stick. Heat the whole spices for 30 seconds and add onion slices ginger julienne and garlic pods and green chillies .Sauté the ingredients for about 3 to 4 minutes. Take out the mixture from the pan and cool it to make a fine paste out of it. Once the paste is made again add a little bit of oil into the same pan and add the onion paste. Sauté the paste again for 3 to 4 minutes and add all the dry spices , turmeric ,cumin ,coriander and kasuri methi powder.Sauté the ingredients for another 5 minutes on slow flame add marinated chicken , 1/2 cup water, and coriander and mint leaves .Cook the chicken for another 10 to 12 minutes until the chicken is tender and soft.Not add fresh cream and rest of the black pepper powder left . Bring to boil and switch of the flame. Garnish it with mint leaves and serve it hot. This recipe goes well with steamed rice or Fried Rice. Enjoy and share your comments.