Vegetarian dishes are always under rated . People believe we do not have variety in vegetarian cuisine. Which is so not true as a single kind of pulse or lentil can be prepared in 100 different ways and all taste different. Are you surprised ? Don't be its a the fact by changing few combination of ingredients and spices we can create variety in vegetarian dished. The Plain Jane Potato can be eaten in different forms and all very different from each other in taste. India is a country for vegetarian cuisine. The variety of veg food we get here is in no comparison with other parts of world . Each state ion India has its variety of vegetarian food and all are so different in look, taste , texture , colour and surprisingly the key ingredients remain the same. We truly are land of diversity not only in language , costumes but also in food. Today I will discuss a very popular key ingredient pulse which can be recreated in different varieties and all taste just yum . That key ingredient is none other than our very dear Chole / Chickpea. Chole sounds like a north Indian dish and it is a very popular dish in North India but widely eaten in all parts on India . You will get Chole in all forms , curry, salad, fried balls, falafel, in sandwiches, etc etc.
To raise your craving a bit more lets have some awesome  popular Chickpeas recipe.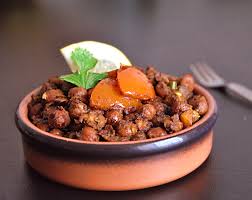 Kadai Chole :
Ingredients : 2 cups of chickpeas soaked overnight, 2 tea bags , 1 cup of onion paste freshly blended, 1 tablespoon of ginger and garlic paste, few ginger juliennes,1 cup of tomato puree, 1 tablespoon Chole masala, salt to taste, 1 teaspoon green cardamom, 1 stick of cinnamon, 2 teaspoon red chilly powder, 2 to 3 red dried chillies, 1 tablespoon Ghee, 1 teaspoon cumin seeds, few sprigs of coriander leaves finely chopped.
Servings : 4
Method : Firstly  we need to pressure cook chickpeas by adding two teabags (You may make a muslin pouch of 2 teaspoon tea), cinnamon stick and few green cardamom, salt to taste. Once the the chickpea is boiled you will get blackish tinge in chickpeas not throw away the cardamom, tea bags , and cinnamon stick as they have done their job . Do not throw the boiled water in the pressure cooker. We will need that to make a bit of gravy as it has all the protein of the chickpeas intact. Now its time to heat a pan with a lid add ghee , cumin seeds wait fr few seconds till it splutter then add dry red chillies , onion paste, ginger and garlic paste with a bit of salt. Sauté it till the onion looses out its poacity and becomes transparent . Now add ginger juliennes, Tomato purée, and chole masala . Cook this mixture until tomato separates oil. Now add boiled chickpeas , boiled water that we kept aside, red chilly powder. Close the lid and cook for 5 minutes. Now higher the flame make dry up a bit of gravy. Serve it hot with coriander garnish on top. Its teamed with Indian flat breads, or simply eat it with steamed rice or Pulao.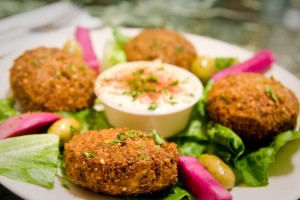 Chickpeas Falafel Patties :
Ingredients: 2 cups of chickpeas soaked overnight  , 1 cup of finely chopped onions, 1 tablespoon of chopped coriander leaves, 1 teaspoon of dry mango powder, 1 teaspoon of green chilly chopped, 1 teaspoon of cumin powder, 1 teaspoon of coriander powder, 1 teaspoon of red chilly powder, 1 tablespoon of refined flour, 1 teaspoon of black pepper powder, 1/2 cup of water of required, Salt to taste, Oil for deep frying.
Servings : 4
Method : Firstly blend soaked and dried chickpeas along with onion, green chillies. Now add into the blended mixture , chopped coriander leaves,dry mango powder, cumin powder, coriander powder,red chilly powder,black pepper,Salt,refined flour and make into a smooth dry dough . Now oil your palms and make equal size balls out of the dough and flatten it in the center to give it a patty shape. Dab these patties on refined flour and deep fry them until golden brown, Now take burger buns spread a bit of ketchup and stuff in the falafel patties on each bun and eat it as a burger or simply eat them with your favourite dip.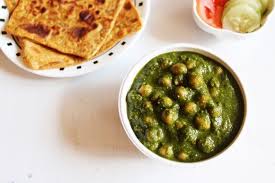 Chickpeas in  spinach Gravy :
Ingredients : 500 g of spinach leaves cleaned thoroughly and dried, 1 cup uncooked chickpeas (soaked overnight and then dried, 2 large tomatoes, cut roughly into quarters, Two large onions chopped finely, Garlic cloves chopped finely approx 5 to 6 , green chillies approx 3 to 4, 1 teaspoon red chilly powder, 2 teaspoon cumin powder, Salt to taste, Oil for cooking.
Servings : 5
Method : Pressure cook chickpeas by adding salt to it. Discard the spinach stems and chop the spinach coarsely. Now comes the real trick , place the spinach , tomatoes a bit of salt in a pan cover the lid and cook for 10 minutes without adding water.Once cooked separate spinach and tomatoes after cooling and grind tomatoes and green chillies in a blender.Making a smooth paste. Grind spinach leaves too but coarsely. Heat oil in a pan , sauté chopped garlic cloves, add onions and cook until light browned. Add the tomato paste and cook for 6 to 7 minutes. Stir in cumin powder and red chilly powder. Cook until tomato paste separates oil in the pan , add spinach purée and cook for few more minutes .Do not cook more than 2 to 3 minutes as it will discolour the spinach and spoil its texture. Add the boiled chickpeas stir well and slow the flame cook for 1 minutes and switch of the flame immediately. Serve it hot with steamed Rice or plain parathas. They are a delight to have in winter season and very nutritious too.
So, here is a bag full of vegetarian recipes breaking the myth that variety is not found in veg cuisine. Why don't you surprise the meat lovers with these recipes and click tee expressions once they enjoy eating these yummy dishes and want a second serving.