Its always fun to do something different , something out of the box ….to break the mono type , the stigma , the notion its great to just un-follow the typecast. A very harmless one is to eat which you are not expected to eat. Its very simple….Yes, you just need to have chilled desserts in freezing temperature. Its awesome fun . Fill your pockets with paracetamol's to get precaution after you do this fun task but surely do this. No matter how much your mum scolds you after this how much you sneeze , just be carefree and dare yourself to do this one. To make it more simpler lets just learn few awesome delicious dessert recipes which can even tempt your parents , your granny , your grandpa to do this fun adventure without even a second thought. Isn't it just a day our in Disney land type idea… that to without money. Ummmm…you will have to pay for the ingredients though!!!
We often bring our lives to a point where we de-mark ourselves about the DO's and the DONT's. But who are we to decide to live our life in a boring way. Aren't we just tired of the routine work and monotonous way of leading life. Eating always makes us happy so why not to eat dishes we just love . In that way not only we going to eat it happily its going to affect our minds too & it gets digested easily moreover makes us feel more cheerful and fun loving. You must be thinking is this a psychology class or a article on psychology . No , you are not fully wrong but yes of course good food or favourite food makes you happy . I am not wrong when I say seeing your mother bake your favourite chocolate chip cookie makes you dance within your mind .( I feel like dancing just by the thought of getting a choco-chip cookie …yum!!!). I am still a child when it comes to list down my favourite dishes and they are still the same what i use to eat 2 decades ago. We all are having a child inside and lets not kill the child within our adult bodies or just don't gaurd your child too much to make them bore enough for future. Just take my dare and do it. I am sure you will just live a day of full happiness . To fight infection there are enough medicines so don't worry.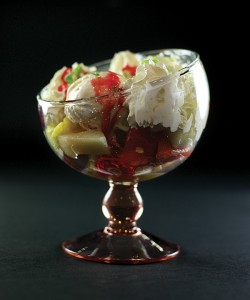 Frozen Alaska with a twist :
Ingredients : few slices of fruit cakes,1 scoop of vanilla ice-cream , I scoop of butterscotch ice-cream , 1 cup of chopped bananas, 1 cup of chopped black grapes, 1 cup of chopped strawberries, 1 cup of oranges de-seeded, peeled and skinned out, 1 tablespoon of kiwi crush, 1 tablespoon of strawberry crush, 1 tablespoon of chocolate syrup (optional). A beautiful glassware. To decorate you may choose your own garnish..for example wafers , straws, choco-chips etc , butterscotch nuts, whipped cream.
Servings : 2
Method : Take a decorative glass , crumble the slices of fruit cake and pour in the glass and with the help of the finger push it inside the glass making its very first layer of frozen Alaska. Now add in one fruit crush of your choice and then add in a layer of vanilla ice-cream scoop , then layer in chopped bananas and oranges, grapes . Now add butterscotch ice-cream , strawberry crush with chopped strawberries and garnish it with whipped cream and choco-chips. The frozen Alaska is ready to serve. Enjoy it with your loved ones its a perfect fun dare for chilled winter evenings.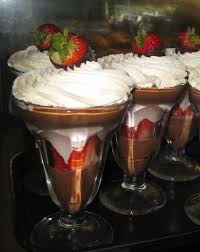 Creamy soft peaks:
Ingredients : 2 cups of whipping cream , 1 cup chopped strawberries(Its the best available fruit in winters with rich red colour giving a nice look to a delightful creamy dessert, 1 tablespoon caster sugar, 1 teaspoon corn starch solution,1 tablespoon of strawberry crush , few slices of chocolate cake, 1 tablespoon condensed milk, 1 tablespoon fresh cream, 1 teaspoon coffee powder, 1 teaspoon vanilla extract. Oreo biscuit for garnishing .
Servings : 2
Method : With the help of a whipper whip the whipping cream . In the whipping process add  vanilla extract to the whipped cream to add on some flavouring to the plain cream. Crumble the chocolate slices and mix it with fresh cream , condensed milk and coffee powder. Heat this mixture until it thickens up without forming a lump. Pout this mixture in the glass you want to serve and making it the base of the dessert. Keep the glass in refrigerator to chill. Divide the whipped cream in two portions. Again heat a pan add in strawberries, caster sugar, strawberry crush and corn starch solution in it. Heat the mixture till it turns out to be a thick lump less sauce. Cool the strawberry sauce and mix it with one portion of whipped cream. Take out the chilled choco-coffee base glass and pour in the two flavoured creams as two different layers in the glass. Garnish it with Oreo biscuit and you are ready to commit the sin.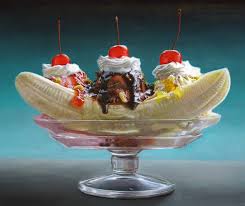 Banana Split:
Ingredients : Two large bananas split into two halves, 1 cup brown sugar, 1 cup condensed milk, Single scoop of three different ice-cream flavours, 1 tablespoon chocolate syrup, few chopped seasonal fruits of your choice, little whipped cream and a happy heart to assemble all this.
Servings : 2
Method: Take a dish and place the split slices of ripe bananas. Meanwhile heat a pan and stir in brown sugar and condensed milk till the sugar melts and thickens the mixture without solidifying. Make sure you keep on stirring this caramelized mixture on slow flame.Once its done just simply pour it over the banana slice and keep it to chill for a while. Once its cools down in refrigerator just layer it with fruits scoops of different flavoured ice-creams and whipped cream. Top it with chocolate syrup or any syrup of your choice and just do not wait to eat it .
Isn't it a pleasure to dare yourself to have these chilled desserts even in winters and feel heavenly with every bite you sink in through your throat.If you do not believe me try out the recipes we well surely have a common agreement .