The sultry breeze,the golden sand,the earthly smell,the air resonating with warm cordial greetings of "RAAM RAAM SA!",smiles on each face,the enthusiasm with which each person reflects the undiluted festivity of Jaipur.Each moment spent in CHOKHI DHANI becomes an experience that you shall never forget.A mere peephole to have a glimpse of the rich culture and ways of celebrations Rajasthan harbour s,it is as legendary as it gets!
Entering Chokhi Dhani would at the very first glance mesmerize you followed with an unputdownable sense of perplexity in the form of a question, "From where shall I start?"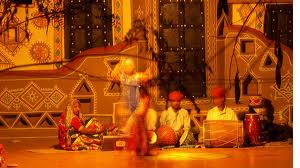 Having eventually found a flow to your exploration,the thrill elevates at each step.
The beginning of my magical experience at Chokhi Dhani,in fact began with a magic show.With not even a penny charged,the flamboyant localite magician called out to people,gathering an audience with phrases and slogans matched up on the beats of the dholak.Having gathered a good number of people to witness his miracle he started the show.With each trick that he performed,with each dove that he chanted his Abracadabras upon,I could feel a similar thrill like that of a five year old looking at things in the most awestruck of all manners.The tricks are not of an "international level",maybe even they can be explained easily by almost anyone,yet what actually is the causer of such childlike thrill is the energy and drama with which the magician,a "master" of "divine powers",attempts to entertain you,leaving no chance to put an amused smile on that face.


Proceeding on-wards,you may spot a not so big ,hand driven Ferris wheel.Do not by any means underestimate the strength of these young men,they can actually push the Ferris wheel pretty effectively.At a height that enables you a view of the colourful surroundings that envelope you,having a pleasant ride that is fueled with laughter is insured.
For those of you who have never sat on a camel,here is a tip,do not let a panic heart sit behind you!They shall claw the hell out of your waist!And if you yourself tend to be a panic stricken person,then always sit in the front saddle of the camel,you do not want to hurt anyone.The way the desert's ship topples fist front and then backwards give you the feeling of either toppling on its neck or falling backwards,but holding on to this bumpy ride is what makes it fun.
Cultural dances that compel you to rejoice in the foot tapping sounds of instruments,performers who invite you to join them in their celebration,their colourful ghaghras swinging in an uninterrupted momentum.Welcome to the Chokhi dhani way of living up to the paradigm "Dance as if nobody is looking".The rhythm is so festive and lively that you just cannot help but dance along merrily.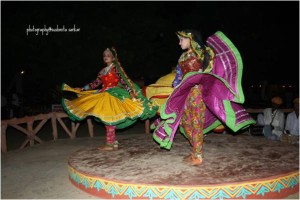 A grand ride on the elephant gives you the feel of royal lineage,your Highness,the ruler of the kingdom of happiness and smiles galore,your ride through Chokhi Dhani will be unforgettable.
Puppet shows narrating stories of kings and queens,or of star crossed lovers is way of getting you face to face with folktales and theatre.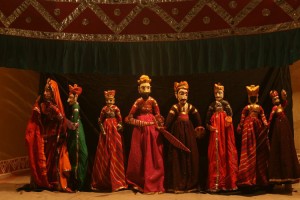 Your journey is incomplete without a meal at Chokhi Dhani.The sitting arrangement requires one to sit on mats with chowkis placed in front of them,With your shoes placed outside on a rack,you now sit bare feet and legs folded upon the mat.A cheerful waiter with an impressive mustache enters with a woman dressed up in the traditional attire.With plates set to be served upon,two other mustached waiters come with the serving vessels and huge spoons and spatulas.Be prepared because now you will be served with around twenty or more dishes with around three different kinds of chapatis.
Beginning energetically ,you may begin devouring the food,famished from an entire trip around the Chokhi Dhani village.Each 'sabzi' has an amazing amalgamation of flavor and spices.Just in case its too spicey for you,a waiter shall always be there to refill your "Kullhad" with water,another one with butter milk.The chapatis crisp and hot,though just the size of your palms are extremely filling.

The Marwadi Khichdi is my all time favorite.With two servings of khichdi,topped with two spoon fulls of desi ghee and four spoon fulls of sugar,this heavily loaded khichdi is the ultimate hunger buster .No amount of requesting and pleading can save you from the heart felt 'atithi satkaar' of these people.They shall see to it that you are well fed,so much that they might have to lift you up to help you stand once you are done!In the very middle of the entire meal,you shall find yourself absolutely full.These waiters,with a turban and mustache would further offer you hot and freshly prepared gulab jamuns.Their menu is subject to periodic rotation,yet each meal leaves you with a happy tummy.Simple,filling,rich and finger licking,the food is undoubtedly delectable.The undiluted essence of Rajasthan.
The colours,the live wire like energy coursing through the atmosphere,the undaunted display of cultural richness ,the warm hospitality,all of these are mere tokens of love ,a peephole into the heart of Rajasthan.With the last glimpse of all the shops selling craftwork and souvenirs,a fragile looking old man in a heavy turban,turning a cycle wheel,pretending to fix the spokes near a dim coal fire,smiling through his handful of teeth,mustering all his strength to shout out a final "raam raam sa" as you leave,etching a permanent memory of warmth ,cultural treasure and hospitality like none other in the entire world.This is Chokhi Dhani,a cultural village that lives in its own world ,inviting you with a "Padharo marey Des",greeting you with a "raam raam sa".BON VOYAGE,BON APPETTITE.