Sitting on one of the much sought after seats,after a tough fight through reservations made for it,you finally enter the secret coven of lost treasures and looted valuables.With each plate different from that of the other person sitting right next to you ,the cutlery unique,mismatched glasses,and a display case filled with all sorts of "stolen" goods,you have finally found a place at the Chor Bizarre restaurant,M.G Road ,Gurgaon.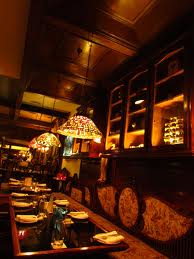 This amusing,mismatched decor gives you the complete feel of standing in a chor bazaar .Even the lanterns,tables and chairs here are different from any other furniture in the entire room.Each separate dining area has a different theme to it.From regal looking chairs,to simple bamboo stools,be it a couch that looks like it has been smuggled,to a throne like furniture that seems to be secretly kept away from the "dark" forces of the underworld,yes it is THAT dramatic!


Your plates,cutlery and glasses would continue to give you the same effect,a bone china dish,or a silver platter,or crockery with different designs.What will amaze and amuse you even more is the well polished ,bright green vintage car parked in the middle of the big hall,with a buffet arranged inside it.

Having seen the unique decor that plays pretty much according to its name,now its time to see if the food is that impressive.Do not be astonished if the dishes in which the food arrives are also mismatched,and the food fulfills every expectation when it comes to doing justice to the effort put in to the decor.
Cuisines and dishes from around India,with a varied menu,presenting you with flavours and spices that tingle your tastebuds in the way of the Indian states.
From Punjab to Tamil Nadu,with a commendable variety,you can steal moments of pure savory pleasure.Be it variety ,be it maintaining the subtility of each flavour,light hints of coriander to tangy zing of tomato,the way spices play and mix over your tongue,you are bound to be taken aback with pleasant surprises in each bite.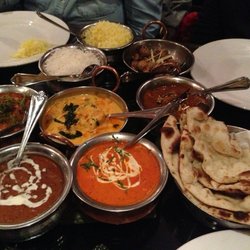 Coming to the MUST TRY,there is just one dish I would,in fact even the waiters at Chor Bizarre would recommend for the people who prefer non vegetarian is the PALAK RISTA.Soft,tender,well marinated meat balls enveloped in a savory curry of spinach.The most consistent gravy with well cooked and simmered spinach that mingles well with the spices and the meat,is a delectable treat to the palate.
Another scrumptious treat is the Sharabi Kababi tikka masala.cooked in brandy,this dish s set to get you addicted,not because of the brandy but because of its sheer brilliant taste.It then becomes an indispensable part of your favorites.An amazing dish brainstormed by Chor Bizarre, Delhi.The Goshtaba is the rare delicacy straight from Kashmir's kitchen,and you would not want to miss that out!Finely beaten lamb,flavored in cardamom in a yogurt based gravy ,patiently cooked and simmered on a slow flame.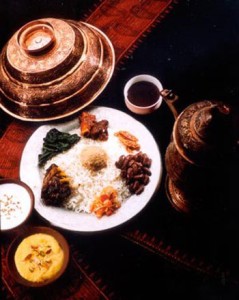 Yes my vegetarian readers,I haven't forgotten about you!At Chor Bizarre ,even the regular Dal and sabzi becomes a special treat.Their Dal Chor B'zar has an exceptionally good taste and flavor for our regular lentils.The richness of the cream and the subtle yet defining taste of the tomatoes makes each bite fueled with pleasure for the palate.
Hyderabadi Achari aloo brings you a unique version of potatoes like never before.Tangy,well seasoned aloo in yogurt based gravy plated beautifully contribute to a wow experience from the simplest of ingredients.An all time favorite Paneer also gets a makeover the Chor Bizarre style.Cooked with almonds and khoya ,enveloped in rich cashew nut gravy here is the king of all paneer (cottage cheese)based dishes,the Paneer Badam Pasanda,slices of cottage cheese that will transport you to the land of delectable treats.
The sheer simplicity of food being modified into a yummy dish,still holding its roots to the place from which it is said to belong,Chor Bizarre brings forth the versatile colours and flavors of Indian cuisines.
The ambiance is without a doubt a perfect five out of five,the entire effect of mismatched decor and furniture,art pieces and lamps,plus the vintage car is a show stealer.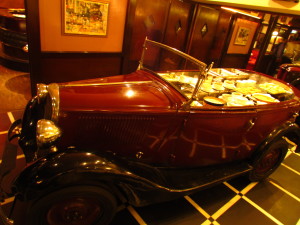 The food a perfect mix and match from the various states of India live up to its name and fame of being one of the finest diners in NCR,it has four star on Zomato.
With another branch of Chor Bizarre set up in London,it completely levels up with it when it comes to perfection ,variation,consistency and quality.With various other branches in NCR serving with the same finesse as that of the one in Gurgaon,Chor Bizarre has definitely given very urban touch to all things Desi.
The appeal for food,decor and presentation is undoubtedly commendable and sets new standards for other diners and restaurants that cater n a similar fashion.So join the foodie band of Chor bizarre ,take a ride in the buffet serving vintage car,indulge in the savory and scrumptious food,steal moments of pure bliss for your taste buds.BON APPETITE!