Chutney (also translated as Chatney or Chatni) is a family of condiments mainly associated with South Asian cuisine that usually contain some mixture of spice(s), vegetable(s), and/or fruit(s). Chutneys may be either wet or dry, and can have a coarse or fine texture. There are various types of chutneys.
Traditionally, chutneys are ground with a mortar and pestle made of stone or an ammikkal . Spices are added and ground, usually in a particular order; the wet paste thus made is sauteed in vegetable oil, usually gingelly (sesame) or groundnut (peanut) oil. Electric blenders or food processors can be used as labor-saving alternatives to stone grinding.

Let's explore two new mouth-watering recipes of Chutneys which one can make easily at home!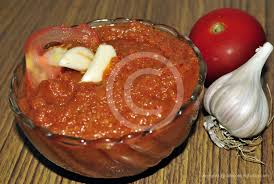 This is a fiery-spicy chutney made from garlic cloves and red chilies. It is a taste-enhancing must-have accompaniment for South Indian dishes like Dosa, Idli, etc. In this customized Indian Garlic Chutney recipe, garlic, soaked red chillies and coconut are first sautéed in oil, and then crushed with tamarind pulp to make delicious Chutney having a complex hot, sour and spicy taste altogether.
1)  8 chopped garlic cloves (skin removed).
2)  2 whole dry red chillies, seeded and broken into pieces.
3)  ½ cup grated fresh coconut.
4)  1 teaspoon tamarind pulp.
5)  ¼ cup water.
6)  2 teaspoons oil.
7)  Salt according to taste.
1)  Heat 1 teaspoon oil in a pan. When the oil is hot enough, sauté the chopped garlic over a low flame for a minute and then transfer to a plate.
2)  Heat the remaining 1 teaspoon oil in the same pan and sauté the dry red chillies over a low flame for 20-30 seconds. Again, transfer them to the same plate.
3)  Let the sautéed garlic and dry red chillies cool for about 3-4 minutes. Transfer the garlic and the dry red chillies to the chutney jar of a grinder or food processor. Grind them until a medium coarse paste is formed.
4) Add the grated coconut, the tamarind pulp, ¼ cup water and salt (according to taste) to the jar.
5)  Grind them till a medium coarse paste is formed. Tasty South Indian Garlic Chutney to be enjoyed along with Dosa and Idli is ready to be served!
1)  You can also use 2 teaspoons of the red chilli powder in place of the usual dried red chillies.
2)  Dry Kashmiri red chillies are specially added to get that nice red color and also to make a less spicy Chutney when compared to other varieties of chillies as such.
3)  Replace the tamarind pulp with 1 teaspoon of lemon juice for a slight variation in the overall taste of the Garlic Chutney.
Preparation Time: 5 minutes.
Cooking Time: 5 minutes.
Servings: 6 (½ cup).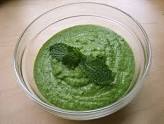 Pudina (Mint) is an herb known for its medicinal benefits for indigestion, acidity, headache, dental and skin diseases. It is an integral part of Indian cuisine as well. This Pudina Chutney recipe makes for an extremely flavorsome and tempting Chutney prepared right from fresh mint and coriander leaves. However, its main taste comes from the tamarind paste which is added to give a nice tang to its spiciness. The whole texture of the Chutney is derived from the fresh coconut.
1)  ¼ cup fresh Pudina (mint) leaves.
2)  1 cup chopped coriander leaves.
3)  ½ cup grated fresh coconut.
4)  2 chopped green chillies.
5)  ½ inch piece ginger, chopped.
6)  2 teaspoons tamarind pulp or lemon juice.
7)  1 teaspoon sugar (optional).
8)  Salt according to taste.
9)  ½ cup water.
This recipe requires tamarind pulp as an ingredient. You can easily find ready-made tamarind pulp to be bought in the market. If the tamarind pulp is not available, then you can also prepare it at home by simply following the directions which are given below-
1)  Soak the tamarind in hot water for roughly 1 hour.
2)  Remove the seeds of the tamarind.
3)  Strain the whole mixture to prepare fresh and homemade tamarind pulp.
1)  Clean the mint leaves and the coriander leaves well by running them under fresh tap water.
2)  Grind the fresh coconut, green chillies, ginger, sugar and salt together in the chutney jar of a mixer or a food processor until a very smooth paste is formed.
3)  Add the mint leaves, the coriander leaves, the tamarind pulp (or the lemon juice) and ½ cup water. Grind again until a very smooth consistency of chutney is arrived at.
4)  Fresh Pudina Chutney is ready to be served along with your favorite condiments!
1)  Replace the tamarind pulp with an alternative of lime juice for an even more delicious tang of the Pudina Chutney.
2)  Store it in an airtight container in refrigerator for up to 3-4 days. You can then use as and when it is required.
3)  You can always add more water and adjust the spices according to your own tastes so as to make the Pudina Chutney more diluted and thin, or of a concentrated and strong flavor.
Preparation Time: 10 minutes.
Servings: 8 (1 cup chutney).
So there you are – two delicious Chutneys which you can easily make at home by following some simple instructions. These are very good from the health point of view. They also acts as excellent taste enhancers.
Keep watching this space for more delicious recipes!