Connaught Place,New Delhi.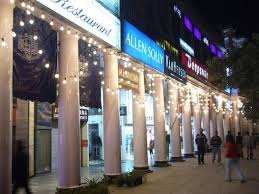 With people jostling about with shopping bags,women tick tacking their way in their heels or in simple flats,vendors who sell books,deal in Rajasthani cushion covers and bags,imitation jewellery being sold to a bunch full of girls and women who eagerly skin through the 'collection',posters of famous bands,celebrities  and  quotes , cold drinks and ice creams being sold under the burning sun to soothe that sweaty brow,nothing seems to stop or dwindle their activity.The beautiful white buildings stretching far and wide ,block after block.Continuous bargaining,the opening and closing of store doors with that gust of refreshing air conditioned breeze,a bottle of water to hydrate your spirits and quench your thirst ,makes you come on one on one terms with your persistence to roam or shop,or even just have a good time.People seated on the benches enjoying some snack or a packet of chips accompanied with cold drinks, is a common scene in Connaught Place .The energy here is absolutely undying .The hub of shopping and of restaurants and eateries galore,the Connaught Place thrives with enthusiasm.It is but obvious that after walking the entire length and breadth of C.P ,you need to attend that growling stomach of your's,so here are two of the must try places that you can go to to replenish your dwindling energy.Behold dear readers,I suggest you with the king of Kathi rolls,the Khan Chaacha.You may have to walk a lot to reach this particular place depending on the block from where you commence walking,though it is totally worth it,after all its Khan Chaacha.Proceeding towards Khan Market,going to the Khan Chaacha is a must.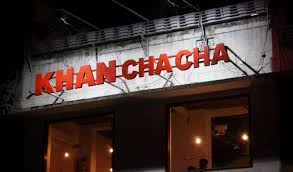 Khan Chaacha,named after the founder of amazing kathi rolls,serves you with the most scrumptious of all treats you'll ever taste.They literally serve sheer and pure happiness in a roll.Out of the variety of delicious rolls that Khan Chaacha offers,the chicken tikka roll and seekh roll top my list and it is so hard to choose between the two.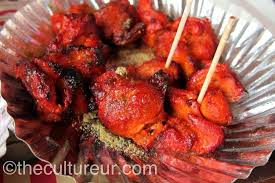 The well marinated, tangy, juicy ,seasoned to perfection chicken tikka with that subtle smokey aroma versus the crunchy on the outside and a soft core on the inside,grilled and expertly flavored seekh ,this is a dilemma nobody can disperse on the basis of taste,both are equally savory.The only criteria to segregate being one's preference for chicken or mutton.Each bite that you take, mesmerizes you and by the time you are smacking your lips and licking your fingers,feeling full and absolutely satiated,you become an unspoken patron of Khan Chaacha.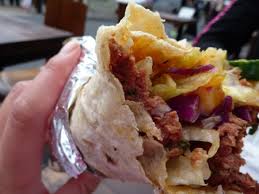 With creamy Paneer rolls that does a pretty good job as well, juicy fish rolls to please the palate of fish lovers,the Khan Chaacha has a way of stealing away your heart.Thought the dining space is not very big,yet the taste and quality are absolutely worth it.Not to forget their spellbinding cream dip,now that is some magic in the play of flavors.It has this unique way of elevating the taste even more.In fact there has never been a time when I actually wasted the dip,scraping the last drops of the creamy wonder as much as humanly possible. An instant patron,and a lover of Khan Chaacha rolls,that is how you walk out of that place,with an extremely happy tummy,all at a price of about Rs.150(approx) and on wards.Now comes the time to sugarcoat your palate,but guess what,its not just what your taste buds are going to feel but what your stomach shall engulf as well.For seeking refreshment a cool milkshake is what you need.It does just the right thing to bust that heat,sweat and fatigue from your body.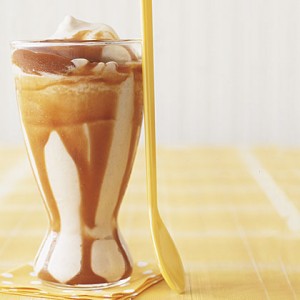 Adjacent to the Wenger's bakery shop is the much renowned milkshake wala.Chocolate,coffee,butterscotch,vanilla or strawberry,you name it and viola! they serve you with this 750 ml(or more,approximately) of pure bliss .Priced for Rs.50 only,this huge bottle of milkshake shall fill you right up!Sweet to the tongue and highly filling to the tummy,a complete steal as a deal,this milkshake is a must have .The flavors are well assembled and are very refreshing.For those who have a major sweet tooth I would recommend you the butterscotch milkshake.It is without a doubt a favorite.The coffee milkshake brings forth the subtle zing of the caffeine energy with the cool milk.A perfect energy booster.Pamper yourself with these milkshakes and rejuvenate your spirits!Just in case you are out on a date (and yes have the pocket to afford a good expense) Starbucks is a good way to relax and enjoy their perfectly brewed coffee and soft ,melt in your mouth croissant along with great music .The Pirates of the grill is another option for a tummy filling and taste bud tingling experience.With an all you can eat menu inclusive of all sorts of perfectly grilled meat and veggies,it is an actual yum factor. Having done much to silence that growling stomach and overcome those pangs of hunger,you can now take the shopping world by storm!BON APPETITE!