"I think cookies are unsung sweet you know?"-Bobby Flay.
This delectable disc  that fits in your palm so effortlessly and melts over  your tongue,revealing  the sweet , buttery taste with each bite,it is indeed  an unsung sweet . God knows how many cookie jars have been emptied , those danish cookie boxes that had their contents  consumed in a mere jiffy and those numerous evenings that were spent with a bowlful of cookie dough .  Beginning with a simple recipe for making cookie dough , we shall proceed to the most mouthwatering combinations of cookies and the cookie dough .
INGREDIENTS
Brown sugar
Regular flour
Butter (preferably Amul Lite)
Semi sweet chocolate chips
PROCEDURE
Grind the brown sugar in a mixie such that it retains its grainy texture . Do not make it powdery else it would ruin the crunchy consistency of the dough .
Take regular flour and add to that softened butter(mind you SOFTENED ,not melted,and preferably the low salt vesion of it-Amul lite does a good job) .
Add the brown sugar to the mixture  and knead well .
When you have the right consistency , sprinkle with a generous helping of semi   sweet  chocolate chips , and knead a little more .
Once you think its perfect , cool it in the refrigerator for a couple of hours .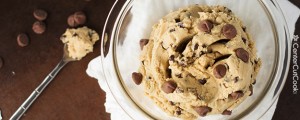 P.S You may want to be careful with the salted butter though . Too much salt renders it inedible . And yes , since it is on the whole an uncooked dish,washing your hands thoroughly before starting off is a good idea . Proceeding  over to our much loved variety of almond cookies,here are a few changes in the ingredients.
Regular flour-1 cup(125 ml approximately)
Softened  butter -3/4 cup
Sugar (preferably white)-3/4 cup
Baking  powder-1/2 teaspoon
Baking salt-1/4 teaspoon
Almonds-1/2 cup
PROCEDURE  :
Preheat the oven to about 180 degree Celsius while you prepare the rest .
Take sugar  and butter in a bowl  ,  and with the help of a whisk,mix them until fluffy and consistent .
Before you ground the  almonds , roast them for about two minutes or so  .
Grind the almonds  in a mixer  to an extent that they still retain their  grainy texture (you would hate to loose the crunchy part) .
To ensure that the flour,baking powder and baking salt are mixed well , I would suggest you that you sieve them .
Mix the sugar and butter mix as well as the almonds in the flour,baking  powder and baking salt mixture that you just sieved .
Knead well to get rid of any lumps ,and to get a consistent dough .
Take out portions  as big as a lemon and gently press them .Another alternative is to flatten the batter like a chapati  with the help of a rolling pin,(ensure that you have a greasing paper spread under the dough) and cut out pieces with the help of a  cookie cutter .
Place the cookies with a minimal space of  two inches on the tray lined with aluminium foil or greasing paper(to avoid the dough from sticking on the tray) so that it has place to fluff up and expand . Bake them in preheated oven for about fifteen minutes .
After  ten minutes  of putting them in the oven , check whether the edges of the cookie are turning brown or not .
After fifteen minutes or so ,  check if the cookies are golden brown in color . If so, switch off the oven and let them stay in it for additional ten to fifteen minutes so that they turn crispy .  Just in case you like them soft ,you can take them out almost immediately .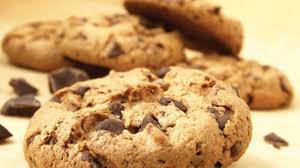 VOILA! Enjoy the savory taste of these crispy crunchy almond and butter cookies ! The cookie mania hasn't ended yet! There is more in store ! It is absolutely amazing ,the way we can play and experiment with baking ,making combinations that  would tempt anyone and everyone ! Stay tuned and behold the COOKIE DOUGH SANDWICH!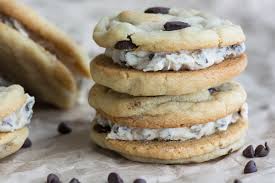 Well  now that you have  come across the method for making both the cookie and the edible cookie dough,all you have to do is combine the two! yes its that simple! Some slight changes can be made . For example,you can add some vanilla essence in the cookie dough  to accentuate the taste of the cookie dough. Another  suggestion that is absolutely worth a try is using mini chocolate chips in the dough .It has two advantages
it gets amazingly easy to spread the dough on the cookies.
You can add a sinful amount of those!(who would not love an extra helping of chocolate chip?!) .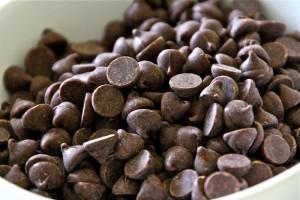 Welcome your days of sitting near the window or on the couch with a delicious bowl of cookie dough.Raid  the cookie jar like we once did as kids.So pamper yourself and delve into the pleasure of baking a perfect batch of cookies and experimenting with the most delectable components of the same . Happy baking and  BON APPETITE!