"When I cook with my son, I might chop vegetables and have fun with different shapes. Cooking is a way to teach kids about other things, like reading or math with all of the weights and measures. There are so many things that are part of cooking that are also very educational."
– Emeril Lagasse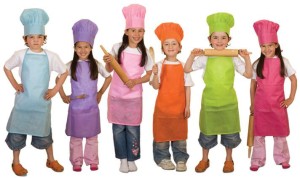 Cooking with kids is super easy and fun. These days, recipes for kids are readily available on the internet, as well as, in the How-To-Cook-With-Children books. A toddler, a school-age child or an older child – anyone can help in cooking, ranging from snacks to main meals. From creating a menu together to building an organized work station – while one cleans the veggies, another fries a potato, a third grates some cheese, a fourth sautés the veggies, a fifth cleans the utensils, a sixth serves the food on the plates, a seventh sets the table, and so on ( NO, I don't have the Von Trapp Children in mind) –it is quite an engaging activity.
Watching MasterChef Junior, among other cooking shows, one is full of awe at kids, not even the height of one's waist, intently cooking with dexterity. Most kids enjoy cooking.  Moreover, learning to cook at an early age leads to big bonuses in the later years, when one is in college or about to settle down and start a family.
I have two young cousins who love to cook; one is a boy of six and the other a girl of 12. From dressing salads to making ice popsicles – every tiny step excites them. It sure is fun when it's time to put the chef's whites on.
So, here are a few easy-to-cook recipes which are an all-time hit among children:
Mac and Cheese
Cooking Time: 50 minutes
Ingredients: 2 shallots (peeled), 3 cloves of garlic, 1 tsp olive oil, 3 pieces of bacon (diced and cooked, reserving 1 tbsp bacon fat) ,2 tbsp flour, 4 cups of heavy cream, 1 tsp chopped fresh thyme, 1 cup shredded pepper jack cheese, 2 cups shredded cheddar cheese, 1 pound penne pasta (cooked) , ½ cup Panko bread crumbs, 2 tbsp melted butter, 2 tbsp chopped fresh parsley
Directions:  Preheat oven to 350 degree F.  Place shallots and garlic in a small aluminum foil pouch and drizzle with olive oil. Roast 20 to 30 minutes or until tender. Remove from foil and chop. In a large sauté pan, reheat reserved bacon fat over medium heat. Add roasted shallot and garlic and sauté for 1 minute. Add flour and stir for 1 minute. Whisk in heavy cream and thyme. Reduce by a third. Stir in cheeses until melted, creamy and thickened. Season to taste with salt and pepper. Remove from heat and gently stir in pasta. Place in a 9X13 casserole dish. In a small bowl, mix together diced bacon, breadcrumbs, butter and parsley. Top Mac and cheese with Panko mixture and bake uncovered at same heat until bubbling and lightly browned on top (say, 20 to 25 minutes).
Brownies
Cooking Time: 22 minutes
Yield:  12 brownies
Ingredients:  1 package chocolate brownie mix (prepared to directions on box- ½ cup oil, ¼ cup water, 2 eggs), 1 cup peanut butter chips, softened butter (for greasing your baking dish), 1-2 ounce package chopped nuts, ¼ cup mini marshmallows
Directions: Preheat oven to 425 degrees F. To mixed brownie batter, stir in peanut butter chips. Grease an 8 by 13-inch baking dish with softened butter and line with foil. Spread the brownie batter into an even layer. Sprinkle the brownie batter with chopped nuts and bake 20 to 22 minutes. Top with marshmallows in the last 3 minutes of baking. Remove from oven and cut into 12 brownies.
Peanut Butter Crispy Rice Treats
Cooking Time: 15 minutes
Yield: 18 bars
Ingredients: 6 tbsp unsalted butter (plus more for greasing), 4 cups miniature marshmallows, ½ cup smooth peanut butter, 6 cups puffed rice cereal, ½ cup whole roasted peanuts, 4 ounces good-quality semi-sweet chocolate (chopped), flakes sea salt (optional)
Directions: Lightly butter a 13 by 9 inch baking dish.
Melt the butter in a large saucepan over low to medium=low heat until light brown specks start to form and the butter starts to smell nutty (10 to 12 minutes). Add the marshmallows and stir until completely melted. Remove the pan from the heat and stir in the peanut butter until melted. Add the puffed rice cereal and peanuts. Stir until well coated. Press the mixture evenly into the prepared baking dish. Cool completely. Meanwhile, place the chocolate in a medium heatproof bowl. Microwave in 30 second intervals until the chocolate is melted. Drizzle the chocolate over the cooled crispy rice treats and sprinkle with flaked sea salt if desired. Cut into 18 bars.
Chocolate Chip Cookies
Cooking Time: 15 minutes
Yield: 26 cookies
Ingredients: ¾ cup packed dark brown sugar, ¾ cup sugar, 2 large eggs, ½ cup oil, 1 tsp pure vanilla extract, 1 cup all-purpose flour, 1 cup whole-wheat pastry flour, ¾ tsp baking soda, 1 tsp fine salt, 6 ounces semisweet chocolate chips or chunks, 4 ounces dried cranberries or dried cherries
Directions: evenly position 2 racks in the middle of the oven and preheat to 375 degrees F. Line 2 baking sheets with parchment paper or silicone sheets. (If you only have 1 baking sheet, let it cool completely between batches.) Whisk the sugars, eggs, oil and vanilla in a large bowl until smooth. Whisk the flours, baking soda and salt in another bowl. Stir the dry ingredients into the wet ingredients with a wooden spoon; take care not to over mix. Stir in the chocolate chips or chunks and dried fruit. Scoop heaping tbsp of the dough onto the prepared pans. Wet hands slightly and roll the dough into balls. Space the cookies about 2 inches apart on the pans. Bake until golden but soft in the center; about 12 to 14 minutes, depending on how chewy or crunchy you like your cookies. Transfer hot cookies with a spatula to a rack to cool. Serve. Store cookies in a tightly sealed container for up to 3 days.
So, what are you waiting for?
Grab your apron, cook and have fun with your kids!!
Recipe Courtesy:  foodnetwork.com
Image Courtesy: momtrends.com