India is a great land of culture and heritage. India is a country of colors and cultures. Indian fashion is too much influenced by their background and cultures of the people. Traditional clothing in India varies with, religion, region and community. Each and every state of India has its own tradition, culture and lifestyle to celebrate fairs and festivals with these traditions.Indians have always given a lot of importance to the dress materials since the inception of Indian civilization.  Indian Clothing is known for its elegance and traditional wear all over the world.  Festive season is the best way for exploring India and its culture, which is unique in every state of India. People of different communities wear different types of dresses in India which has become their identity.
South India-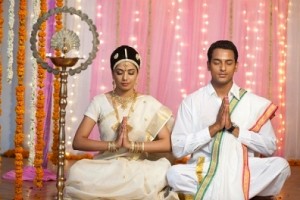 South Indian dresses are known for its simple and graceful look.This Indian state costumes of this region are made up of cotton and are light, because of its warm climate. Normal clothing here is sarees for women. Unstructured cloth called a lungi which is usually worn over shirt. It's a common attire for men, and some ladies, within the southern states of Kerala, Karnataka, Tamil Nadu and Andhra Pradesh. The traditional dress of Kerala is the 'Mundum neriyathum' or 'mundu and neriathu'. It is worn by men and women of Kerala. States like Kerala, Karnataka and Tamil nadu are famous for their silk and cotton sarees. Sarees have formed a specific place in the attires of Tamil Nadu. It is a traditional outfit for all Indian women. Kanchipuram silk saris are very popular and women generally wear them on significant occasions like wedding and religious ceremonies. Clothing of Tamil Nadu is not restricted only to women even men also have that passion to show their style and look handsome. They wear a lungi with an Angavastra or shirt.
North East India-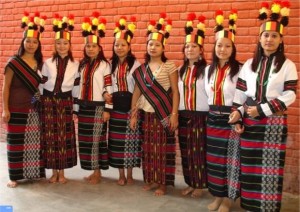 North East is called a state of seven sisters. The Seven Sister States includes Assam, Arunachal Pradesh, Nagaland, Manipur, Meghalaya, Mizoram and Tripura. Along with the scenic beauty of northeastern India, its traditional ethnic clothes represent the true spirit of India. The bright traditional clothing of northeast Indian people gives an identity to Asian fashion worldwide. The women dresses of Arunachal Pradesh are colorful with myriad patterns which gives a true feeling of their tribe culture. The women of Buddhist Monpas tribe wear a jacket above a sleeveless chemise which is tied to their waists with a narrow and lengthy strip of cloth in a rounded manner. They were accessories which are cut from bamboo trees and decorated with beads. The costumes in the Meghalaya shows the ethnicity of their tribes. The women wears a short cloth round the waist, while men put a loincloth. Silk fiber of Assam constitutes the lion's share of costumes of Assam. Traditional costume of Assam is known as "Mekhla Chadar". A women tribe of Arunachal Pradesh wear a very attractive woven petticoat and a linen blouse, which looks like an ancient replica of modern indian skirts and shirts.
North India-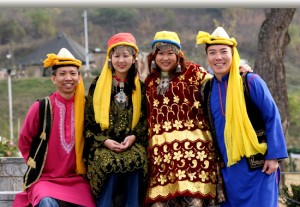 The main states which covers North India are Jammu and Kashmir, Himachal Pradesh, Punjab, Haryana, Maharashtra and Rajasthan. Costumes of Maharashtra comprise a sari as traditional attire for women and a dhoti and a shirt for men. The traditional dresses of women in Punjab are extremely beautiful and colorful. Punjab is known for its use of "phulkari" embroidery in its traditional costumes. The people of Haryana are very simple and their spirited enthusiasm for life is visible in their way of dressing up. The basic traditional dress of Haryanvi women is the Damaan, Kurti and Chunder. The highlight of the chunder is usually the shiny laces all along the border and is used to cover the head. The most popular attire of women in Jammu and Kashmir is the phiran. The Pheran and Poots are two gowns worn on top of each other. Most of their clothes are made up of wool and silk with intricate embroideries. Phirans are tied at the waist with folded material called lungi. Rajasthani wear colors to make up for the absence of blooming flowers. The traditional dress of a Rajasthani woman is the ghagra choli and odhani. Rajasthan is famous for its tie and dye prints or bandhani prints.
West India–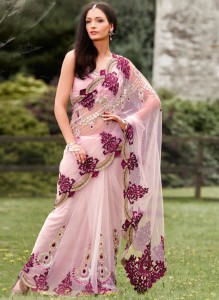 Madhya Pradesh, Goa, Maharashtra and Gujarat are the states which lies in the west part of India. Costumes of Maharashtra comprise a sari as traditional attire for women and a dhoti and a shirt for men. The Maharashtrian women wear famous Paithani sari during festivals and religious functions. Clothes are an important part of the Goa lifestyle making it essential to dress well at the innumerable social occasions and parties. In Goa, women prefer Western dresses like skirts and tops, trousers and shirts etc. Christian women wear sarees. The traditional dress of women in Madhya Pradesh and Gujarat is the colorful ghagra choli. Ghagras are ankle-length skirts secured around the waist. Saree is also a cultural dress of Gujarat.