Curry is a dish containing complex combinations of herbs and spices, usually including fresh or dried hot chillies. Curry dishes may contain fish, poultry or meat, either alone or mixed with vegetables. They may also be purely vegetarian.
Curries are great for using any leftover food one may have in the fridge from the night before. They are also quite versatile. Most are really easy to make and cost effective. One can keep it simple or spice it up to suit one's taste.
Cooking a curry need not take long stressful hours in the kitchen. It can be prepared pretty quick and in an easy manner. Not only are these preparations delicious but they are packed with a good deal of nutrients.
My favourite Curry-in-a-Hurry is the Creamy Egg Curry. It is light, healthy, yummy and leaves me wishing I had cooked a bit more.
A few other 'Yummy – Tummy – Curry' are:
Speedy Green Chicken Curry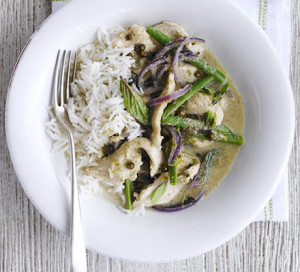 Time: 15 minutes
Serves: 4
Ingredients: 1 tsp vegetable oil, 1 red onion (cut into half-moon slices), 4 tbsp Thai Green curry paste, 2 x 400g cans light coconut milk, 2 tbsp fish sauce, zest and juice 2 limes, 1 tbsp brined green peppercorn (drained and rinsed), 200g green beans (trimmed and halved), 4 skinless chicken breasts (cut into long strips), handful basil leaves, cooked basmati rice (to serve)
Method: Heat the oil in a medium pan, add the onion and fry for 2 minutes. Tip in the paste and cook for 1 min more. Pour in the coconut milk, fish sauce, lime zest and juice, and peppercorns. Bring to a simmer, then add the beans and chicken. Cook for 5 minutes or until the chicken is cooked through.Just before serving, add the basil leaves. Serve with basmati rice.
Creamy Egg Curry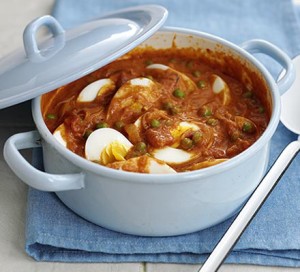 Time: 25 minutes
Serves: 4
Ingredients: 2 tbsp sunflower oil, 2 onions (thinly sliced), 2 heaped tbsp curry paste, 400g can chopped tomatoes, 8 eggs, 140g frozen peas, 4 tbsp Greek yogurt, rice (to serve), mango chutney (to serve)
Method: Heat the oil in a pan, then fry the onions over a low heat for 10 minutes until golden. Add the curry paste and sizzle for 2 minutes, stirring. Add the tomatoes and 200ml water, season to taste and then bring to the boil. Simmer for 10 minutes until you have a rich sauce.Meanwhile, boil the eggs for 8 minutes, cool in cold water, then peel and halve. 3 Stir the peas and yogurt into the curry and simmer for another 2-3 minutes. Put the eggs into the pan, spoon the curry sauce over and leave for another 2 minutes to heat through. Serve with rice and mango chutney.
15 – minute Prawn Curry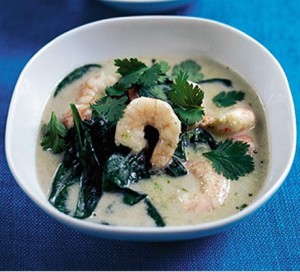 Time: 15 minutes
Serves: 4
Ingredients: 390g can coconut milk, 2 tbsp Thai green curry paste, 2 tsp sugar, small bunch fresh coriander (leaves and stalks), 400g bag frozen tiger prawns (defrosted, cooked, peeled), 100g baby spinach leaves, juice 1 lime, 1 tbsp Thai fish sauce
Method: Open the coconut milk; pour the thin milk into a jug, keeping back any thick coconut cream. Scoop the coconut cream into a blender. Add 2-3 tbsp of the coconut milk plus curry paste, sugar and coriander stalks and blend to a smooth paste. Heat a wok, tip in the paste, stir fry for 1-2 minutes, then pour in the remaining milk from the jug.Bring to a simmer, then add the prawns and spinach. Cook until the prawns are heated through and spinach has wilted. Add lime juice and fish sauce; then spoon into bowls. Scatter over coriander leaves and serve with plain rice or noodles
Squash and Coconut Curry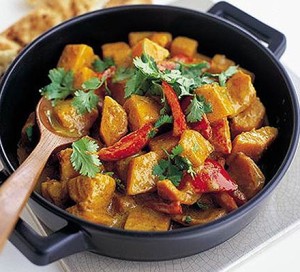 Time: 25 minutes
Serves: 2
Ingredients: 2 tbsp Madras curry paste, 1 large sqush (chopped into medium size chunks), 1 red pepper (halved, deseeded and roughly chopped into chunks), 400g can reduced-fat coconut milk, small bunch coriander (roughly chopped)
Method: Heat a large frying pan or wok, tip in the curry paste and fry for 1 min. Add the squash and red pepper, then toss well in the paste. Pour in the coconut milk with 200ml water and bring to a simmer. Cook for 15-20 minutes or until the butternut squash is very tender and the sauce has thickened. Season to taste, then serve scattered with chopped coriander and naan bread or rice.
No – fry Thai Curry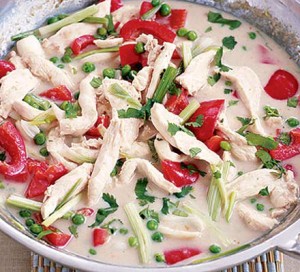 Time: 20 minutes
Serves: 2
Ingredients: 2 rounded tbsp Thai green curry paste, 400ml can coconut milk, 2 skinless boneless chicken breast fillets (very thinly sliced), 1 red pepper (seeded and cut into chunks), 3 spring onions (halved lengthways and cut into long pieces), cupful of frozen peas, 2 tbsp chopped fresh coriander or basil (to serve), rice or noodles (to serve)
Method: Make the sauce. Stir the curry paste over the heat in a medium pan for a few seconds, pour in the coconut milk and bring to the boil.Cook the rest. Add the chicken and vegetables, let it all start to bubble again, then turn down the heat and cook very gently for 5 minutes until the chicken is tender but the vegetables still have some texture. Stir in the coriander or basil and serve spooned over rice or noodles.
Recipe and Image Courtesy – bbcgoodfood.com