There are many cities in the world which are famous for their street food and without a doubt Delhi finds a place in that list. Delhi is not only the capital of India but also a place which has rich heritage and history behind it. Although Delhi is full of high end restaurants and hotels which provide excellent food and ambience, Delhi's street foods have their own separate name and reputation. These street foods are famous for being delicious and exquisite. And so people are crazy towards these street foods. The best things about the Delhi's street foods is that they are not only fabulous in taste but are also very much pocket friendly and so everybody can afford it. Further there are numerous options available so people can select the dish as per their choice. Once you taste the dishes which are sold here, you will surely not be able to stop yourself from going back to the same place again and enjoy these appetizing dishes. This article is dedicated to all those people who are very much passionate about trying new, delicious food items in Delhi.
Dilli Haat: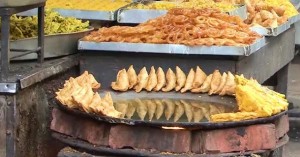 Everybody knows Dilli Haat as a place which is perfect for window shopping and so it is one of such places where the people love to visit. Dilli Haat is also known for the wide range of street food stalls selling the delicious dishes. You can find all type of Indian foods be it a North Indian cuisine or South Indian cuisine. There are also specific shops selling the food items from a particular state. For a person who loves to try new dishes, Dilli Haat is the perfect destination as they will find numerous options in one location.
Connaught Place: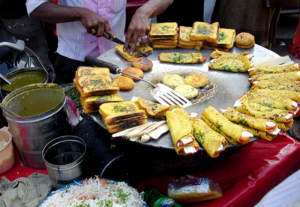 Connaught Place is located into the heart of Delhi and it is one such place where the people living here love to visit. It is because this place not only has shops of almost all brands but also famous food chains, restaurants, clubs, five star hotels and street food stalls which are open till late night. The famous food items here are Mutton Samosa, wide range of chicken, mutton and fish dishes, vegetarian and non-vegetarian rolls, Rasqulla, Chole Bhature, Biryani and many more. You will certainly enjoy shopping here and when you will get hungry you will have enormous choice to choose from.
Chandni Chowk: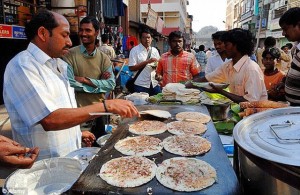 Chandni Chowk is one of the oldest areas in Delhi and is often crowded with people coming here for shopping and offering prayers at the Jama Masjid. But without a doubt, the wide variety of street food which you can get in Chandni Chowk is simply unmatchable. You may be a vegetarian or a non-vegetarian; this place will surely make you happy with its exquisite dishes. You can visit the Karim's if you love eating chicken and muttons. Else if you are a vegetarian, then you can simply walk into the Paranthe Wali Gali and get a taste of the delicious paranthas which are sold here from generations. Further you will also find Jalebi, Kachori, Dahi Bhalle, different types of Chatt, Lassi and Pakodas which will surely make you fall in love with them.
Khan Market: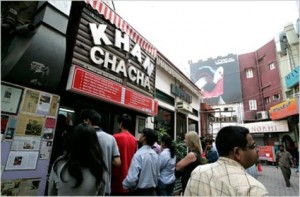 Khan Market is one of the high end shopping markets in Delhi but the food items that are available here are very much pocket friendly and people simply love them. From noon till late mid night you will find variety of Chinese and Indian foods in various stalls. So the people living nearby Khan Market often pay visit in evening to taste the mouth-watering dishes that are sold here. Momos, Chilly Potatos, Soups, Corn and Chatt are the famous dishes in this place.
Pandara Road: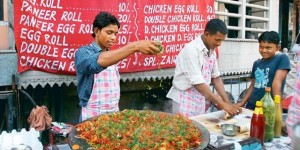 Pandara Road is another excellent place in Delhi where you will find delicious street foods. If you are a person who likes to eat spicy food, then this is the place you should visit. The Punjabi and the North Indian cuisines available in this place are simply amazing and eating here will surely be a delightful experience for you. Both for the non-vegetarians and the vegetarians there are tremendous options available and you will certainly not be disappointed with the food here. If you love Punjabi dishes then Pandara Road is the place you should visit as it has almost every dish which is made in Punjab and their preparation is so healthy and spicy that you will certainly feel like coming back to this place again.
Nehru Place: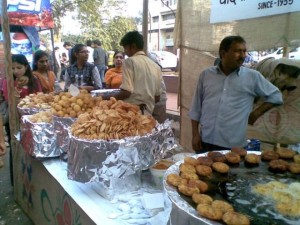 Though out the day you will find Nehru Place filled with people as it is one of the biggest electronics market in India. But apart from the computer and electronic shops here, you will also find numerous food corners there. Again the Punjabi food is the most famous here. But then you can also find the food stalls offering the fast foods, continental and north Indian cuisines. The best thing about the food sold here is that they are delicious and healthy to eat. One simply gets a much desired relief after eating in the food stalls here.