Indian chicken dishes are known and famous world over for mouthwatering tandoori varieties, tikkas, curries and gravies. Pakoras and chicken tikkas are served as starters. One of the most loved meats in India, chicken cooked in fiery desi flavors is a treat for the senses. Breathe in the aroma of traditional rustic spices – a sprinkle of cinnamon, the spark of garam masala and the heat of the Kashmiri chillies. Chicken a very popular meat in India. Most of the people are fond of chicken, they love chicken, they eat chicken and even if challenged they can eat chicken daily.  Some of India's most popular chicken dishes are given below. Let's have a look and make delicious chicken dishes on your known and enjoy with your family.
PEANUTS NOODLES WITH CHICKEN-
Ingredients-
1/3 cup natural-style peanut butter, 1/2 teaspoon Asian chili sauce, 1/2 cup chopped fresh cilantro, 8 ounces fettuccine, 2 cups thinly sliced red bell pepper, 2 garlic cloves, minced, 2/3 cup water, 1/3 cup hoisin sauce, 1 tablespoon seasoned rice wine vinegar, 1/2 cup chopped green onions, 2 cups chopped roasted skinless, boneless chicken breasts, 1 teaspoon dark sesame oil, 1 tablespoon minced fresh ginger, 1/3 cup natural-style peanut butter.
Recipe- Pasta is cooked according to the package directions, omitting salt and fat. Combine bell peppers and chicken in a colander. Drain the pasta over chicken mixture and let it stand for 5 minutes. Heat oil in a small saucepan over medium-high heat, then add garlic and ginger. Cook for 1 minute, stir the mixture frequently, and add water and next 4 ingredients (through chili sauce). Cook for 1 minute or until thoroughly heated, stirring with a whisk. Combine the pasta mixture and sauce in a large bowl, then toss to coat. Stir in cilantro and onions.
ITALIAN CHICKEN-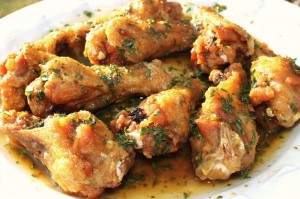 Ingredients-
1 cup sliced green bell pepper, 1/2 lbs. boneless and skinless chicken breasts, 1 pack of Roasting Bag & Seasoning Blend for Chicken – Garlic Parmesan & Italian Herb, 1 cup sliced yellow onion.
Recipe- Preheat the oven to 350degree. Now place the vegetables and chicken inside the bag, then sprinkle seasoning blend over vegetables and chicken. Twist the bag to close it tightly, then secure with blue tie about 2-3 inches below opening. Turn the bag gently in order to spread seasoning blend over vegetables and chicken. Now lay the bag flat in 13*9 inch baking dish and arrange the chicken in single layer. Bake it for 35 minutes. Let stand 5 minutes before opening. Carefully cut the bag, open it and serve your delicious dish.
CHICKEN SHAKUTI-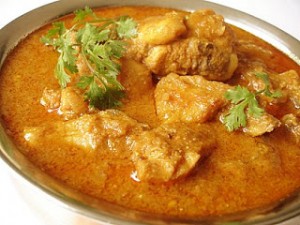 Ingredients-
1 Medium sized Chicken, 6 Red Kashmiri Chillies, 1/2 teaspoon Sesamee Seeds, 1 teaspoon jeera, 8 Peppercorns, 1 teaspoon Saunf, 1/2 Coconut scraped, 1/2 Onion sliced, Salt To taste, 3 tablespoons Ghee, 1 tablespoon Corriander Seeds, 2 teaspoons Cloves, 1/4 teaspoon Methi Seeds, 1 tablespoon Khus Khus, 1 teaspoon Turmeric powder, 5 Flakes of Garlic, 2 tablespoons Tamarind pulp.
Recipe- Cut the chicken in large chunks of about 3 inch pieces and then apply some salt and set aside. Put in 1 tablespoon of ghee in a frying pan and fry the red chillies and all the dry spices till toasty and then add the garlic, the coconut and the onions fry for a little bit and then grind all the ingredients in a blender till you get a fine paste. Heat 2 tablespoons of ghee in a thick bottomed pot and then add the ground masala and fry well. Add in the chicken, mix well with the masala and put 1 cup of water into it till a thick gravy consistency. Now add some salt for better taste. Bring it to a boil then cover and cook till chicken is fully cooked. Lastly add the tamarind pulp and serve it hot with white rice and enjoy with your family.
BUTTER CHICKEN-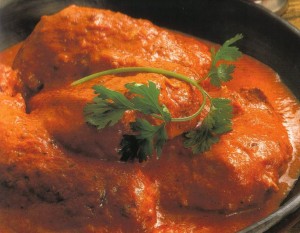 Ingredients-
1 kg boneless chicken skin removed, Salt to taste, 6 cloves, 1 stick of cinnamon, 8-10 almonds, 1 cup fresh yoghurt, 2 onions chopped, 1 tsp ginger paste, 1 tsp cumin powder, Juice of 1 lime, 1 tsp red chili powder, 8-10 peppercorns, 2 bay leaves, Seeds from 3-4 pods of cardamom, 3 tablespoons vegetable/canola/sunflower cooking oil, 2 tsps garlic paste, 2 tsps coriander powder, 1/4 tsp turmeric powder, 1/2 litre chicken stock, 3 tbsps unmelted soft butter, Coriander leaves to garnish, 400g of chopped tomatoes, ground into a smooth paste in a food processor, 2 tbsps kasuri methi.
Recipe- Mix the lime juice, chicken, salt and red chili powder in a large, non-metallic bowl. Then cover and allow to marinate for 1 hour. Heat a flat pan on medium heat and gently roast the peppercorns, cloves, cinnamon, bay leaves and almonds till they are darken slightly. Cool and add the cardamom seeds. Now grind into a coarse powder in a clean, dry coffee grinder. Now mix the yoghurt, above whole spice powder (from previous step), coriander, cumin and turmeric powders together and add them to the chicken. Allow to marinate this for another hour. Heat the oil in a deep pan on medium heat. When it gets hot, add the onions into it and fry till a pale golden brown in color and then add the ginger and garlic pastes. Fry for a minute. Add only the chicken from the chicken-spice mix and fry till sealed. Now add the tomato paste, chicken stock, kasuri methi and remaining part of the yogurt-spice mix to the chicken. Cook till the chicken is tender and the gravy is reduced to half its original volume. Melt the butter in another small pan and then pour it over the chicken. Your dish is ready.