Rajasthani culture itself includes warlike lifestyles of its people. Along with the royal heritage Rajasthan possesses royal cuisine too. For mouth-watering aroma the food is especially cooked in pure ghee. Rajasthani dish is delicious to taste..!! Rajasthani thaali is a combination of two to three sweet dishes, several rajasthani curries, bajra and missi roti. So here come several famous Rajasthani dishes which need to be tasted if you haven't tasted it once.
Kalakand, a sweet dish preferred by all the people of the region. It is also famous by the name called Mishri-Mawa. It is prepared with the help of cottage cheese and sweetened milk. It was firstly originated and prepared in Alwar so people usually called it as Alwar's Kalakand. In several places it is known by the name Milk Cake. Because of its delicious and excellent taste it is renowned all over the state and even a place is named after this particular dish in Alwar.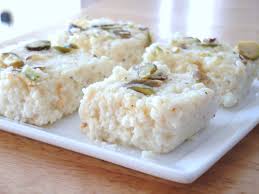 Dal Bati Churma is a well-known Rajasthani dish which includes three individual servings i.e. Dal, Bati and Churma. Its preparation is quite easy, but take more time as compared to other Rajasthani dishes. It is considered as the most eminent and common dish for all kinds of occasion, whether it be any religious occasions, wedding parties or any small get together. Dal is basically made of tuvaar. It is prepared with the same common recipe as it has. Baati is prepared using wheat flour which is mixed with dahi, salt and water. Now the prepared ball sized round balls and put it into a well-heated oven. After it becomes brown it is served with ghee. Dal-baati is generally served with pudina chaatni, kari, green salad and buttermilk or chaach. Dal baati is incomplete without Churma. It is made of ground wheat, which is crushed and mixed with ghee to make it rich in calories. It is like a tradition to be followed in Rajasthan.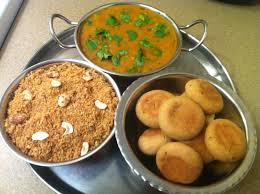 Jodhpuri Mawa Kachori, a special sweet originated in Jodhpur. As we know Jodhpur is known for having Rajasthani delicacies. Various different dishes were originated in Jodhpur like Pyaaz Kachori, Mirchibada, Makhaniya Lassi etc. Mawa Kachori is a sweet dish prepared from mawa which is stuffed in Kachori. It was firstly prepared by famous Rawat Mishthan Bhandar in Jodhpur. Since, from that time it is serving the best mawa kachori in the whole state.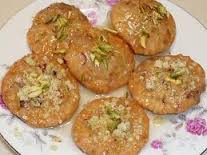 Rajasthan is not only famous for sweet dishes instead its spicy dishes is as yummy and delicious as its sweet dishes. When we talk about spicy the first name comes to our mind is Kachori. Pyaaz ki Kachori is one of the variants of Rajasthani Kachori which was originated in Jodhpur. It is made of fried pastry which was stuffed with spicy onion. People across the country and especially travelers after entering into Rajasthan firstly wants to have this excellent taste in their mouth. This dish has become popular all over the country and is served in every Rajasthani outlet and restaurants. People here in Rajssthan prefer to have this spicy dish in their breakfast and snacks.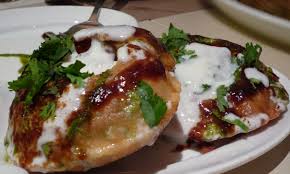 Ghewar is another renowned Rajasthani sweet dish. The demands for this sweet dish remain high during all the seasons, but especially it becomes a part of the meal during Teej. It gives an indication of the beginning of the festive season. It is made of wheat flour given a shape of rounded cake. After this preparation, it is poured into sugar syrup and then served. It has several variants that distinguish its taste. Rabdi Ghewar is generally famous and prepared on the occasion f wedding ceremonies which include a topping of rabdi along with the crunch of nuts over it. On the occasion of Gangaur, Makar Sakranti people used to celebrate their happiness with this Ghewar.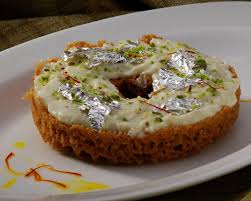 Mirchi Vada, another famous snack in Rajasthan. As we know everyone has a different taste varying it from sweet to spicy, so here comes a blend of both. Mirchi vada is combination of spicy and sweet flavours both. It is a spicy fried dish made from Mirchi stuffed with potato in it. It is served with tomato sauce, tamarind chatni, curd and with mint too. But during its preparation, make sure to remove the seeds of Mirchi so that it does not become spicier.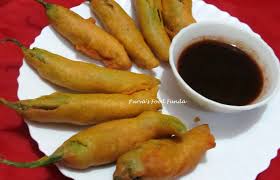 The meal is incomplete without rotis and in India there are different variants of rotis, paranthas etc. So when Rajasthani thali comes into concern it is incomplete without Missi Roti. Missi Roti is a specialty of Rajasthani cuisine. In ancient period it was prepared on a traditional chulha with the coals, but now a day's people started using ovens for its preparation. Its preparation is quite simple. Initially you need to mesh wheat flour and besan along with dhaniya, red chilly, oil, salt and jeera. A stiff dough is prepared. After this thick rotis are made and brushed with melted ghee. Then it is ready to be served with Shahi Gatte, green chilly and pickle.