In simple terms Dhabas is the title given to roadside restaurants in India. These restaurants are found in highways and other remote regions. The main idea for the opening of these restaurants was to feed travelers and truckers who travel from one region to another to transport goods. In olden days Dhabas were a source of refreshment as they provided a home like ambience combined with tasty food and drinks. It became a spot where social relations were established as most of the consumers were truckers who spoke and discussed about their daily routine and life with each other.The concept of the 'dhaba' is not new. Infact, this trend of feeding the travellers enroute has been there for a very long time. It is said, that back in the times, in a village, there was a family who believed in sharing their meals with people around them. They would always prepare extra food and feed this to the passerby's and the travellers passing through their village. This offered respite to the hungry and tired travellers and many a times, they would offer money as a token of their appreciation. It is from here that the idea spread and grew to the vast scale it is in today.
Open 24 hours a day, Dhabas are small structures usually run by a family or a group of men who work together putting in their knowledge of species and masalas and creating mouthwatering dishes which help the consumers who come there with a hope to kill their hunger. Since the investment put into the working of this center is low, the prices they charge are also reasonable. The best part about a dhaba is that there is no rules and regulation out here. Moreover there is no distinction shown between high class people and low class people. Everybody is welcome to dine here and so it's not surprising to find people from different sections of the society together in one spot. Unlike other hotels and restaurants, these centers do not spent much on infrastructure and other facilities. There is one structure which is the kitchen where the food is made. The seating arrangement is done outside this structure with the open sky acting as the roof. In regions which are characterized with sunny or rainy conditions most of the time of the year, arrangements are made for sitting both outside and inside the structure. Earlier we had cots where people used to sit and eat and later could have a nap as well however today only some Dhabas follow the same tradition. The newly opened ones have plastic chairs and tables which have substituted the wooden cots.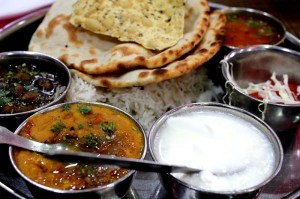 The concept of Dhabas is not something new and it has over the years only seen improvement and growth. The food is believed to be mainly based on the Punjabi cuisine because the truck drivers mostly belonged to the state of Punjab and secondly Punjabi food is very famous in the northern part of India but over the years there are been a shift in the menu where dishes of different cuisines have joined the list. I had my own dhaba experience when I was young. On the way to agar we had stopped for lunch in a dhaba which was very famous in that area according to our driver. Surprisingly they had no menu cards and all the people working out there knew what was being cooked that day. Tandoori rotis, hot chicken curry with mix vegetables sabzi; I should say I had the best outdoor food ever. The Punjab government is so impressed that it lists Dhabas as an attraction worth a try by the tourists.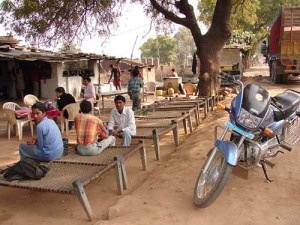 The term dhaba originated in the state of Punjab in India. Since Punjab has Pakistan and Kashmir as its neighbors, the traditional Dhabas had the mixture of specialties from all the three regions. A major part of the cooking is done in a tandoor which is an oven made of mud and heated from below. Tandoors are used to cook rotis or Indian breads as well as non vegetarian items like chicken which is spiced nicely and arranged in a skewer and then placed inside the tandoor. According to a recent study done on the dishes ordered by customers in different Dhabas reveals that chicken tikka or lamb korma in the non vegetarian category and rice dishes with panner curry and spinach in the vegetarian category are the most demanded. Even though there are many other vegetarian dishes on the list, but when it comes to non vegetarian we find mostly chicken, fish or lamb. Other meant options such as pork and beef are very rare to find. Since dhaba is not a star restaurant or hotel, cleanliness is something which is hard to find. Although the same cannot be said for all the Dhabas but mostly it's found that less weightage is put on cleanliness rather than the quantity and the taste of food served. However seeing the crowd and speed in which food is cooked to feed the hungry eaters, it acts as stamp which verifies that cleanliness is something which can be compromised here.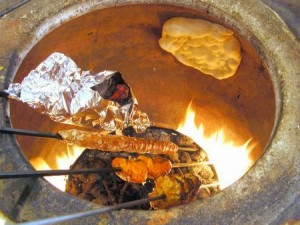 India which is characterized with large scale poverty and unemployment with a major portion of the population lies below the poverty line; Dhabas till today provide both employment to many and remains a source of comfort for the hungry.
Georgie Rajan