Well, if you had expected this piece of writing to talk about the restaurants alongside the shore of Lake Victoria, then you might be getting wrong!! Kenya, one of the major hubs for tourism sport and wildlife safaris in Africa, is well known for its exotic culture and lifestyle. However it may turn out to one's dismay to know that none of the restaurants in Kenya serve its traditional dishes. To taste them, you would have to visit the local Kikuyu, Abaluhya and Luo tribes. If that sounds too difficult a task, then here's the easy way – learn the recipe and DIY….. Now that sounds exciting, doesn't it – an evening dinner prepared by yourself at the lakeshore!!
A traditional Kenyan dinner can be separated into two menus – one with the Irio as the main course, and the other with the Ugali as the main course.  The first menu is as follows –
The starter, The Oyster Mombasa
Steak and Irio with sauce dishes and salad relish
The dessert, Coupe Mt. Kenya
Kenyan tea or coffee
The second menu also called the Abaluhya menu has the Ugali as the main dish with the Maziwa Ya Kuganda (sour skimmed milk) as the dessert.  Here's how each of these recipes are made:
THE OYSTER MOMBASA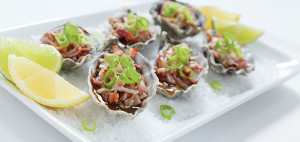 Ingredients:
3 dozen oysters (smallest available)
Wine garlic sauce:
½ cup melted butter
4 cloves garlic, finely minced
1 cup Chablis (French white wine)
4 tbsp chopped parsley
1 tsp salt
1 tsp freshly ground pepper
Few drops Tabasco (hot sauce made from Tabasco peppers, vinegar and salt)
Method of preparation:
Open 32 small oysters, leave them on the half shell and place on baking sheets.
To prepare wine garlic sauce, combine melted butter, minced garlic, Chablis wine, chopped parsley, salt, pepper and Tabasco sauce.
Ladle half of the above sauce on each of the oysters.
Bake at 350'F for 6 to 8 minutes.
Ladle the remaining sauce over the oysters again.
Serve immediately with lemon wedges.
STEAK AND IRIO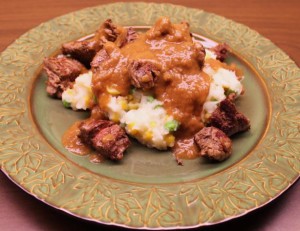 Method of preparation
Drain peas and measure the liquid.
Put the peas through a vegetable mill or sieve to make a puree.
Drain kernel corn and add the liquid to that of the peas.
In a 2-quart saucepan:
Prepare 4 cups instant mashed potatoes following package directions and using the vegetable liquors as part of the required liquid.
Add 3 tbsp butter, 1 tsp salt and ¼ tsp pepper.
Blend the puree of peas into the mashed potatoes until a smooth green color results.
Fold in the drained kernel corn.
The consistency should be that of firm mashed potatoes.
The Steak:
In a large skillet:
Cut 3 lbs fillet mignon (or any steak) in 2 x 1/2 x 1/2-inch strips.
Sauté in 4 tsp margarine oil until lightly browned.
Remove the steak from the skillet.
Blend in 6 tbsp flour to make a roux.
Add 2 cups onion soup made from a packaged mix and cook to medium-sauce consistency.
Correct the Seasoning with salt, pepper, and a little Tabasco.
Return the steak to the sauce.
Make a large mound (about 1 cup) of Irio in center of dinner plate.
Form a hole in the center about 2 inches in diameter.
Fill the hole with 1/2 cup of the sautéed steak and gravy.
Smooth around edges of the Irio so it looks like a volcano.
EAST AFRICAN SALAD RELISH

Method of preparation
Combine  2 cups cabbage, finely shredded with ½ cup carrots in very, very thin slices, ½  cup sweet onions (Bermuda or Spanish or scallions), and ½  cup green pepper in fine strips.
Fluff the mixture up.
Fill small sauce dishes, allowing about 1/3 cup per person.
COUPE MOUNT KENYA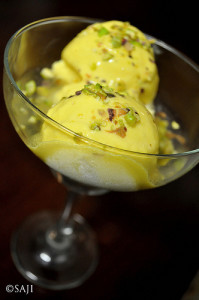 Method of preparation
Any fruit ice cream will serve for the Coupe Mount Kenya, especially peach ice cream. Fruit sherbet may also be used. Canned pineapple may be substituted for the fresh, but it does not have the same zing.
Mash 4 or 5 ripe mangoes, peeled and pitted. There should be 2 cups.
Whip 1 cup heavy cream with ½ cup sugar until stiff.
In a bowl, combine 2 cups mashed mangoes, 2 tbsp lemon peel cut in tiny ribbons, ½ cup condensed milk, and ½  tsp salt.
Fold in the whipped cream.
Pour into freezer trays or a 6-cup mold and freeze.
PINEAPPLE RUM SAUCE
In a 1-quart sauce pan,
Simmer 1 cup pineapple juice (canned) and 1 cup sugar until it dissolves and syrup is formed.
Add 1/2 cup white rum. Let to cool.
In a 2-quart bowl:
Cut 3 cups fresh pineapple in ½ inch dice.
Pour the Pineapple Rum Sauce over the pineapple.
Marinate for several hours.
Place 1 scoop mango ice cream in a wine glass.
Top with pineapple rum mixture
Garnish with 1 tbsp pistachio nuts, coarsely chopped.
UGALI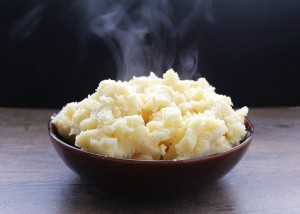 Measure and bring to boil 4 cups of water in the saucepan.
Add the corn flour slowly while stirring with a wooden cooking utensil. This can involve a 10 to 20 minute process of slowly adding cornmeal and stirring, then adding more as needed.
Continue adding corn flour while still stirring to a thickened consistency. Use the cooking utensil frequently as the dough thickens.
Cook to a desired texture. The texture is usually thicker than mashed potatoes and is best cooked until the dough pulls from the side of the pot. Take care, as it can be very hot.
Turn the cooked ugali onto a serving plate. Use a wooden spoon to transfer it.
With its beautiful rock-lined shore and sparkling lake view, an evening meal at Lake Victoria should not be missed from your list of to-dos while holidaying in  Kenya!
(Recipe sources from  http://www.africa.upenn.edu)