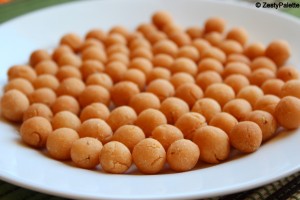 Diwali is a festival of light which is celebrated with full positive energy in India. Diwali food section gives you a perfect idea about lots of delicious mouthwatering recipes across India. Here are some recipes which you can enjoy at Diwali.
DRY FRUITS BURFI-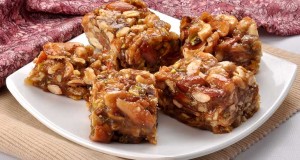 Ingredients-
1 1/2 Cups – Anjeer/Dried Figs
1 Cup – Khajoor/Dates
1/3 Cup – Almonds/Badam
1/3 Cup – Cashew nuts/Kaju
1/3 Cup – Walnut/Akhrot
1/3 Cup – Pistachio/Pista
1/3 Cup – Raisins/Kismiss
1 tbsp – Gulkand (optional)
1/2 tsp – Cardamom Powder/Elaichi
1/4 tsp – Nutmeg Powder/Jayaphala
1 tbsp – Ghee or Oil
1 – Sliver Varq/Warq (optional)
Recipe- Soak anjeer/dried figs in warm water for 15 minutes, strain water and pat dry well. Meanwhile finely chop almonds, cashewnuts, raisins, walnut, pista and dates. You can also pulse in food processor or mixer but don't make it powder, we need nuts in pieces. Grind anjeer/figs to smooth paste, don't add water. Heat oil or ghee and add anjeer paste mix well and saute for a minute. Now add chopped dates and mix well, cook for 2 minutes. Add Chopped dry fruits and mix everything well, you will need another spoon or spatula to combine everything. Add cardamom powder, nutmeg powder, gulkand and mix everything well, cook for a minute and off flame. Line a plate or tray with greased butter paper and pour burfi mixture, level well with spatula and later with butter paper, allow mixture to cook completely. Add sliver varq if using and keep burfi in fridge for 20 to 30 minutes, cut in desire shape with greased knife. Store in air tight containers, this burfi stays fresh in room temperature for almost 2 weeks.
UPPU SEEDAI-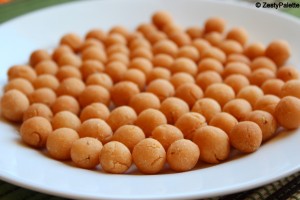 Ingredients-
Rice Flour – 1 Cup
Urad Dal Flour – 2 tbsp
Butter/Ghee – 2 tbsp
Sesame Seeds – 2 tsp
Asafoetida – 1/4 tsp
Grated Coconut – 2 tbsp
Salt – to taste
Water – To knead
Oil – For deep frying
Recipe- Heat a pan/wok and sauté rice flour for a minute or until it starts to steam.  Don't let flour change its color. Sauté for a minute urad flour and coconut. In a bowl sieve both flours and add coconut, salt, sesame seeds, salt, butter/ghee, asafoedtida and rub with hands to get wet sand like consistency.  Now add water in small quantities and mix well to form soft pliable dough.  Keep aside for 5 minutes. Take a pinch and make into small ball and repeat same for rest of dough, arrange in newspaper or kitchen towel.   While making balls don't apply any pressure, do it gently and don't try to get perfect round shape.  Heat oil for deep frying and add seedai in batches.  Deep fry in medium-slow flame until golden in regular interval. Drain in paper towel.  Store in air tight container after seedai comes to room temperature.
SOOJI GUJIYA-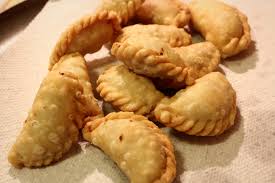 Ingredients-
For Outer Layer
2 Cups – Plain Flour/Maida
4 tbsp – Ghee or Oil
Oil – To Deep Fry
For Filling
2 Cups – Sooji/Semolina
3/4 Cup – Mawa/Khoya (optional)
2 Cups – Powdered Sugar
1/2 tsp – Cardamom Powder
1/2 Cup – Grated Dry Coconut/Khopra
2 tbsp – Raisin
4 tbsp – Chopped Cashewnuts
2 tbsp – Poppy Seeds
Recipe- For outer layer, in a wide bowl take flour, 4 tbsp oil and mix well, add water in small quantity and make stiff dough same like we make for poori, cover with a damp cloth and keep aside until required. In a wok or kadai add khoya/mawa and cook in slow flame for 2-3 minutes or until its melts, loosen up, off flame, keep aside. Dry roast sooji/rawa until light brown and aromatic, keep stirring so it doesn't get burnt. Powder sugar with cardamom seeds. In a large bowl add roasted sooji/rava, cashew-nuts, raisins, poppy seeds (I didn't used), dry grated coconut (khopra), powdered sugar and mix well. Add khoya/mawa and mix well with hands to combine khoya with sooji well. If you are not using khoya skip this step. Knead dough again for 4-5 minutes to make it soft and make big gooseberry size balls with dough, roll into thin roti/chapatti of 5′ diameter or size depends on the size of your gujiya/karanji mold. The dough has oil or mooyan as we call enough so I didn't applied oil or flour for rolling but if you need apply drops of oil or slightly dust with flour to roll dough and don't worry about the same of roti/chapatti. Grease gujiya or karanji mould with oil slightly and place rolled chapatti on top of it. Place 1 tbsp of filling on one side of partition. Bring another partition together and close it. Press the edges to seal gujiya well and remove excess roti portion from mould and keep it with rest of dough. Press again to make sure gujiya/karanji is sealed well, gently open mould and take out gujiya. Repeat same for rest of dough and prepare gujiya. Heat enough oil for deep frying and drop 3-4 gujiya at time and fry in medium to slow flame until both sides golden brown, do turn 2-3 times gujiya to cook it well both sides, use slotted spoon and drain oil, keep in kitchen tissue to drain excess oil and fry rest of gujiyas/karanji. Allow to cool completely before storing in air tight container.