When the summer sun is up with a vengeance, there's nothing like a cool, delicious drink to refresh you. But beware. Every time you reach for your favourite juice/soda/latte/shake, you may be ingesting more calories than you might be prepared to bargain for. So what do you do then? Would you put your weight loss plans on hold and gulp down a sugary drink and a guilty conscious? Or would you simply sigh and pass on that glass of sweet, chilled delight? Thankfully, there's a way out of the dilemma. A little creativity can take you a long way. Put some thought into your ingredients, play around, and before you know it, you'll have a healthy summer drink you can sip on with a smile.
Here's a list to help you get started:
Iced Tea: Give the sweetened iced tea that comes in cans and bottles a miss. Brew your own instead. Steep your favourite herbal tea and chill it. Once chilled to perfection, add mint, lemon, and honey, for an additional jolt of refreshing taste.
Flavours and colours: Avoid all artificial/nature-identical flavouring substances and chemical colours. They contain added sugar and the chemicals present may pose a threat to your well-being. Add real fruits, such as oranges, lemons and limes, or even berries to your water for a more honest, healthier taste. If you like a pretty hue in your glass, try using 100% fruit puree.
Fizzy drinks: Each can of your favourite soda not only contains high levels of sugar, but can also potentially dehydrate you. Add a hint of mint or ginger to sparkling water to create a healthier substitute.
Added sugars: Added sugar means empty calories. Avoid adding sugar to your drinks. Use natural sweeteners such as honey or maple syrup instead.
Cream or milk based beverages: These are loaded with fat, and often, lots of sugar. If you feel like something creamy, try making a smoothie or latte using almond milk or rice milk.
Here are a few simple recipes to help you make better-for-you beverages in a snap:

Fresh Ginger Beer
With a flavor similar to ginger ale, this ginger beer is a fizzy, non-alcoholic mixture of sparkling water, lime juice and fresh ginger. Ginger has been used as a home remedy for years to combat stomach aches and morning sickness. Studies also suggest that ginger may help reduce knee pain in people with osteoarthritis.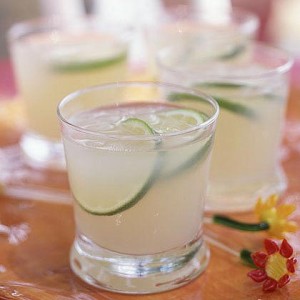 Requirements:
(Makes 8 servings)
2 cups cold water
1 cup fresh lime juice
4 teaspoons  ground fresh ginger
1 ½ tbsp. honey
3 cups sparkling water
Lime slices (optional)
Preparation:
Combine water, juice, and ginger in a blender; process until blended. Line a strainer with cheesecloth. Strain mixture over a pitcher; discard solids. Add honey to pitcher; stir until well mixed. Add sparkling water just before serving. Serve over ice. Garnish with lime slices, if desired.
Citrus Tea Punch
Tea itself offers significant health benefits because of its antioxidant compounds, but you can double the antioxidant benefits by stirring in some orange juice.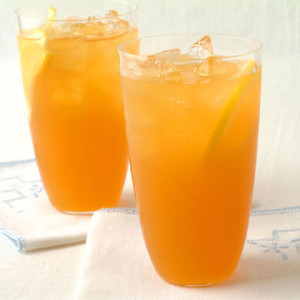 Requirements:
(Makes 12 servings)
6 cups water, divided
2 tbsp. honey
3 whole cloves
2 family-sized tea bags
A 3-inch cinnamon stick
1 cup orange juice
1 cup fresh lime juice, undiluted
Ice
Lemon slices (optional)
Preparation:
Combine 4 cups of water with honey in a heavy saucepan; bring to a boil. Remove from heat. Add cloves, tea, and cinnamon; steep for 5 minutes. Strain mixture through a sieve into a pitcher; discard the solids. Add the orance juice, lime juice, and the 2 remaining cups of water. Stir well. Chill. Serve over ice, and garnish with lemon slices, if desired.
Strawberry Aqua Fresca
Spanish for "fresh water", Agua fresca is a refreshing, fruit-infused drink that is served throughout Mexico. Drinking a fruity water-based drink is a great way to stay hydrated in the summer while getting some extra vitamins and flavours.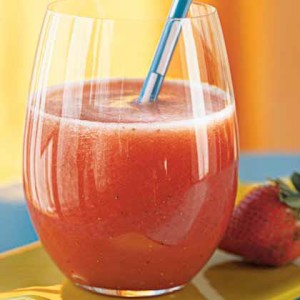 Requirements:
(Makes 8 servings)
4 cups water
1 ½ tbsp. honey
6 cups hulled strawberries
¼ cup fresh lime juice (about 2 limes)
Preparation:
Place strawberries in a blender and process until smooth. Add water, honey, and juice to the strawberry puree. Stir well.

Watermelon Cooler
Watermelon is a top source of lycopene, a compound that has been suggested to reduce the risk of prostate cancer. Enjoy a glassful of health! And what's more? It tastes amazing!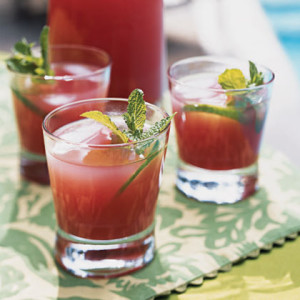 Requirements:
(Makes 6 servings)
8 cups chopped seedless watermelon
1 cup fresh lime juice
1/2 cup sugar
1/2 cup water
Dash of salt
 Preparation:
Place half of watermelon in a blender; process until smooth. Strain watermelon through a sieve into a pitcher; discard solids. Repeat procedure with the remaining watermelon. Stir in lime juice, sugar, 1/2 cup water, and dash of salt. Serve over ice.

Spicy Mango-Orange Slush
Kick up the flavor of this fruity frozen drink with a sprinkle of ground red pepper and a splash of lime juice. It's healthy, too. Orange is an excellent anti-oxidant, while mangoes are a good source of fibre and contain enzymes that help with digestion.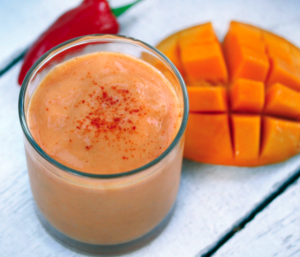 Requirements:
(Makes 2 servings)
2 cups cubed peeled ripe mango, frozen
1 cup fresh orange juice
½ cup sparkling water, chilled
1 tsp. grated lime rind
2 tbsp. fresh lime juice
A pinch of ground red pepper
Preparation:
Place all the ingredients in a blender; process until smooth. Serve chilled.
Now that you know the tricks, drink your way to refreshing health this summer!