"TO BE, OR NOT TO BE? THAT IS THE QUESTION- "
– William Shakespeare, Hamlet ( Act 3 scene i)
Tweaking the above mentioned famous quote, in reference to our food fetishes, – 'to eat, or not to eat? That is the question-'.
A friend of mine recently lost 16 kilos (yes, you read that right) in about 3 and a half months. No fitness centre. No gym. She followed a diet -the G.M.'s diet which is readily available on the net (go on GOOGLE it) and a daily jogging regime. I remember her saying that the amount of pep talk she had to give herself in order to follow through and not eat the junk food that she had been gorging on all these years was tough but doable. At the end of the day, you have to make a decision – to eat or not to eat (the junk). You either live to eat or eat to live. For most of us, it is the latter but a fair half would raise their hand to the former belly-rubbing with a wide innocent grin. Well, it happens. Food does get the better of us.
I know that because I have been on and off diets since… since… I really don't remember when but it was a long long time ago. It is difficult to stick to your goal. But excuses apart, it is very doable to take baby steps or baby baby steps and choosing a healthier way of living, eating and rocking the world.
For example, why not order a filling salad when you snack out instead of loading your plate with high-calorie high-in-fat food? That would be a baby baby step.
Sesame Chicken Breast Salad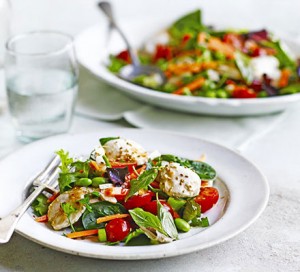 Time: 15 minutes
Serves: 2
Ingredients: 2 skinless chicken breasts, 85g of frozen soya beans, a small handful Thai or ordinary basil leaves (should be chopped if large), 85g herb or baby salad leaves, 1 tsp toasted sesame seeds, 1 large carrot (finely cut into very thin matchsticks), 4 spring onions (finely sliced), 140g cherry tomatoes (halved), small bunch coriander (chopped)
Dressing ingredients:grated zest and juice 1 small lime, 1 tsp fish sauce, 2 tsp sweet chilli sauce, 1 tsp sesame oil
Directions: Firstly, put the chicken breasts in a pan and pour cold water over it to cover. Secondly, tip the soya beans into a steamer. Bring the pan to a gentle simmer, and then cook the chicken breasts for 8 minutes with the beans above.Meanwhile, your third step should be to mix the dressing ingredients in a large bowl. Fourthly, when the chicken is cooked, slice and toss in the dressing along with the beans, carrot, onions, tomatoes, coriander and basil. Mix really well, pile onto the salad leaves and sprinkle with the sesame seeds.
Tuna Bean and Fennel Salad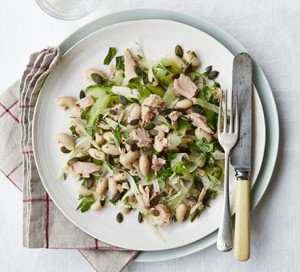 Time: 10 minutes
Serves: 2
Ingredients:zest ½ lemon and 1 tbsp juice, 1 tsp wholegrain mustard, 1 tbsp extra virgin olive oil, a 400g can of cannellini beans (should be drained and rinsed), ½ small fennel bulb (should be thinly shaved), ½ cucumber (should be peeled into ribbons), a 160g can of good-quality tuna in spring water (drained), 1 heaped tbsp pumpkin seeds, small bunch dill (should be roughly chopped), small bunch parsley (leaves should be roughly chopped)
Directions: Firstly, to make a dressing, put the lemon zest and juice, mustard, olive oil and some seasoning in a jam or jelly jar and shake well. Secondly, tip the beans into a bowl, pour over the dressing and stir. Thirdly, add the dill and parsley leaves, fennel and cucumber, then flake the tuna into large pieces and fold through. Spoon the salad onto small plates. Sprinkle with pumpkin seeds on the top. It is ready to serve.
Whenever I go to the British Council Library, I usually stack up that week's load of food magazines. Going through the GoodFood magazines helped me to simplify my cooking process in immeasurable ways. It categorizes recipes into low-fat, low-calorie, easy to cook, vegetarian, moderately hard to cook, gluten free, etc. For a foodaholic like me, it makes 50% of my work easier as I merely give a quick glance and select the healthier options. And in a few minutes or so, my alternative healthy snack is ready. This is where the baby step comes in.
On days when you call it a day in, instead of ordering a home delivered pizza why not treat yourself and cook up a nutritious meal with the minimum ingredients in your refrigerator?
Chicken and Okra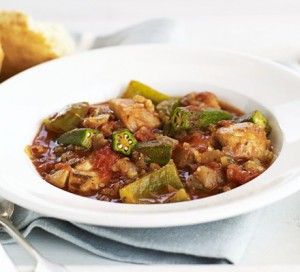 Time: 30 minutes
Serves: 4
Ingredients: 1 tbsp olive oil, 500g skinless and boneless chicken thighs (cut into chunks), 100g okra (should be cut into 2cm rounds), 1 onion (should be chopped), 1 green pepper (should be deseeded and chopped), 3 celery sticks (should be finely chopped), 1 garlic clove (should be finely chopped), ¼ tsp cayenne pepper, 1 tsp smoked paprika, 1 tsp ground cumin, 1 heaped tbsp plain flour, a 400g can of chopped tomatoes, 400ml chicken stock, small handful sage (leaves should be chopped) 1 tsp dried thyme, 1 bay leaf
Directions: Firstly, heat the oil in a large pan over a medium high heat. Secondly, add the chicken and cook in batches for about 5 minutes to brown all over. Remove the chicken and set aside.Thirdly,add the onion, green pepper and celery to the pan, put on the lid and cook for 5 minutes. Stir occasionally until softened a little. Fourthly, stir in the garlic, spices, thyme and bay leaf and cook for 1 minute until fragrant. Return the chicken and any juices to the pan with the flour. Stir. Fifthly, pour in the tomatoes and stock, and bring to the boil, cook for 5 minutes, then add the okra and half the sage. Turn down to a simmer, put on the lid and cook for 10 minutes. Season well. Serve.
It really is up to you. You can either satisfy your fast food urges or go for the healthier alternatives. To eat, or not to eat? That is the question.