Health is Wealth. In this generation, where we literally swim in our love for fast food, it is pretty difficult to keep our health in check. The bulges keep peeping out. The health scares keep revisiting. But somehow, we still take the back seat. I'll exercise later. I'll eat healthy food from tomorrow.
"Tomorrow and tomorrow and tomorrow"
-William Shakespeare, Macbeth (Act 5 Scene v )
Well, tomorrow never comes.
It is quite understandable that, at first, the thought of "change" seems like a lot of work but with time, it will only do YOU good. It's your choice, basically.
Make one change per day. Eat one healthy meal.
For a better you. For a better tomorrow.
7 DAYS. 7 RECIPES.
Monday Delights:
Paprika Pork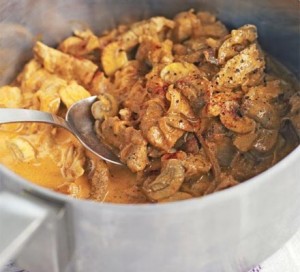 Time- 30 minutes
Serves- 4
Ingredients-1 tbsp olive oil, 2 onions, finely sliced, 400g pork fillets, trimmed of any fat, cut into thick strips, 250g pack mushrooms( sliced), 1½ tbsp smoked paprika, 1 tbsp tomato purée, 200ml chicken stock, 100ml soured cream, egg noodles  (tagliatelle or rice, to serve)
Directions- Heat the oil in a large pan, tip in the onions and cook for 10 mins until soft and golden. Add the pork and mushrooms and cook on a high heat for 3-4 mins until browned. Add the paprika and cook for 1 min more.Stir in the tomato purée, then pour on the stock and simmer for 5-8 minutes until the pork is cooked through. Finally, mix in the soured cream and some seasoning. Serve with egg noodles.
Tuesday Bonanza:
Basque Style Salmon Stew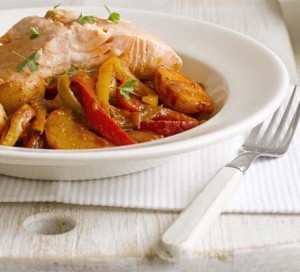 Time- 35 minutes
Serves- 4
Ingredients- 1tbsp olive oil, 3 mixed peppers (deseeded and sliced), 1 large onion (thinly sliced), 400g baby potatoes (unpeeled and halved), 2 tsp smoked paprika, 2 garlic cloves ( sliced), 2 tsp dried thyme, 400g can chopped tomatoes, 4 salmon fillets, 1 tbsp chopped parsley
Directions- Heat the oil in a large pan and add the peppers, onion and potatoes. Cook, stirring regularly for 5-8 mins until golden. Then add the paprika, garlic, thyme and tomatoes. Bring to the boil, stir and cover, then turn down heat and simmer for 12 mins. Add a splash of water if the sauce becomes too thick.Season the stew and lay the salmon on top, skin side down. Place the lid back on and simmer for another 8 mins until the salmon is cooked through. Scatter with parsley, if you like, and serve.
Wednesday Treat:
Super healthy Singapore Noodles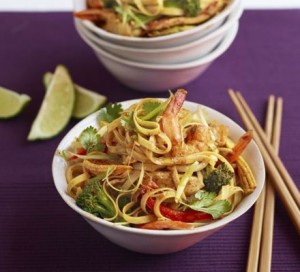 Time- 30 minutes
Serves- 4
Ingredients- 3 nests medium egg noodles, 2 tbsp sunflower oil, 100g tenderstem broccoli (stems sliced at an angle), 1 red peppe (deseeded, quartered then cut into strips), 85g baby corn (quartered lengthways), 2 garlic cloves (shredded), 1 red chilli (deseeded and chopped), thumb-sized piece fresh ginger (peeled and finely chopped), 2 skinless chicken breasts (sliced), 100g shelled raw king prawns, 1 heaped tbsp madras curry paste, 2 tsp soy sauce, 100g beansprouts, 15g pack coriander (chopped),4 spring onions (shredded), lime wedges
Directions- Pour boiling water over the noodles and leave to soften. Meanwhile, heat half the oil in a large non-stick wok and stir-fry all the vegetables, except the beansprouts and onions, with the garlic, chilli and ginger until softened. If the broccoli won't soften, add a splash of water to the wok and cover to create some steam.Tip the veg on to a plate, add the rest of the oil to the wok then briefly stir-fry the chicken and prawns until just cooked. Set aside with the vegetables and add the curry paste to the pan. Stir-fry for a few secs then add 150ml water and the soy sauce. Allow to bubble then add the drained, softened noodles and beansprouts, and toss together to coat.Return the vegetables, chicken and prawns to the wok with the coriander and spring onions. Toss well over the heat and serve with lime wedges.
Thursday Delicacy:
Smoky Fishcakes with Oat Crumb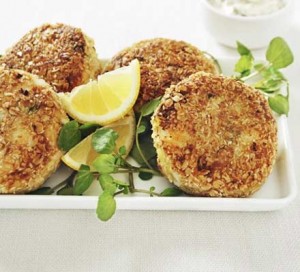 Time- 40 minutes
Serves- 2
Ingredients- 400g potatoes (peeled and cut into large chunks), 175g undyed smoked haddock, 2 spring onions (finely chopped), 4 tbsp tartar sauce, 85g whole oats, 1 egg (beaten), 2 tbsp sunflower oil
Directions- Boil potatoes in salted water for 15 mins until tender, drain, then return to the pan. Mash quickly over a gentle heat until the potatoes become quite dry, then transfer to a large bowl. Put the fish in a microwave-proof dish with a couple of spoonfuls of water, cover with cling film, then cook on Medium for 2-3 mins until the fish flakes easily. Gently peel away the skin, then flake into the potatoes in large chunks.Mix in the spring onions, 2 tbsp of tartare sauce and some seasoning, then shape into 4 cakes. Briefly whizz the oats in a food processor until slightly crumbly-looking, then tip onto a plate. Dip the fish cakes into the egg, then into the oats to coat. Chill for 20 mins to firm up.Heat the oil in a large, non-stick frying pan, then fry the cakes for 5 mins on each side until golden and hot. Serve with the leftover tartare and a green salad.
Friday @PartyFood:
Chicken Pie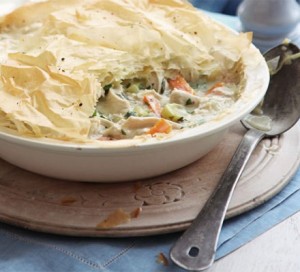 Time- 1 hour 15 minutes
Serves- 4
Ingredients- 450ml chicken stock, 100ml white wine, 2 garlic cloves (finely chopped), 3 thyme sprigs, 1 tarragon sprig (plus 1 tbsp chopped tarragon leaves), 225g carrots (cut into batons), 4 skinless chicken breasts, 225g leeks (sliced), 2 tbsp cornflour (mixed with 2 tbsp water), 3 tbsp crème fraîche, 1 heaped tsp Dijon mustard, 1 heaped tbsp chopped flat-leaf or curly parsley, 70g filo pastry, 1 tbsp rapeseed oil
Directions- Pour the stock and wine into a large, wide frying pan. Add the garlic, thyme, tarragon sprig and carrots, bring to the boil then lower the heat and simmer for 3 mins. Lay the chicken in the stock, grind over some pepper, cover and simmer for 5 mins.
Scatter the leek slices over the chicken, cover again then gently simmer for 10 more mins, so the leeks can steam while the chicken cooks. Remove from the heat and let the chicken sit in the stock for about 15 mins, so it keeps moist while cooling slightly.Strain the stock into a jug – you should have 500ml (if not, make up with water). Tip the chicken and veg into a 1.5 litre pie dish and discard the herb sprigs. Pour the stock back into the sauté pan, then slowly pour in the cornflour mix. Return the pan to the heat and bring to the boil, stirring constantly, until thickened. Remove from the heat and stir in the crème fraîche, mustard, chopped tarragon and parsley. Season with pepper.
Heat oven to 200C/180C fan/gas 6.Tear or cut the chicken into chunky shreds. Pour the sauce over the chicken mixture, then stir everything together.Cut each sheet of filo into 4 squares or rectangles. Layer them on top of the filling, brushing each sheet with some of the oil as you go. Lightly scrunch up the filo so it doesn't lie completely flat and tuck the edges into the sides of the dish, or lay them on the edges if the dish has a rim. Grind over a little pepper, place the dish on a baking sheet, then bake for 20-25 mins until the pastry is golden and the sauce is bubbling. Serve immediately.
Saturday Special:
Spicy Vegetable Egg Fried Rice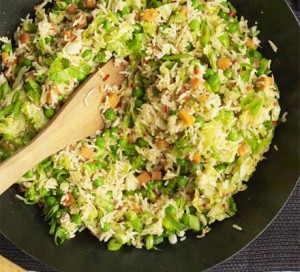 Time- 30 minutes
Serves- 4
Ingredients- 200g basmati rice, 1-2 red chillies (deseeded and grated or very finely chopped), 3 garlic cloves (crushed), 1 tbsp sunflower oil, 2 large carrots (diced), 200g Chinese cabbage (finely sliced), 2 eggs (lightly beaten), 3 spring onions (sliced), 200g frozen peas, 1 tbsp soy sauce
Directions- If making the rice from scratch, cook it following pack instructions, then drain. Mix the chillies and garlic (in a pestle and mortar, if you have one) with a pinch of salt, to make a paste.Heat oil in a wok or large frying pan on a medium – high heat. Add the carrots and stir-fry for 5 mins until tender. Add the cabbage and chilli paste and cook for 1 min more. Tip in the cooked basmati or leftover rice and stir-fry for 1 min until piping hot.Push the rice mixture to one side of the pan. Add the eggs to the cleared space and scramble until set. Mix in the onions, peas and soy and stir-fry everything together until the peas are hot.
Sunday Feast:
Baked Chicken Masala with Almond Pilaf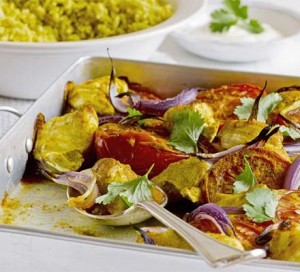 Time- 45 minutes
Serves- 4
Ingredients- 250g brown basmati rice, 2 heaped tsp turmeric, 5 tsp medium curry powder, 2 tbsp flaked almonds, 6 tbsp low-fat natural yogurt, 2 large skinless chicken breasts (cut into chunks), 8 medium tomatoes (halved), 2 large red onions (thinly sliced), ½ small bunch coriander (leaves picked)
Directions- Heat oven to 220C. Put the rice in a saucepan with 600ml water, 1 heaped tsp turmeric, 1 tsp curry powder and some salt. Bring to the boil, stir, cover, turn heat to low and cook for 30 mins, or until tender. Try not to take the lid off during cooking. Remove from heat and leave covered for 5 mins. Add the almonds, and fluff with a fork.Meanwhile, mix 2 tsp curry powder, the remaining turmeric, 2 tbsp yogurt and seasoning. Add chicken and toss to coat.Toss the tomatoes and onions in a roasting tray with the rest of the curry powder, then nestle in the chicken pieces. Bake for 15-20 mins until the chicken is cooked through and the veg are soft. Scatter over the coriander and serve with the rice and remaining yogurt.
Image and Recipe Courtesy: bbcgoodfood.com