Monsoon is here to make the whole environment vivacious with its drizzling effect and make it lively. Monsoon comes with different flavors and have lots of fun embodied in it. For example for children it is the time to sail their handmade boats, for farmers it is like a blessing and some people enjoy the tiny droplets falling over the ground. So different people enjoy this season in their own different ways but common part amongst all of them is that their fun is always accompanied by eating crispy pakoras. Monsoon is said to be complete when you have enjoyed the rain with hot and crispy pakoras along with the tea or coffee. The best thing about pakoras is that they are easily prepared and taste delicious when served with chutney or sauce. It is known fact that pakoras are the main reason behind the rise of cholesterol in the body but eating it once during the whole season did not affect anyone's health. They are quite easy to be prepared so avoid eating pakoras at road side stalls and start the intake of home-made healthy pakoras.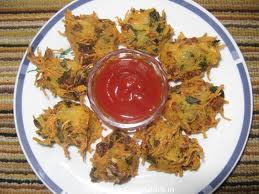 In southern parts of India, pakoras are known with the name Bajji. This hot, crispy dish is famous in Pakistan too. But it is not treated as a separate snack rather it is served with curry and this dish is known as Pakora curry. It is also an important part of Afghani Cuisine. In China people used to refer it by the name Pakoda.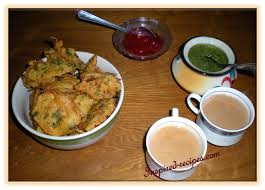 Pakoras come with its different flavors. There are various ways of making pakoras like onion pakora, paneer pakora, cabbage pakora, egg pakora etc.  But here tastes and its nutritional value is the most concerning factors.  So here are the few recipes that you can enjoy while sitting along the windows served with hot tea.
Onion pakora:
During monsoon season your tongue definitely demands something crunchy, something spicy and something hot and then suddenly onion pakoras rings a bell and the aroma of these onion pakoras are felt. It is very popular and common snack preferred during this season. It has a quite simple recipe and ingredients required are easily available in everyone's kitchen. Ingredients required are:
1/2 cup Besan
1/2 tsp Chili Powder
2 large Onion
1/2 tsp Salt
1/2  tsp turmeric powder
1 tsp coriander powder
Initially take sliced onion and put turmeric powder, red chilly powder, coriander powder and salt to it. After mixing all the ingredients add besan to it and at the same time pour water to it so that sliced onion is properly coated with the besan. Take oil in a frying pan and allow it to be heated for some time. After this slowly add the prepared batter into it and allow the pakoras to be fried. The excess oil must be absorbed with the help of paper. Now onion pakoras are ready to be served with hot chutney or sauce.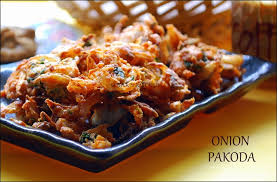 Paneer Pakora:
Paneer pakora is another famous recipe for paneer loving people. Ingredients required are same as onion pakoras but instead of onion you need to have cubes of paneer and chat masala. Its recipe is again quite simple. Add cubes of paneer to the prepared batter of besan, red chilly powder, ginger paste and salt. Now let the paneer cubes marinate for half an hour. Now slowly fry this batter in the hot frying pan containing oil. After taking out absorb the excess oil and sprinkle the chat masala over it. Now the paneer pakoras are ready to be served.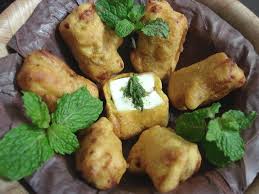 Bread Pakora:
Evening snacks during the monsoon season with the hot cup of tea is one the best thing your tongue demands..! It is a popular street food in the northern parts of India. Ingredients required are:
2 potatoes
1 onion
1 inch ginger
1/2 tsp mustard seeds
1 tsp urad dal
1 tsp coriander powder
1/2 tsp chat masala
Salt
Slices of whole grain bread
1 cup besan
1/4 tsp turmeric
1/2-1 tsp chili powder
Boil the potatoes and mash them properly. In a bowl, heat the oil. Add mustard seeds and after they popped, add ginger, chillies, urad dal and onions to it. Now add salt and all the spices according to your taste and then add mashed potatoes to it. If it is the season of peas, then you can add peas also. Now take the slice of bread and spread the mixture prepared over it. Now cover this with another slice of bread and cut it into two pieces. Now prepare the batter with the besan, turmeric powder, salt and chilly powder. Dip the slice of bread into it and make sure it must be coated properly. Fry this coated slice in a pan containing oil till it turned reddish brown. Remove the excess oil from it and now it is ready to be served with chilly sauce or chutney.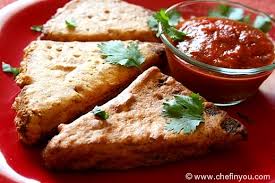 Experiment with all the above discussed recipes and enjoy this monsoon with the different flavors of hot and crispy pakoras..!