Weight Gain is a fear every girl goes through . Yes I am part of that herd who is checking out her inches and freaks out when she doesn't fit in her two months old jeans. Yes ! I am that normal silly , messed up screwed up , average looking , part of the crowd girl who wants to make a mark of herself which makes her stand out from the rest. Are you relating with me ? I am sure you do . More than half of the population does. Why do I spare boys they too feel the same . Its true that i have cried several hours for my pimple marks , hair fall, eyebrow issues, Bad hairstyle day ( And I am talking about serious problems here …Don't Laugh!!!) .We all go through this bizarre life and we all feel why are we the chosen one ? To have a positive thought process or to have a happy smile (not fake) its a simple theory to get it right to eat healthy , to boost your brain cells to positivity, to assure yes! I am the chosen one for the right things in life.
Now you would be thinking how come I am thinking this way when I myself agreed to have cried for several hours on pitty issues. I have a true answer to this . I was tired of crying , pretending everything is okay , pretending I will clear the deep dark sky to my desired sunshine. It doesnt happen this way . For healthy mind you need nutrients and healthy lifestyle to think and behave wealthy. I am true to you guys because nobody can make you happy if you yourself don't try or behave the way you should. We all have blessed lives and we all are chosen ones for miseries and happiness . believe me cribbing is the nascent stage of depression . Don't crib , pull up your sock and get a grip of your own life. Wake up early with a beautiful smile and straight away head to the kitchen. Its a paradise of surprises and innovation. Take out the green veggies , nutritious fruits and vegetables and start cooking healthy food for yourself. To start a fresh day have a smoothie. As a health freak I had to write this article. I don't want to be boring and strict for you guys to give you tasteless drink recipes which i myself wont drink , so I have few interesting smoothie recipes which I would love to share with you guys for so that you can start your day with a healthy and fresh . Smoothies or juices are very easy to make and you don't need any rocket science theory or a tag of five star chef to enjoy the richness and benefits of healthy drinks . When you will read the recipes you will feel the same way. So cutting short the "Gyaan or Funda" and moving to the actual data of happiness . Do try it and have a blessed and happy smile .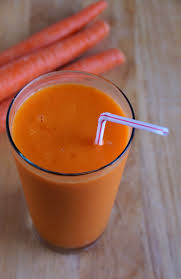 24 Carrot:
Yes I am talking about Carrots and not Carat's. Definitely is a health gold recipe for you . Do try it and have a sparkling day ahead.
Ingredients : Handful of cracked ice ( To get the crackling effect just make a poly ice bag and beat it hard to get cracking ice), 2 carrots coarsely chopped, 100 g pineapple pieces , 2 cups pineapple juice , Chilled strip of cucumber to garnish . Garnishing can be of your choice.
Servings : 2
Method :
Put the ice into the food processor or blender, add the carrots , pineapple pieces , Pineapple juice , and process it until it gets to thickness of a slush. Take a glass pour the slushy smoothie into it and serve it chilled.
This drink is healthy , with balanced nutrients , and moreover tasty. We often think healthy stuff is tasteless , this recipe will prove you wrong . Live love louder.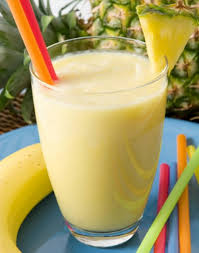 Tropical Smoothie :
Being healthy is worth living your life. We all are having hectic schedule and we often miss out our breakfast ( The most important meal of the day …Yes I am right …and I know you miss it !!!) If we think our body is a machine ,then breakfast is its battery charger. To have a charged up day you have to start a heavy diet ( healthy too ….I am not talking about parathas ).  This smoothie will solve all your troubles as its fast and easy to make. Try out !
Ingredients : 1 ripe papaya peeled , stoned and chopped .1/2 fresh pineapple , peeled and chopped . ( You can prepare this overnight to avoid early morning hassle .1 cup soya milk ( A healthy source of protein ) , 2 cups low fat yoghurt. Chopped pineapple for garnishing . If you feel lazy don't garnish but yes please do make the smoothie.
Servings :2
Method : Place all the ingredients in a food processor or blender and process until smooth. Meanwhile switch on your radio and do listen your favourite frequency. Cooking will be better and effective when you have music in your company.
Pour into glasses, Decorate or don't decorate it . Wear your office clothes Have a sip and have a kick-start day .
So at the end of this do you feel it is blame the day , or your boss , your kaamwali bai or your spouse ( The most common one ) for not giving you a carefree life . I think you have started believing it that  I was right when I said its simple to have a healthy smile by having a healthy food. So Instead of sulking and making anybodies else's life miserable , lets take a pledge to wake up early , grabbing the  beautiful smile, slowly opening the room curtains , see the morning sunshine and heading right to our kitchen and cooking the awesome recipes suggested above and if you do like it post your comments for the new ones till happy eating !