Think about Cheese and the image which comes to our mind is melted cheese on pizzas, vegetables covered with melted cheese, cheese sandwich etc. The list is endless. Cheese is popular all over the world and is one of the ingredients loved by each and every heart. A person who loves cheese is entitled as turophile. In ancient times, there had been a special kitchen in Rome, which is especially maintained for the preparation of cheese. Every cuisine in this world is incomplete without cheese. In 16th century, it is known to be the currency in Denmark.
Cheese is a food obtained from the milk of buffalos, cows, goats or sheep. It is formed by the coagulation of milk and milk must be acidified. Finally solids are separated out and given a final form. United States, being the largest producer produces 2000 varieties of cheese. It is a large source of protein, calcium and phosphorus.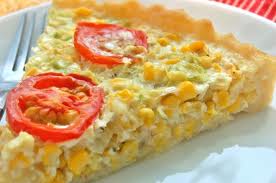 You must be thinking now cheese is ready and this is all about cheese, but actually now the picture starts. All the cuisines all over the world use cheese as special ingredients.  Every dish is incomplete without cheese whether it is margarita pizza, cheesecakes, Savory Corn tarts, Gratin of potatoes, pasta, fondue, macaroni, etc. The list is not completed here, rather it is endless. The preparation of these dishes requires cheese as the main ingredient, but they also require some other ingredients to complete its preparation and now we will discuss some of them.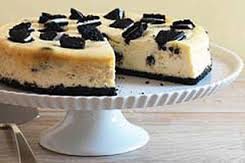 Oreo Cookie cheesecake is a much loved dessert by the children. It contains oreo cookies, melted chocolate and creamy cheese. Initially crushed down the cookies and mix it with butter. Then beat sugar, cornflour and cheese along with egg one by one. After this add vanilla essence and melted chocolate in it. Pour the solution over the crust and allow it to bake at 180 degrees C for 10 mins and then decrease the temperature to 100 degrees C for 2 hours. Allow it to cool down and then cut down the slice and it is ready. In every bite of these slices you will have a taste of creamy cheese on your tongue and after every bite the only thing you will speak is "yummy cheese".
When you talk about cheese, slideshow of hot sizzling pizza flashes across your mind. Isn't it? So here comes the best cheese based pizza's recipe i.e.  Margharita. Take the dough and place it on the tray for pre-heating. Cover it with a layer of mozzarella cheese and spread a layer of pasta and basil leaves. Put the prepared material into the oven for 10-12 minutes. Now, after this drizzle down some olive oil and pepper on it. The pizza is ready to be served and cut down the slices too.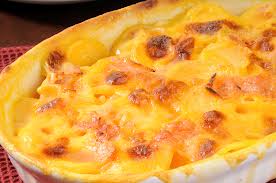 Cheesy dip items are all we want now days. Then how could you forget about gratin of potatoes along with garlic cream. It is a yummy dish with very easy recipe. Cut the potatoes and grate down the cheese. Now add salt and pepper to the potatoes.Now layer the pieces of potatoes and add all the grated cheese along with the garlic cream to it. If the bowl is empty add another layer of potatoes with the garlic cream and cheese. Cover it with butter and allow it to bake at 180 degrees C for 25 minutes. After the potatoes are fully cooked and surface of potatoes covered with cheese becomes brown, then it is ready to be served.
If cheese and pasta lovers are together then four cheese pasta will be there in their menu definitely. This item is as cheesy as cheese. Initially boil the pasta in salted water and mix it with the olive oil. Boil milk with thyme, bay leaf, rosemary and onions and mix the butter with flour. Add both the mixture slowly along with the pepper and salt and stir it. Grate different varieties of cheese like Parmesan, Brie, Emmental and cheddar. Add this to the above sauce. In a pan, add garlic, chili flakes and tomatoes to it. Now mix it properly and serve.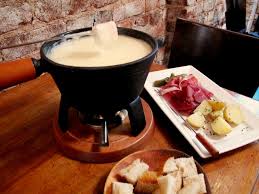 Melted cheese is far more delicious and yummy than the melted chocolate. Here comes another melting cheese dish known as 'Cheese Fondue'. Fondue is prepared with the help of melted cheese and is a popular Swiss dish known all over the world. Varieties of cheese such as Gruyere and Emmental are added to white wine. Now hot mixture is ready and next you have to add vegetables like baby corn, broccoli to it. Enjoy the cheesiness in every sip of this fondue.
These are some recipes famous all over the world. So if you haven't tasted any of these dishes, then what are you waiting for. Go to the nearby cuisine and place the order. Spend some cheesy moments with the cheese. Go cheesy, think cheesy and eat cheesy…!!