Two years ago I got married to my lovable Bong boyfriend and the very next day, I was introduced to this favourite cuisine of every bong family – "Mach Bhaat ".Its a tradition in the families to love Fish . I was a little scared as I just couldn't tolerate the smell of it, few might relate to my situation .Bengali's are just crazy about fish and I was just the opposite. They can write their own food bible about their favourite food "Mach ".If you ever had interacted with a Bengali, within a few minutes of your conversation you will know the love they have for Fish.I have seen crazy Bong friends of mine in alien cities travelling to every nick and corner of the city… Guess what? Just to have mach bhaat. Gosh! I can write loads of stories about their fish mania, For instance, its a tradition in Bengali families to judge a would be son-in laws character by letting him buy a fish and the quality of the
fish he buys determines his character (Its true. I am dead serious). The only thing which can deviate a Bengali's mind from fish is football (May be politics sometimes).Its not easy for a bengali to live without mach a single day  and for some even one single meal. When I started cooking after marriage I had this huge challenge in front of me of not having fish and still cooking it.But I took up this challenge and
have made so many recipes thanks to my mother-in-law and sometimes you tube too. You wont believe I started liking fish and now, eat it for every single meal. This is how crazy you can be when you marry a Fish Maniac. Its lovely to pen down my initial cooking days – horror stories which eventually turned out to be fairy tales and bring a smile on my face every time I recollect those memories. Today I am
going to share a two of my favourite fish recipes which I cooked for my first anniversary party and they turned out to be a big hit. I hope it rocks your parties as well.
Fish Biryani !!!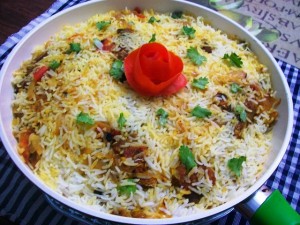 Yes! I am discussing biryani with a twist . This dish is delight to have and very simple recipe to try at home. For a fish maniac its heaven on a platter.
Ingredients : 400 g Basmati Rice washed and soaked for 30 minutes., 400g Bhetki fillet or Talapia Fillet (Both easily available in markets), 2 cups finely sliced Onions (Preferably red Onions),1 cup finely chopped onions ,1 cup chopped tomatoes, 1 tablesopon Ginger and garlic paste ,1 1/2 cup Whipped Yoghurt, 1/2 cup Coriander and mint finely chopped, 8 to 10 Small green chillies slit from one side, 2 tablespoon Lemon Juice ,2 to 3 black cardamom, 2 to 3 cinnamon sticks, cloves, black peppercorns, 1 /12 teaspoon cumin powder, 1 1/2 teaspoon coriander powder, 1 1/2 teaspoon kashmiri red chilly powder , 1 1/2 teaspoon turmeric powder, Salt to taste, 1 teaspoon of rose water, Oil as required.
Servings : 4
Method :
Marination of fish :
Mix Lemon juice , ginger and garlic paste with all the powdered dry spices ( cumin , coriander , kashmiri red chilly , turmeric, Salt) . Apply apply the mixture to the fish fillets and keep it aside for 30 minutes so that spices get properly soaked into the fish for a even taste.
For Biryani Preparation:
Cook the basmati rice previously soaked in water until its half cooked. Once the Rice is done spread the rice in a flat tray so that it doesn't get overcooked in its own heat.
Take a small deep pan add oil for deep frying and fry sliced onions till they are golden brown and keep it aside plating on paper napkins to strain extra oil.
For biryani handi preparation take a deep pan with a lid. Heat it on medium flame . Add oil in a generous amount, heat it for for 30 secs and then add whole spice ( black cardamom , cloves , cinnamon, black peppercorns). Stir it for 30 sec so that oil gets the spicy flavour and add chopped onions . Sauté it for 3 to 4 minutes, add – salt, turmeric powder, chopped tomatoes and sauté it for another 3 to 4 minutes until tomatoes separate oil. Now add whipped yoghurt and marinated fish. Stir it gently so that it doesn't breaks fish fillets. Close the lid for 8 to 10 minutes and turn the gas on slow flame. Now to have layered biryani take out half of the cooked fish in a bowl . Spread the remaining
fish in the pan and add half of the rice quantity, layering it with half of the deep fried onion slices and half of the chopped coriander and mint leaves ,flavouring it with few drops of rose water. Repeat the same layering with the remaining ingredients and keep the deep pan on top of a flat tava ( Flat )pan on a medium flame for 5 more minutes. This process creates dum in the biryani giving a nice aroma to the dish.
Once done Plate the dish in desirable bowl or platter and serve it with love.I am sure you will please a fish maniac.
Doi Mach :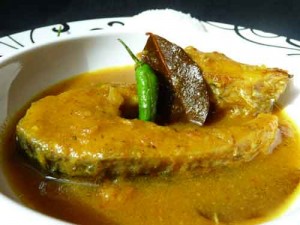 Another dish which is a delight to have, a traditional bengali recipe and currently my favorite "Doi Mach". Fish cooked in yoghurt marination .
Ingredients : 8 pieces of Rui Fish , 2 medium sized onions , 2 to 3 chillies made into fine paste, 1 tablespoon garlic paste, 1 & 1/2 cup of whipped yoghurt, 1 cup Tomato purée,1 teaspoon cumin seeds, 1 bay leaf, few green cardamom, little cinnamon stick ,cloves, 1 teaspoon cumin powder, 1 teaspoon coriander powder, 1 & 1/2 teaspoon of turmeric powder, 1 teaspoon of red chilly powder, 3 to 4 green chillies slit from one side, oil to cook, salt and sugar to taste , coriander leaves chopped for garnishing.
Servings : 4
Method : Marinate fish with salt , sugar, 1/2 teaspoon turmeric powder and half of ginger and garlic paste and keep it aside for 30 minutes. Heat a pan , add oil and heat it for 30 seconds . Add bay leaf , whole spices and cumin seeds along with onion and chilly paste. sauté it for a minute and then add rest of the ginger garlic paste. Sauté the entire mixture for 2 to 3 minutes until onions turn transparent. Add tomatoes , salt, and dry powdered spices and stir it for another 3 to 4 minutes until it separates oil. Add the marinated fish and stir it gently mixing every ingredients well. Cover the pan with a lid and slow the flame and cook it like this for another 10 minutes. Open the lid if the fish is tender enough to eat , Switch of the flame plate the dish into a platter and garnish it with coriander leaves . Serve Hot with loads of love.
Happy Eating !!!