Colorful, exuberating, cheering…festivals in India are not just to mark a day of significance, but are a much-needed break from the exhausting work schedule. India is a platter of all kind of spices from the world, representing a potpourri of a variety of cultures and religions. Thus, every day in India is celebrated somewhere or the other! When it comes to festivities, how can one forget the profusion of various delicacies prepared with a pinch of love in every kitchen on the special day? Innumerable sweets and pakwaans, so colorful and delighting, decorated in thalis, can be spotted in every street during the festive season.
Every festival seems to have its own signature food item. Let's have a look on some of the major festivals and the foods prepared on them.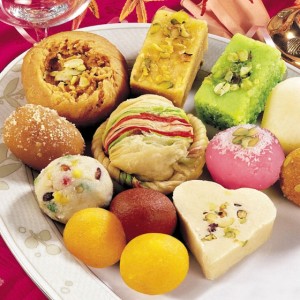 DIWALI: Diwali is a festival of sweets. Families and friends exchange mithai and consume various chatpata snacks. The choice of sweet depends on the taste and custom of the family. From north to south, from east to west, a large variety of food is prepared on this festival. Kesar kaju barfi, besan laddoo, kheer, badam phirni, gajar ka halwa, channar payesh, jalebi, gulab jamun, shakkarpare, ghatiya, etc. are some of the sweets prepared on this festival. Roads can be seen occupied by stalls of snacks like dahi-bhalle and gol-gappe. Diwali 'mela' is another noticeable site where foodies can be spotted.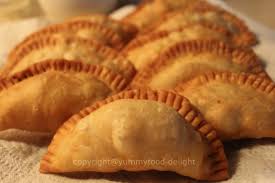 HOLI: Any Indian festival is somewhat incomplete without a grand feast! Holi is another popular festival in the country with its own list of delicacies. Gujhia, the main sweet prepared on this fest, can be spotted in every shop, every street, every kitchen, rather in every mouth on this day! Apart from gujhia, we have bhang as the major refreshment served in every holi gathering. Jaljeera, papri chaat, kanji-vada, and thandai also top the menu for dishes to be prepared on holi.
CHRISTMAS: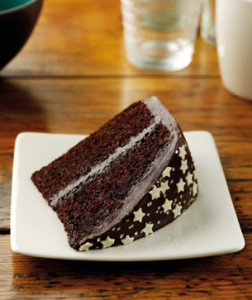 Not only in India, Christmas is a festival celebrated all over the world with great pomp and show. So, when it comes to Christmas celebrations, how can one forget the gala feasts prepared to mark this day! Christmas cakes and cookies, among many other scrumptious recipes, are children's favourite all over the world. Plum cakes, chocolate puddings, flavoured fudges, colourful mocktails, fruit bars etc. are some of the favourites among many others.
EID-UL-FITR: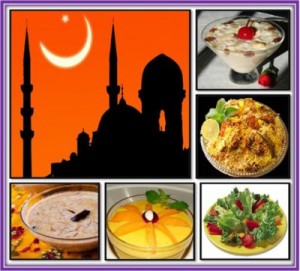 This festival is celebrated among Muslim community with great zeal and gusto in the country. Mouth-watering dishes are prepared in no time with special traditional techniques on this day. Eid is a festival promising appetizing dishes to be remembered life-long. Badami gosht is a very much liked dish on Eid and otherwise. Seviyaan, equally famous among Hindus and Muslims, is another major dish prepared on this day. It is a sweet made with vermicelli and milk, savoured as a dessert. Phirni, mutton, biryani are other savouries that are consumed by family and friends.
NAVRATRI: Navratri is a fest celebrated for a long period of continuous nine days. People fast during these days. It is festival in which food is consumed with utter precautions, according to Hindu mythology. Yet, many special recipes prevail without onion and garlic during this period. Specifications also extend to choice of spices. Only rock salt is used in the preparations. Kuttu ke pakore(prepared with buckwheat flour) and aloo ki khichdi mark the one time meal for fasters. Boondi ka raita, saboodana vada are also consumed. The dishes prepared vary from place to place. The course is strictly vegetarian.
GURU NANAK JAYANTI: this festival marks the birth of Guru Nanak Dev Ji, the founder of Sikhism. This festival is celebrated by Sikhs with enthusiasm. No festival is complete without lip-smacking food items! Umpteen delicious sweets are served on Guru Nanak Jayanti. Some of them are kaju barfi, malai ke laddoo and atte ka seera.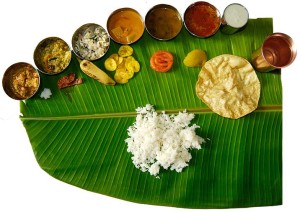 ONAM: It is a state festival of Kerala. It is celebrated by Malayalees with zest all over the country. The grand feast of onam is held in a specified manner. The dishes are served on a banana leaf. All the preparations reflect the essence of south indian cuisine. Masala dosa, idli, avail, are very popular recipes in south india. Numerous other dishes are also served- sambhar, vada, coconut chutney and banana halwa to name a few.
India is a blend of various other such festivals offering their own list of preparations. Festivals and foods are inseparably connected to each other. Each soul in this very celebrated country enjoys the days of fest which are incomplete without the serve of respective delicacies and flavors. Though these specially made food items are available all year long, but the fine taste and joy of having them is experienced in festive seasons most. That is the time when everyone unites in one color and together celebrating love and happiness!