I love cooking for my friends. I bake cakes, make chocolates, and cook some delicious schezwan panner or even the Chicken & Veggie Wrap that I learnt from my sister-in-law a couple of months back. Whatever suits my fancy, really. My school friends used to adore my Vegetable Cutlet Sandwich and Garlic Paneer Noodles. Recently, I made fish biriyani for my to-be-graduate college mates. It was Ma's recipe and as usual, it was a hit. Quite the little cook, ain't I? Jokes apart, cooking for my friends make me happy. Watching them enjoy every bit of my dish and ask for a second (or even a third) helping – simply melts my heart.
Vegetable Cutlet Sandwich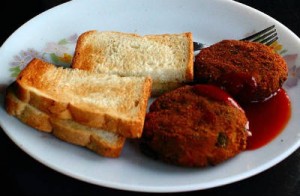 Serves: 4
Ingredients: 8 slices multigrain bread
For the cutlet- 1 and a ½ cup mixed veggies (which includes carrots, French beans, cauliflower, celery), ½ cup mashed potato, 1 tsp cumin powder, 1 tsp coriander powder, 1 tsp chilli powder, 2 tsp lime juice, a pinch of turmeric, 2 green chillis (finely chopped), 1 tsp oil, salt (to taste)
Method: Lightly steam vegetables, until cooked but slightly crunchy. Mix into mashed potatoes. Add all the masalas and salt. Cook this mixture on a slow fire for about 5 minutes, until masalas are cooked and the water evaporates completely, to form a dough-like consistency. Shape the mixture into four cutlets. Heat oil in a non-stick pan. Fry the cutlets till golden brown on both sides. Place each cutlet between 2 slices of bread, into a sandwich. Serve with mint chutney.
Chicken & Veggie Wrap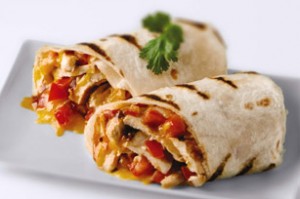 Serves: 4
Ingredients: 8 rotis – for the wraps
For the filling- 4 pieces boiled or roasted chicken (each 3 inch x 3 inch in size), 3-4 stalks celery (chopped), 2 small onions or green onions (chopped), ¼ cup coriander (chopped), 4-5 olives (chopped), ½ tsp pepper, 1 tsp prepared mustard dressing
Method: Combine all the filling ingredients to make a spicy chicken mixture. Lay out the 8 rotis and place the chicken fillings on the rotis, dividing equally. Roll up each roti, folding in the top and bottom edges to seal in the filling. Wrap in tin foil. (Chicken can be substituted with roast turkey or water-packed tuna)
Garlic Paneer Noodles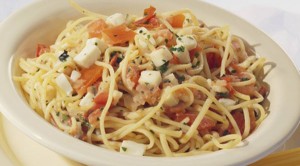 Serves: 4
Ingredients: 2 cups boiled cooked noodles, 2 stalks celery (diagonally sliced), 1 white onion (sliced), 4 cloves garlic (minced), 1 tsp hot chilli sauce, 1 tsp light soya sauce, 1 tsp white vinegar, 16 cubes low-fat paneer cubes ( of 1 inch x 1 inch size), 1 tsp sesame oil
Method: heat oil to high heat in wok or deep skillet. Add onion, celery, garlic and cook, stirring often, for 3 to 5 minutes. Add paneer, soy sauce, hot sauce and vinegar. Immerse the noodles in boiling salted water for 1 minute, or until tender. Drain noodles and toss into the wok, mix well. Serve hot.
Aparna is my best friend and she simply cannot live without dosas. Like seriously. A true Dosa-o-holic. Her birthday is next week and I have a brilliant idea. Why not cook her something marvelous instead of buying an impersonal gift? What do you think?
Anyway, I have been bugging Ma to teach me her special Moong Dal Dosa which she makes for parties. And luckily, she did. A few more practice sessions and I'll surely master it. Till then, you can try your hand at it too…
Moong Dal Dosa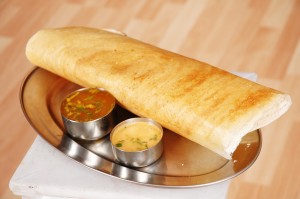 Serves: 4
Ingredients: 2 cups green moong dal (soaked), 1 large onion (chopped fine), 2 finely grated carrots, 2 inch piece ginger (grated), 4-6 green chillis, 1 large bunch green coriander leaves (chopped), 2 tsp cumin seeds, 2 tsp oil, salt to taste
Method: Soak moong dal overnight. Grind together with ginger, chillies, coriander leaves and salt. Add finely chopped onion, carrot and jeera to the dosa batter. Heat a few drops of oil in a non-stick pan. Pour out batter, to make a medium-thick dosa. When one side is golden brown, flip over to brown other side. Serve hot with tomato chutney or garlic chutney.
My friend Utsab first had squid while he was in Goa on a college trip. The squid turned out to be "very rubbery", to quote him. I have seen squid being cooked in MasterChef innumerable times. Much to my delight, the contestants even used squid ink to add a sense of theatrical element to their food. This was highly appreciated by the judges. Inspired, I browsed through about three dozen recipes till I came across the 'Squid and Apple Salad. Giving it my own personal twist, I tried my best to change Utsab "very rubbery squid" nightmare into a delicious one.
Squid and Apple Salad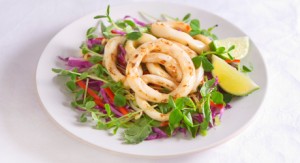 Serves: 6
Ingredients: 900g squid (including tentacles, pouches and wings), 1 tsp olive oil,  5 cups chopped mixed lettuce greens, 1 medium green apple (thinly sliced), 2 tbsp lemon juice, ¼ cup dried cranberries, ¼ cup chopped walnuts, ¼ cup pumpkin seeds, pepper (to taste), salt (to taste)
For the raspberry vinaigrette- 1/3 cup olive oil or salad oil, 1/3 cup raspberry preserve, ¼ cup wine vinegar or raspberry vinegar, 1 tbsp lemon juice, 1 tbsp Dijon mustard, 1 tsp dried herbs, salt (to taste), pepper (to taste)
Method: Wash and soak lettuce leaves in ice-cold water. Rinse and completely dry the leaves in a strainer or pass through a salad spinner. Transfer to a serving bowl. Rub apple slices with lemon juice and place in a bowl over lettuce leaves. Cover with cling wrap and keep cold. In a small bowl, mix together cranberries, walnuts and pumpkin seeds. Set aside.
For squid- Clean the squid properly. Cut the tentacles, pouches and wings in 1 cm thick rings. Add one tsp olive oil in a frying pan. Add the squid rings. Add salt and pepper. Stir fry over a high heat until the squid has slightly browned (for about 1 minute).
For vinaigrette- Mix all the ingredients for the vinaigrette in a screw-top jar and shake thoroughly to mix well.
To serve- Just before serving, sprinkle nuts over the salad, add the fried squid, pour vinaigrette all over and toss salad with salad tongs starting from below and going upwards. Serve immediately.
Eat. Share. Eat some more. Enjoy.