From children to elderly people, everyone LOVES chocolate. It can be in the form of a bar, syrup, cake, candy, even hot, molten chocolate; the craving is insatiable. I know people who still dream to be able to go to Willy Wonka's Chocolate Factory one day, just to be able to experience the magic that it takes to transform a single, bitter cocoa bean into a bar of sweet, glossy and silky chocolate.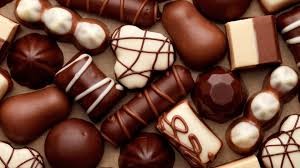 Just imagining me with my favorite chocolate instantly uplifts my mood. However, for now let us learn something about the history of chocolate. Earliest usage of chocolates, dates back to 1900 BC in the form of chocolate beverages. Usage of chocolates was prevalent in the Mayan and Aztec civilizations, where chocolate beverages under the name of Xocolatl were popular. Xocolatl literally means bitter water and was named so because t e beverages were drunk without sweetening. In fact, cocoa beans were so important to the Aztecs that it was used as a form of currency.
In the later 16th century, when Henry Cortes invaded the Aztec empire, he was acquainted with cocoa beans and introduced it to Europe. The Spanish added sweeteners to it to counter its bitter taste and soon chocolate started gaining popularity amongst the European nobility.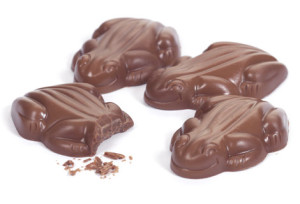 There are various types of chocolates, some of which are mentioned below:
White chocolate:  White chocolate does not contain any cocoa beans but contains milk solids, sugar and cocoa butter. For this reason, it does not contain theobromine and is safe to be consumed by animals.
Milk chocolate:  Milk chocolate is sweet chocolate that contains milk in the form of powder or condensed milk. Throughout Europe the minimum amount of cocoa solids present in this chocolate must be 25%, with the exception of UK and Ireland where it is 20%.
Dark Chocolate:  Dark chocolate has added fat and sugar to the cocoa mixture and has a distinct bittersweet taste to it. European standards specify that the chocolate must contain at least 35% cocoa solids.
Bittersweet chocolate: Sugar (typically a third of the total quantity) has been added along with cocoa butter, vanilla and sometimes lecithin to chocolate liqueur.
Semi-sweet chocolate: It is another variation, which is dark chocolate with low sugar content.
Unsweetened chocolate: Also known as baking chocolate it is mainly chocolate liquor without any sweetening agent. It imparts a deep, rich, strong flavour when added to food stuff
Raw chocolate: Raw chocolate is dark, has a minimum of 75% cocoa, and is a more nutritive than any other form of chocolate.
All of us have a sweet memory of digging into a bar of chocolate that our fathers might bring when they came home from work. The brands were numerous, the products countless. From Kit-Kat to Perk, from Dairy Milk to the little Chocolate Éclairs, everyone has a favourite kind of chocolate.
The list of the most famous chocolate producers from around the world includes Cadbury, a name known to and loved by every kid. The most famous chocolates given to us by Cadbury include Dairy Milk, Crème Egg, Bourneville, Perk… the list goes on. This British company is also the largest manufacturer of chocolate in the world. We also have names like Guylian, which makes its famous chocolate Sea Shells and Lindt, known for its Chocolate Truffle and Chocolate Easter Bunnies, not to forget its sophisticated packaging.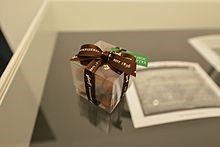 Then we have our very own The Hershey Company, the largest chocolate manufacturer in North America.  The most loved products include Hershey's Bar and Hershey's Kisses. The milk chocolates produced by this giant chocolate manufacturer often have nuts such as almonds and raisins, which add to their unique taste. Mars Incorporated is a large privately owned chocolate manufacturer and produces M&M's, Mars Bars, Milky Way, Twix and Snickers, all of which featured in our childhood fantasies. Nestle has a special place here as it owns Rowntree's and thus markets Kit-Kat and Smarties. However, it has made its own place in the Indian market by bringing out products like Munch, Milky Bar, Bar-One and Classic.
Talking about Indian Market, India has now become the fastest growing market for adult consumption of chocolates and candies. The chocolate market in India is estimated at around Rs.3000 crore. The surprise factor here is that the organised confectionery market is around Rs 2,000 crore. The overall chocolate market is growing 15% a year, while the growth in modern retail is almost double of that.
This has caught the attention of many well-known chocolate brands like ITC, Mondelez, Mars, Nestle, Perfetti Van Melle and Parle, with the result that they are launching many new products designed keeping in mind not only children but also adults. We now have sugar-free chocolate for the calorie conscious, lollipop that help people combat depression, chocolates known to boost immunity, and so on.
Chocolates also have health benefits, as opposed to the popular notion that they just adversely affect our bodies. Consumption of chocolate not only positively affects our circulatory system but also helps in maintaining blood pressure and reduces the risk of cardiovascular problems. It can help lower BMI and cholesterol in adults and produce anti-oxidants in our body. Eating dark chocolate can instantly uplift your mood and relieve you of stress.
So what are you waiting for, go ahead and buy your favourite chocolate. Unwrap it and revel in the joy that it brings to you. After all, you deserve it. 🙂