Not a very long time ago when both the Bengali sisters were conjoined, India witnessed a phenomenon in cuisine from this part of the country. Although Bangladesh today is not physically part of the nation we call our Home, fond memories of togetherness live on in the food enjoyed by West Bengalis. A large part of Bengal houses those Bengalis who had had their roots in East Bengal but have been living in the western counterpart for generations. Bengali Recipes thus include a significant melange of the East and the West. Here's reliving ten appetizers from the other side of Bengal that will make you want to be a different kind of Bengali 😉
• Fried Fish: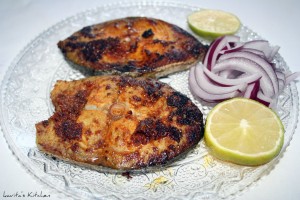 Wash a kilo of surmai fish (if you have a knack towards experimenting, go ahead!) and put half a tablespoon of salt, dill seed, coriander powder, tamarind pulp and ginger garlic paste. Put in an egg, mix it well and marinate for a while. To prepare the batter, mix some corn flour, salt, red chilli flakes, black pepper, gram flour, dill seeds and cumin seeds together. Take a piece of fish, roll it in dry ingredients and deep-fry till golden-brown. This dish is high in nutrients and fish is very good for both brain growth as well as hair. Not only that, this dish is very easy to make and serves to cure all evening-time hunger woes. Do not lose heart if you don't get it right at the first go. With time and patience, this fish-preparation will become a piece of cake.
• Crispy-fried Cauliflower: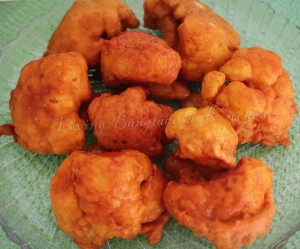 Four tablespoons of rice flour, one tablespoon of corn flour, half teaspoons each of red chilli powder and cumin powder, one-fourth teaspoon of turmeric powder and half teaspoons each of salt and sugar should be mixed well in a container. In another container, beat an egg, add one teaspoon of soya sauce and three tablespoons of water. Mix well.
After a smooth batter is made by mixing these two mixtures, it should be set for around 10 minutes. In the meanwhile, take a saucepan and pour in some water. Add some salt (not more than one teaspoon) and leave it to boil. As the water boils, add 10-15 cauliflower pieces (all cut to an inch in size) and boil them for 5 minutes till the flowers soften. Drain the water. Heat some oil in a pan and keep adding the flowers after slowly dipping them in the batter that you have already made. Fry them, till you get the lovely brown tinge. Be patient with this dish, any hurry might result in loss of crispiness. Take the flowers, keep them on some tissue paper to soak the excess oil and then serve to your amazed guests!
• Eggplant Fry: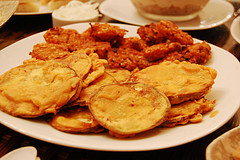 This eggplant fry coated in besan is a huge hit on this side of the border too! Known as the infamous "beguni", this dish can be a wonderful pre-meal snack or even a lovely evening-time munchie. The procedure is as follows: take half a cup of besan or gram flour, half teaspoons each of turmeric powder, red chilli powder and cumin powder, 2 teaspoons of rice flour, 3/4th teaspoons of baking powder and half a teaspoon of salt.
Mix them well in a bowl and make sure the distribution of ingredients is as even as possible. Add water to the mixture and stir well to make a smooth batter. Keep it aside for half an hour to forty-five minutes. Now, the eggplant needs to be washed and sliced into pieces not more than half centimetres thick. Heat the oil on a medium flame, coat both sides of the eggplant pieces with besan and then carefully launch it into the oil. Fry both sides of the pieces till you get a nice golden-brownish tinge. Soak the oil on a paper towel and serve with or without ketchup.
• Vegetable Cutlet: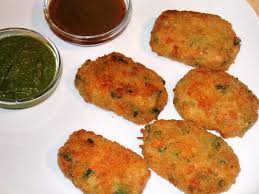 This is very good news for all the vegetarians out there! It is indeed a stereotype that Bengali food is nothing without meat and fish… and an untrue one at that! This vegetable cutlet will surely win over all, no matter what their preferences. Grate 2 medium-sized boiled potatoes and set them aside. Boil 3-4 cups of water, add two cups of mixed vegetables and a pinch of salt just when the water starts to boil. Boil for 5 minutes. Drain the water and leave the mixture to cool down.
Squeeze the water from the vegetables. Mash the vegetables but do not make a paste. Heat one tablespoon of oil in a pan, add cumin seeds and crushed cashew nuts and fry all a while. Add chopped onion and continue frying till the onion becomes soft. Add half a teaspoon each of chopped green chilli, ginger paste, garlic paste and fry for a few seconds. Add the vegetables (not the mashed potato) fry till the water dries up.
Take the vegetables in a mixing bowl, add the grated potato, and mix all. Add cumin powder, red chilli powder, garam masala powder, chat masala, mango powder, chopped coriander and salt and mix them well. In case the mixture still seems watery, add a few bread crumbs. These will soak up the excess water. Take a part of the vegetable mixture, make the desired shape and coat it with bread crumbs.
Heat some oil in a pan. When the oil is well-heated, carefully put the cutlets in and fry till you achieve the golden-brown colour. Soak the excess oil on a paper towel. Serve with ketchup or chutney.
All these dishes are very easy to prepare and never cease to amaze anyone they are served to! So get the Bengali bit of your Indian identity alive and kicking! 😉