Friend 1, "Hey! Have you tried that new Veg. Burger at XYZ?"
Friend 2, "yes! I have. It is so awesome! In love with it! A new addition to my favorite's list."
Friend 3, "How come I haven't heard of it?"
Friend 2, "Come on! We'll take you there. You won't tire talking of it. It's that good."
Friend 3, "Oh! Let's go then. I can't wait anymore."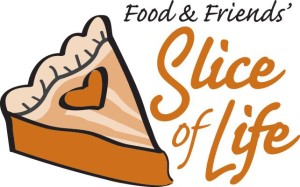 Such conversations among friends are very common to hear. Friendship has always been a sweet relationship, a sweet duty, a sweet responsibility to take care of. Friends have all time to discuss about their tit-bits, and major events happening in their lives. Food is one such a topic on which friends talk a lot. You'd usually hear a group discussing about a new restaurant opened nearby, or they discussing about a new recipe which they tried at home, and many more endless things related to food. There could be thousands of moments where 'friends & food' come together. As it is said, "Friends, who buy you food, are your real friends". Any outing with friends is incomplete without sharing a bite together. It wouldn't be incorrect to say, if you have friends you with you out, you won't return home with an empty stomach.
A college going group of friends planning to try out the new Chinese platter introduced in one of their favorite café after lectures. Twenty of classmates planning a short trip to an amusement park and then thinking where to have their stomachs full. Two colony friends meekly moving out at night and tasting the joy of having something at 24×7 outlets. Friends on a scooty ride, having an ice-cream and eating it up on the way to their homes. The idea of having to go out and try new food items at different places is itself so amusing that the actual experience of it would automatically be of great fun. And the pleasure of having the meal always doubles when you have friends with whom you share similar thinking and taste.
There are various communities also formed, thanks to internet and social media, which give the food updates to their following members and even arrange food trips to various destinations, in their respective cities, to some of the famous outlets and serving their most popular dish on menu. Just with one click you can easily join certain communities and become a member, and thus communicating with people of same interest. This not only provides you with food updates, they even bring you an opportunity to exchange a few words with unknown people with whom you share a common trait, i.e. food love! This all might even get you some really good friends because the fact that, "similarities create friendship" holds true.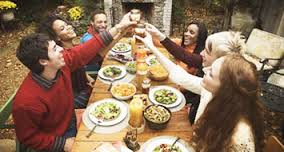 We all have that memory of hanging out with friends and eating the street food all day long. Sharing each moment of joy with laughter and gratification and an inevitable object, Food! Be it bad or good, we love going out with those caring souls and enjoying the taste of an enriching, may or may not be healthy, meal. When out with friends 'health' is that one matter which comes the last. What matters the most at those times is Fun and Food. The friendly and favorable dines at restaurants can be done in the most wild ways with no one around whom you have to act formal, and starting and ending your meal obediently following the table manners learned at school and home. You can be 'you' without being hesitant of the thought that what people will think. Friends are super cool creatures who make you learn that 'you are actually one of a kind and definitely in its best version'.
Food can actually do wonders when it is about friends. A slight gesture of offering your lunch at school can create a darling feeling for you in the heart of the receiver. Giving a birthday treat to your fast friends at one of their suggested places might bring you a lot of memories that you will cherish all your life. An upset friend can be made cool by getting him/her his/her favorite pasta or may be a sandwich prepared by you, and it is even more happening when your friend is aware of the fact that how bad you are in the kitchen. So many hands on that one pizza slice which nobody took notice of at first, breaking a piece of chocolate into two halves when the shopkeeper is out of stock of that particular brand or buying just one pack of lays of a new flavor, all such remembrances will always earn you a tear of joy when recalling them on a future date.
On such calls, it can be made that 'friends and food' together is an evident base of life. One would definitely have those silly but yet worthy to remember moments of 'food joy' with the unmatchable and adorable intimate associates. Friendship is a relation which demands your attention and at the same time prospects you nothing but a feeling of oneness. The way we have meal together with our families, in friendship also, we, at few portions of time spend such happy hours. Very thoughtfully said, "Friends are the family whom we choose ourselves." 