Valentine's Day 2014 may have gone. But your Valentine surely hasn't.
And for your next few Valentine Days, how about you prepare and sharpen your skills beforehand rather than the day before.
Here, by skills, I refer mainly to cooking since that is my forte.
It's June now. So, you have exactly 9 months to learn and let learn.
For the beginners, you might want to start with something simple and quite easy, like the 'Eton mess parfait with berry sauce'. For those who cook occasionally, you might be a tad bold and wind up cooking something like 'Sweetheart choc and hazelnut sandwiches '. And for those who cook regularly, well, I don't really have anything to teach but merely share a few lovely recipes.
For the beginners:
Eton mess parfait with berry sauce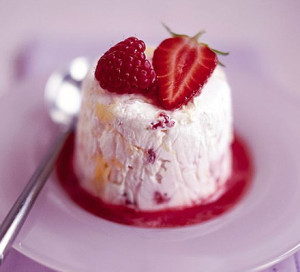 Time: 15 minutes (plus freezing)
Serves: 6
Ingredients: 284ml pot double cream, 200ml pot Greek yogurt, 4 small meringues (crumbled), 200g strawberries (hulled and chopped), 2 tbsp lemon curd, 200g raspberries and strawberries (halved, for topping)
For the sauce – 150g punnet raspberries, 150ml punnet strawberries, 2 tbsp icing sugar, 1 tbsp lemon juice
Directions:  Line 6 x 150ml ramekin dishes with cling film. Lightly whip the cream, then fold in the yogurt, meringues and strawberries until well combined. Fold in the lemon curd to give a soft marbled effect.Spoon into the prepared ramekins and freeze for 2-2½ hrs or until semi-frozen. Meanwhile, make the berry sauce. Tip the raspberries and strawberries, icing sugar and lemon juice into a food processor and blend to a purée. Pass the sauce through a sieve to remove the pips, then set aside.To serve, turn the semi-frozen parfaits out onto serving plates and remove the cling film. Arrange the halved strawberries and raspberries on top of the parfaits. Serve with a drizzle of berry sauce.
For the Novice:
 Sweetheart choc & hazelnut sandwiches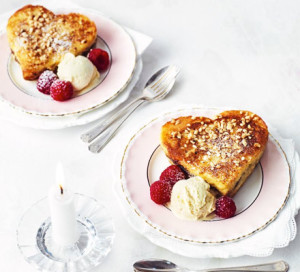 Time: 10 minutes
Serves: 2
Ingredients: 4 slices from a small sliced brioche loaf, 3 tbsp chocolate hazelnut spreads, 1 large egg, 75ml whole milk, 1 tsp vanilla extract, 1 tbsp caster sugar, 2 tbsp chopped toasted hazelnuts, 1 tbsp butter, icing sugar (for dusting), ice cream (to serve), raspberries (to serve)
Directions: Thickly spread 2 of the brioche slices with the chocolate hazelnut spread, then top with the remaining slices to make 2 sandwiches. Use a large heart-shaped cutter to cut the sandwiches into hearts.Whisk the egg, milk, vanilla and caster sugar in a wide, shallow bowl. Tip the hazelnuts onto a plate. Dip the sandwiches into the egg mixture, leave for 1-2 mins each side to allow the brioche to soak up the liquid, then dip one side of each sandwich into the nuts. The sandwiches can be chilled like this, covered loosely with cling film, for up to 1 hour.Heat the butter in a wide frying pan until melted and foaming. Add the sandwiches and cook for 1-2 mins each side until golden brown and puffed up. Dust with a little icing sugar and serve with ice cream and raspberries.
For the Expert:
 Beef & beer pie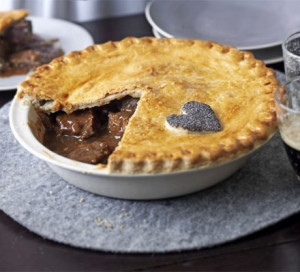 Time: 4 hours
Serves: 4
Ingredients: 1 onion, chopped, 1 small celery stick (chopped), 2 tbsp butter, 2 tbsp plain flour, 700g beef shin (featherblade or stewing steak, cut into large chunks), 1 tbsp Worcestershire sauce, 2 beef stock cubes, 2 sprigs thyme, 540ml can dark ale or beer, 1 egg (beaten), a few pinches poppy seeds
For the pastry – 500g plain flour (plus a little extra), 250g vegetarian suet
Directions: Heat oven to 160C/140C fan/gas 3. Using a flameproof casserole dish with a lid, soften onion and celery in the butter. Stir in the flour until it has disappeared, then stir in the beef and Worcestershire sauce. Crumble in stock cubes and add thyme. Pour over ale, bring to a simmer, then cover and cook in the oven for 2½ hrs. Remove lid and cook for another 30 mins – this should thicken the sauce nicely.Increase oven to 200C/180C fan/gas 6. For the pastry, whizz the flour, suet and 1 tsp salt in a food processor until there are no suet lumps. Keeping the motor running, dribble in 1 tbsp water at a time until the pastry starts to come together, then tip onto a lightly floured surface and bring together with your hands.Roll out half the pastry and use to line a 20-22cm pie dish. Using a slotted spoon, spoon in all of the meat, then pour over some of the sauce until the meat is just coated. Put the rest of the sauce into a saucepan. Roll out the remaining pastry to cover the pie. Trim the edge with a small, sharp knife, then crimp or fork the edges to seal. Make a small heart from cuttings. Brush top of the pie and heart with beaten egg, then dip heart into poppy seeds and stick to top. Bake for 30-40 mins until golden brown and crisp. Reheat sauce and serve with the pie along with some mash and greens.
 Treacle tart hearts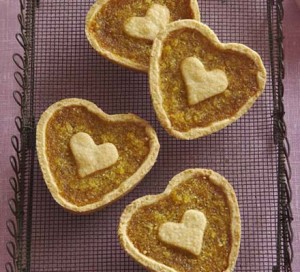 Time: 25 minutes (plus chilling)
Serves: 8
Ingredients: 200g cold unsalted butter (cubed), 350g plain flour (plus extra for rolling out), ½ tsp ground ginger (optional), 100g golden caster sugar, 1 egg yolk
For the filling – 400g golden syrup, finely grated zest of 1 lemon and juice of 1⁄2, 100g white breadcrumbs
Directions: Blitz the butter, flour and ginger, if using, in a food processor until the mix looks like fine crumbs. Stir in the sugar, then add the egg yolk and 2 tsp cold water. Pulse until the dough clumps together, or bring it together with a knife by hand. Turn onto a lightly floured surface and press into a smooth round. Chill for 30 mins or until firm.Roll out the pastry to the thickness of 2 x £1 coins and stamp out 8 x 11cm circles (or cut around a saucer and trim to fit tins). Line 8 x 10cm width heart-shaped tins with the pastry. Re-roll trimmings. With a small cutter, stamp out 8 hearts to decorate. Chill tins and hearts for 15 mins or until firm. Heat oven to 170C/fan 150C/gas 5 and put a baking sheet in.
Stir the syrup, lemon juice and zest together. Divide the breadcrumbs between tins (they should reach to the top of the pastry), then spoon the syrup over slowly, adding more once the first lot has started to soak in. Top with the small pastry hearts. Put tins onto the hot baking sheet and bake for 25 mins or until pastry is golden and the filling is orangey-gold and slightly set. Leave to cool for 15 mins, then turn onto a wire rack. Serve just warm. Will keep for up to 3 days in an airtight container. Heat in a low oven for 5 mins to warm through.
Recipe and Image Courtesy – bbcgoodfood.com