Ganesha is known to be the most popular God in Hindu religion and Ganesha Chaturthi is celebrated on the rebirth of Ganesha across the country. Ganesha is the son of Lord Shiva and Parvati. On this auspicious occasion lord Ganesha is welcomed all over the country and confer his presence on this land. Ganesha is popularly known as the god of prosperity, wisdom and good fortune. It's a tradition in India to worship Ganesha at the start of any new project, wedding ceremonies or during the tours.
Ganesha Chaturthi is also known as Vinayak Chaturthi in some places. It is celebrated on the Shukla Cahturthi which falls during the season of Bhaadrapada. The festival is celebrated across the country for the period of 10 days and it ends on the day of Anant Chaturdashi. It generally falls in the month of August or September. During these 10 days there are several customs and traditions that devotees follow. During the start of the month people start their preparation and start decorating their houses and shops in a very creative manner. They also go to the market and select perfect idols for worship. When they finally bring those idols in their home, they follow several rituals which are called as Ganesha Staphna.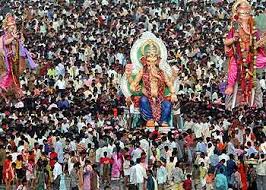 Ganesha Chaturthi is celebrated with full enthusiasm all over the country. A month before this day preparation starts. In the market, you will find various creative clay models of Lord Ganesha for sale. These are prepared by expert artists. They are beautifully created and adored with ornaments. These idols vary in their sizes and creation. These idols are purchased and installed in the houses on the very first day of this festive season. People collect money from various funds and construct pandals where these statues are installed. These are decorated with flower, lights and various other decorative items keeping in mind their religious themes.
The priests are called for the chanting of mantras and they dressed themselves in red dhoti and shawl. Through these mantras they try to invoke the lord Ganesha in their souls and this is known as Pranapratishtha. After this jaggery, coconut and modaks are offered to them. After this, these idols are smeared with the paste made of kumkum and sandalwood. While the priest is doing these Shhodashopachara people sitting behind them are chanting Ganesha Stotra. During this festive season various cultural activities can be seen in Pandals like street performances, singing and dancing, orchestra etc. Along with these various camps for medical check-up, blood donation, etc. are also organized in the respective cities.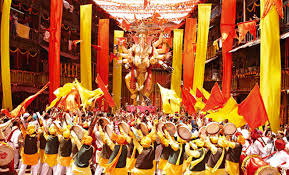 There are several different methods and rituals to perform this worship and this varies from one state to another. Like in Maharashtra individual families bring these idols to their homes and perform the rituals according to their tradition. After the end of this season they take these idols in a procession to rivers or the sea. This procession involves bands and people walk all over the procession shouting Ganpati Bappa Maurya, Purcha Varshi Laukariya. This means they are requesting Lord Ganesha to come early next year.  They are worshipped their near the coast and finally immersed into the water. But due to environmental factors these immersion is now carried out in an eco-friendly manner. In Tamil Nadu, this festival is celebrated in a very ostentatious and grand manner. Here they decorate the idols of Ganesha with Bermuda grass and garlands. People go to the temples every day and offer ladoo and modaks to Ganesha. Here idols are made of clay and sometimes with coconuts too, as plaster of Paris is banned in this state. On the last day they are immersed in the Bay of Bengal.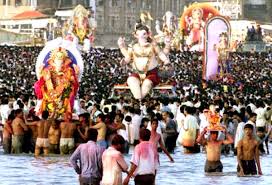 Not only in India, this festival is celebrated out of India with the same devotion and enthusiasm. To have a feel of Hindu culture several Indians reside in the UK celebrated this festival first time in London at the Hindu Temple. Finally, after the 10 days the idol was immersed in the Thames River. This celebration attracted 18000 devotees across the city. In the USA, a Hindu organization tends to organize several events on these occasions to mark their culture. In Philadelphia, this occasion is celebrated in at the Bharatiya temple where different devotional events and cultural programs are organized.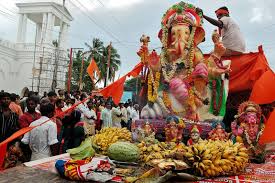 Puja is always incomplete without sweet dish. During this festive season Modak is the main dish that is admired across the country. It is generally prepared with wheat/rice flour involving grated coconut stuffing in it. Some people also mix jaggery and other dry fruits in it according to their taste. Then it is fried and ready to be offered to Lord Ganesha. Another dish is karanji which is almost similar to modak but it has semi-circular shape. Along with modaks ladoo, panakam , vadapappu, chalividi, Vundrallu are also offered during the worship. In Andhra Pradesh there is a tradition where a plate containing modak and other twenty one pieces of sweet dish are offered to Ganesha.
So celebrate this festive season with full enthusiasm and joy this year. ..!!